Whether or not you need a plagiarism checker really depends on the type of paper you're submitting. Plus, many professors will include this information in the criteria for your paper, or even the course syllabus.
However, whether you decide to use a plagiarism checker or not, one thing is for sure: Your university will run your research paper through a plagiarism detector themselves.
What Does a Plagiarism Checker Do?
A plagiarism scanner uses an algorithm to scan every sentence in a paper. It then compares the results with a database of billions of sources in order to check for any plagiarized content. Naturally, for an undergraduate research paper, or even a bachelor's thesis, you are required to use the research conducted by other scholars. However, it's vital to give credit where credit is due, and this is done through referencing.
Note: Even a small error like forgetting to include the date of publication in your references constitutes as plagiarism. Even though accidental, this can lead to harsh penalties such as your final thesis not being graded.
Whether it's Harvard referencing, footnotes or Chicago style, referencing errors are far too common and even accidental plagiarism can result in penalties. Therefore, if you're not confident in your referencing skills, it would be wise to run your dissertation through a plagiarism checker.
Is a Free Plagiarism Checker Bad?
A quick search on the internet will show you the two options available — free or fee-based plagiarism software. This section goes through the pros and cons of both.
Free Plagiarism Checker Pros & Cons
Choosing the free option may appeal to your student budget, but keep the following pros and cons in mind:
| | |
| --- | --- |
| Free plagiarism checker pros | Free plagiarism checker cons |
| | |
| | |
| | |
| | Strange data protection policies |
It may sound appealing, but free plagiarism checkers aren't all that they seem to be. Often, their algorithms aren't accurate and only every third sentence is scanned, meaning that there could still be plagiarized sections in your paper. Plus, with these companies often located outside of the U.S., they may not have reliable data protection policies meaning that your thesis or research paper could be saved to their database indefinitely and it may even be shared without your permission.
Warning: If your university uses the same plagiarism checker and your paper is saved to the database as you previously used the same program, your entire work will appear as plagiarism.

Plagiarism Checker With a Fee
For a smaller term paper or essay, the free plagiarism scanners may do the job. However, you don't want to put your intellectual property at risk if you've spent months working on a bachelor's thesis or a dissertation. For milestone pieces of academic work, a fee-based plagiarism checker is definitely worth the money.
Finding Trustworthy Providers
Once you've made the decision to go with either a free or a fee-based plagiarism checker, the next step is finding a reliable company. Consult the list below for some factors to look out for:
The professionalism of the company: Do some research into the company and take a look at how the plagiarism detector works and whether they offer any other services.
The company's reviews: Independent review websites are always great for deciding between service providers.
How long the plagiarism scan takes: Two minutes is not long enough to scan your entire paper. You can expect to wait 10 minutes, but it also shouldn't take hours.
Data policies: Ensure that your dissertation is deleted from their server within 24 hours.
Prices: Expensive doesn't mean better and free doesn't mean you've found a bargain. Think about the price to quality ratio.
Registration: The company shouldn't need a bunch of your personal information.
Our Recommendation: The BachelorPrint Plagiarism Checker
After conducting some research and comparing different providers to the checklist above, one company really stood out from the rest. BachelorPrint wins first place because their plagiarism checker is user-friendly, great for student budgets and it uses an incredibly thorough algorithm.
The best features of BachelorPrint's plagiarism checker:

It only takes 10 minutes
Detailed plagiarism report for easy improvements
Every sentence is scanned
Comparison with a database containing billions of sources
Student budget friendly!
You won't need to worry about the safety of your data, as everything is deleted from BachelorPrint's database within 24 hours following the scan. The algorithm will compare your work to billions of free sources on the internet and there's no lengthy registration required. The best part is that you'll receive your detailed plagiarism report within 10 minutes.
How the BachelorPrint Plagiarism Scanner Works
In just a few steps, your dissertation will be scanned by BachelorPrint's highly effective plagiarism detector.
Step 1: Uploading
Upload your paper onto the server. All normal file formats are accepted.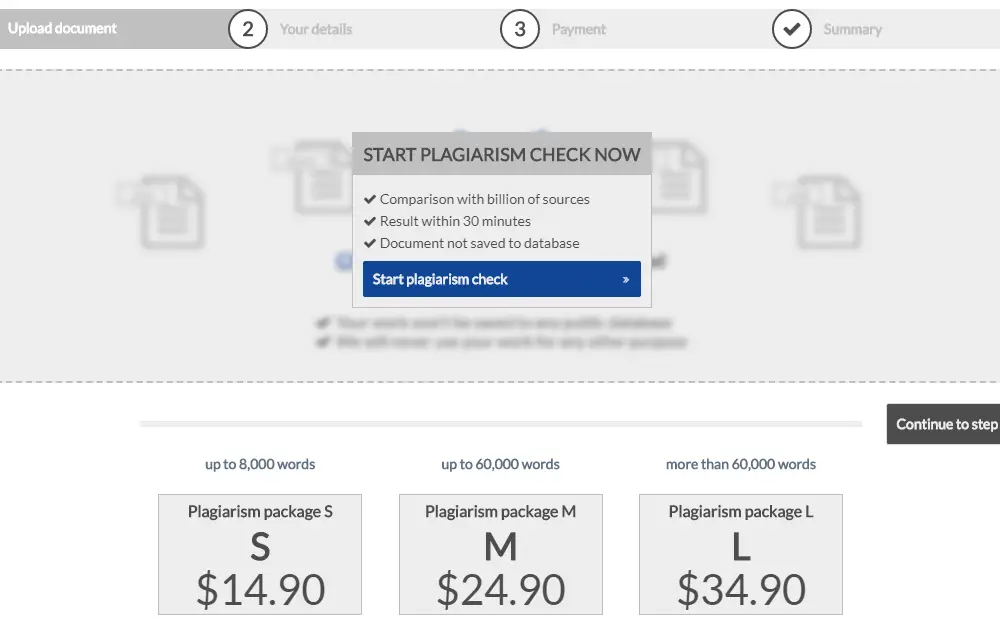 Step 2: Scanning
The plagiarism test tool will transform your paper into mini sections that can be scanned. These scanned sections are then compared with the billions of reference sources in a database. The results are gathered into the plagiarism report.
Step 3: Improving
Afterward, you'll receive the plagiarism report via the email you provided. Any alleged plagiarism will be highlighted, and the source provided so that you can make immediate improvements.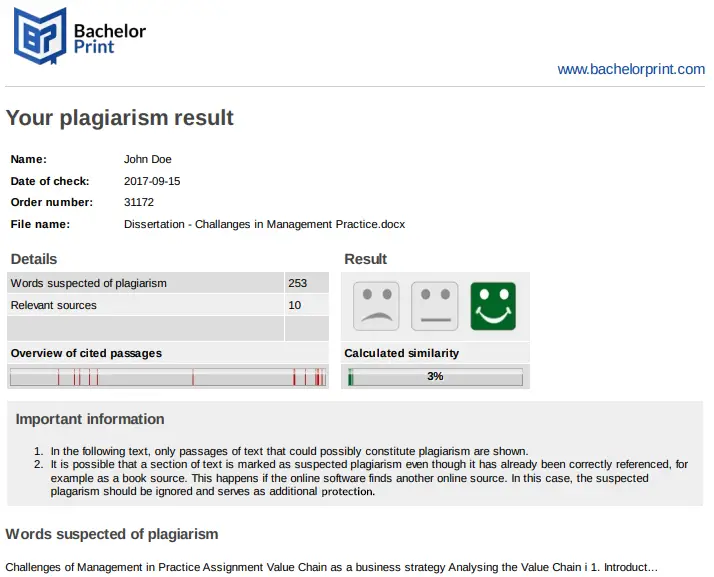 Online Plagiarism Checker in a Nutshell
Plagiarism is easily avoidable, so why risk it? Especially if your referencing skills aren't up to scratch, you should consider making use of a plagiarism checker. In the end, it's better to be safe than sorry because accusations of plagiarism can be followed by very harsh consequences.
The plagiarism checker offered by BachelorPrint is highly recommended because their many customers only have positive things to say in their reviews.