Art, no matter its form, is about emotion and sharing meaning. That's something that William Chappell, a junior at San Antonio College in Texas, understands. His work spans mediums, from penning stories and poetry to writing songs.
The English and art double major finds in art the ability to share his personal story in the hopes of making his audience think and reflect.    
Kayla Lichtman: You explore multiple artistic mediums. Is there a form of creativity that speaks to you the most?  
William Chappell: I really started articulating myself as a thoughtful, emotional person by writing stories and music. But painting has come a lot more naturally in many ways.   
I'm kind of neurotic. I've got a lot of things in my head and writing stories and communicating a picture helps me communicate things in different ways. Art is a little more therapeutic, whereas writing is a little more surgical.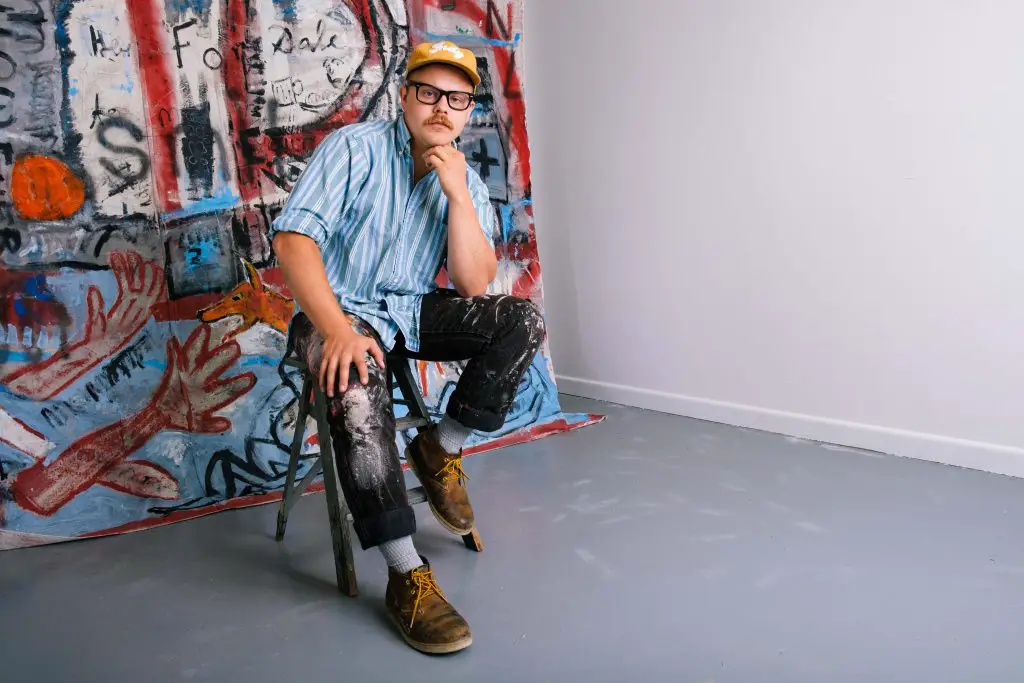 KL: What is unique about what you do?   
WC: What I offer exists within the history of complete art. I think there are a lot of things that are incomplete these days. A lot of it is just a pretty picture or some well-put-together words. 
There's a poem by Marianne Moore where she talks about how, in order to have a full poem, you have to have pretty images, but you also have to be a statistician and recognize meter and rhyme and why those things are important.
It's one thing to be technical and one thing to be pretty with your words and painting, but I think offering complete ideas and putting a lot of thought behind shapes and colors is important, because at the end of the day, that's all painting is.  
KL: Have you always been creative or was there a moment that speaks to you most when you began creating things? 
WC: Growing up, I was the kid that drew a lot. Amarillo, Texas, however, isn't really welcome to artistic things. I grew up in a very practical home, so things like art were seen as fun but not worth anything true and real.  
My best friend, who taught me how to play music, took his own life sophomore year. In my junior year, I abused my body with drugs and alcohol and was in the hospital for a couple days. Then, I almost broke my neck playing football.
All these events removed certain social pressures that I felt, and made it easier to be a different person, to realize that I was not exactly that person that I was bred to be but maybe something else.  
KL: You run a blog called Zibaldone. Can you tell me about the name?  
WC: A guy I follow has a weekly newsletter and he posted something about the idea of zibaldone. Zibaldone quite literally means a collection of things. The word originated from Venetian merchants who, back in the day, had these books called zibaldones, which later became a sort of commonplace book.
The merchants would put a verse of what they did that day, and then there'd be a picture, for example, of a boat with some men on it, and then there'd be a story. It was this hodgepodge of their life. My blog is kind of like my personal belongings, but more story-oriented than random, mundane stuff. Then again, some of the stories are kind of mundane, and that makes them special.  
KL: Why did you start blogging?  
WC: I've had a lot of things happen to me, and I think everybody should find a way to talk about things that have happened in their lives. I hope to stir introspection and move inside other people.  
There are a few things we really have to give to people, and I think they're
time and your story. If I'm able to be open with someone and share my life with someone, that's really the most precious resource I can give. Part of our time is our memories and tragedies, so that's the hope of the blog, to share my tragedies and compel others to share their tragedies, to bear each other's burdens, if you will.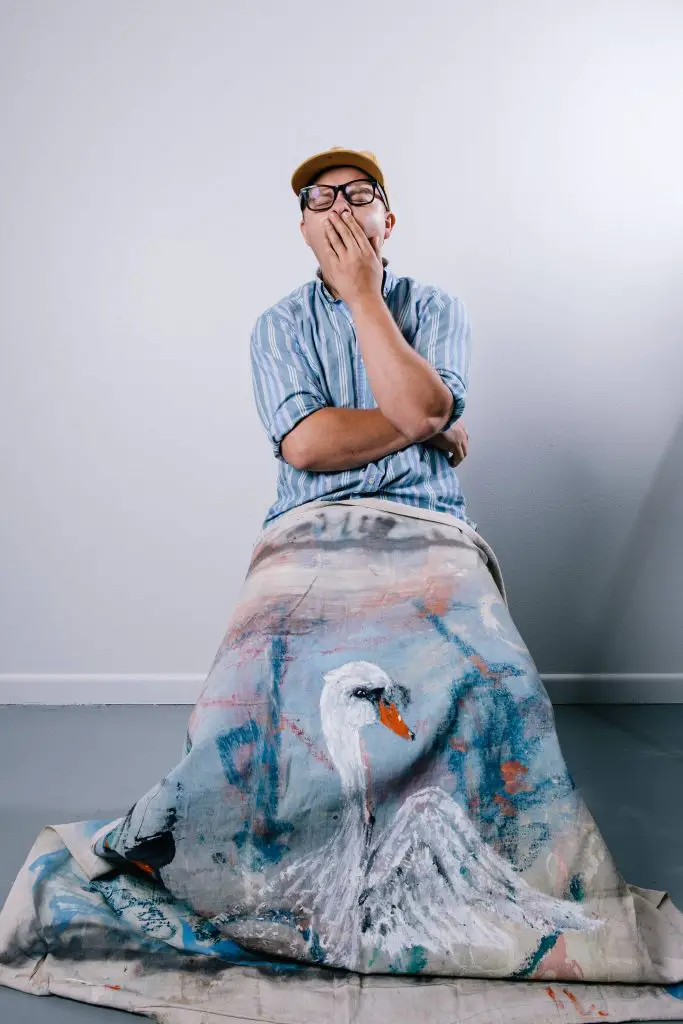 KL: What style of music do you lean toward and can you tell me about the song-writing process?  
WC: It's lean towards singer/songwriter, folk-rock stuff. Right now, I'm actually working on an album.
In terms of the process, I like to pull from my influences. I really appreciate Ryan Adams and David Ramirez, a guy from here in Texas. I try to write my favorite artist's next song by embodying them like a muse and getting in their mindset.
Whenever you try to write their next song, you're writing a song that's never existed, so you're not copying anybody because it's you making it. There's no lack of integrity there, but you're not ignoring where you came from. I'm unashamedly trying to be my heroes. 
KL: In terms of your art, do you gravitate toward a certain style or era? 
WC: I pull from Jean-Michel Basquiat, David Hockney and Andy Warhol's early paintings and illustrations. I would say my style fits into modern art, like expressionism A lot of the paintings I do have odd backgrounds and the focal point is very much a real thing, but in an odd place. I fuse Western art, like cowboys and Indians, and put it on top of abstract landscapes.  
KL: What's one thing that you haven't done artistically, be it a medium or an opportunity, that you would love to try? 
WC: Moviemaking. I got the opportunity to be a grunt worker on a micro-budget movie set this last winter and it was absolutely phenomenal. I've tried writing a screenplay and never got past the first couple steps, but I would love to make a movie.  
KL: What's one piece of advice you would give aspiring artists?  
WC: Learn how to be wrong and don't hold your art too preciously. If I wrote my best song a year ago or if I painted my best painting two months ago and that's it for me, then I should stop. I finished a painting this last week and was super happy, but I was also immediately unsatisfied and wanted to make another one.  
You can follow Will and his art on Instagram.