Learning About Homeschooling
At Kansas State University, Beyond Homeschooled works to ease the transition of non-traditional students into college.
By Michelle Criqui, James Madison University
---
Leaving behind the structured high school life for the independence of college can often be a nerve-wracking experience. But, for homeschooled students, the transition usually comes with its own unique set of challenges, such as adjusting to a new learning environment and encountering stigma from fellow classmates.
Anna Kucera, a junior Biological Engineering major at Kansas State University in Manhattan, Kansas, described the change as being like transferring from "a class of one to a class of everyone." Although Kucera happened to meet several other homeschoolers during her freshman year, she noticed that there was a lack of resources to assist formerly homeschooled students in their transition to college. This inspired her to create the student organization Beyond Homeschooled in August 2015.
"We connected with the admissions office to get our information sent out to incoming homeschoolers, so they know we are a resource on campus," Kucera says. "The idea [for Beyond Homeschooled] was that our path makes us who we are. We were homeschooled — we wear that proudly. But it's past tense. We are beyond that, but it still makes us who we are."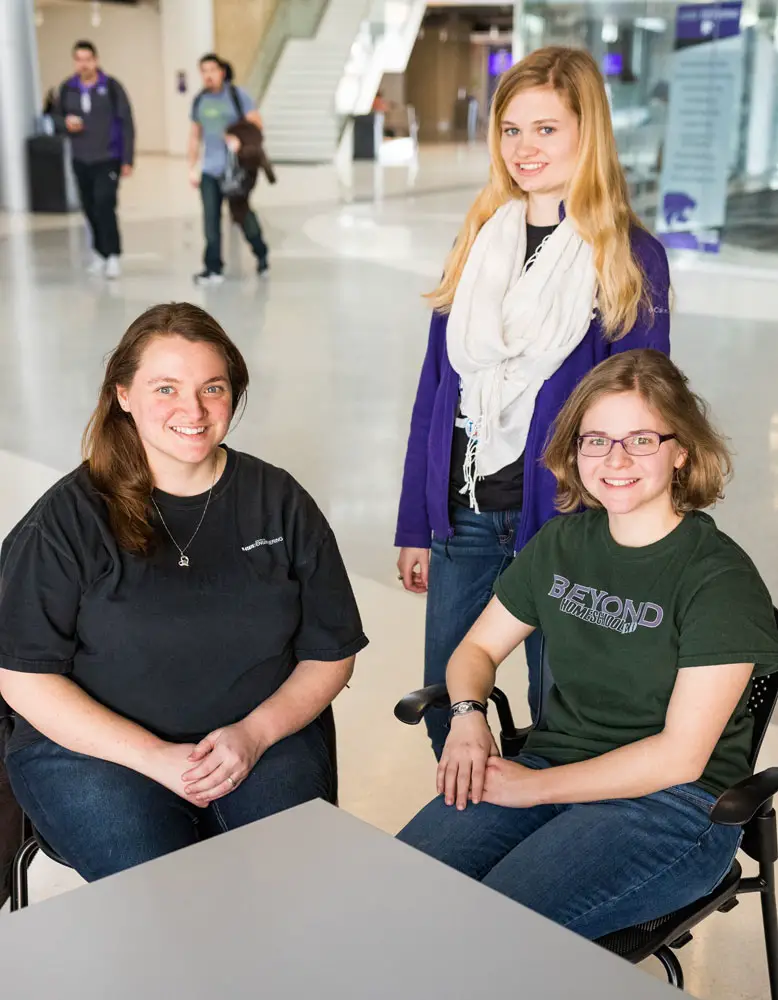 Since its inception, Beyond Homeschooled has sought to form a supportive community and foster lasting friendships through weekly meetings, during which members hang out and get to know each other better.
"The goal is to create friendships and just [provide] support," Kucera says. "We have a common background that very few share. It's nice to have others with similar nature."
The organization also strives to fight back against the stigma that typically surrounds homeschooling, which claims that homeschoolers supposedly have inadequate social skills and won't be able to keep up with the rigor of a college education. Sarah May, a senior Computer Science major and the club's media coordinator, experienced this firsthand within her major program.
"If I tell [my classmates] I'm homeschooled, they kind of take a step back and are like, 'Well, you seem so smart though!'" May says. "I'm actually a non-traditional student here; I'm in my mid-20s. So I have a lot of younger freshmen who look at me and say, 'Why are you in the College of Engineering if you were homeschooled?'
"It's because of the stigma that if you were taught at home, you can't learn. But it's actually the complete opposite."
According to Kucera, most members of Beyond Homeschooled are "very high-achieving," and have completely healthy social lives. Also, despite coming from different backgrounds, many homeschoolers bring with them experiences and skills that set them apart and give them an advantage at the collegiate level.
"One of the best things that came from homeschooling was [that] I could manage my time and I knew how to study," Kucera says. "I had a digital curriculum that I worked with, and I was my own taskmaster. I completed my deadlines. Just having the fortitude and determination to teach yourself was one thing that I greatly took away from homeschooling."
Thanks to Kucera's efforts, Beyond Homeschooled is an established resource for incoming college students from alternative academic backgrounds, providing an inviting space for friendship, advice and assistance in the transition.