High school sporting events are one of the most integral American pastimes. Many students and parents live for Friday night football and basketball games, so much so that they've even sparked the popularity of major TV shows, such as "Friday Night Lights" and "One Tree Hill," both of which have plot lines centered around high school sports. But, what most people don't get to experience is the life of an athlete after high school.
A position on a college athletics team is one of the most coveted honors that very, very few get the opportunity to experience. In fact, according to the NCAA's estimated statistics, 2.6 percent of high school football players move on to Division I teams, and only 1 percent of high school men's basketball players are brought on. The girls' side is even smaller, as 1.2 percent of high school women's volleyball players move onto Division I, and 1.2 of high school women's basketball athletes compete at the Division I level. These are not including Division II, III or NAIA, but, in comparison to the many high school athletes across the country, these numbers are still shocking.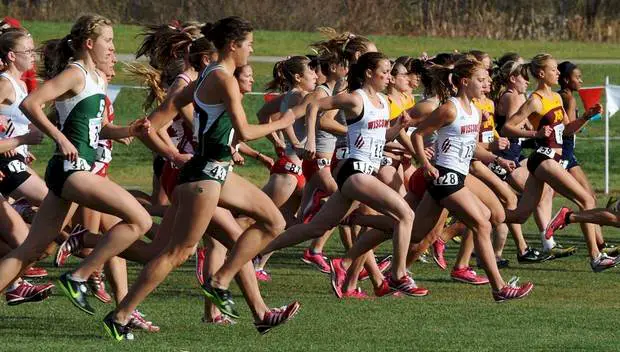 As a Division I athlete myself, I have had the opportunity to experience the chance of playing longer than the majority of volleyball players. Although I had been playing volleyball for about twelve years by the time I got to college, making the switch from high school to college ball has been a much bigger change than I could have ever  expected.
Whether you're someone who is curious about what a college athlete's life is like, a high school athlete wondering what it's really like beyond NCAA championships or a fellow collegiate athlete looking for some camaraderie in this crazy athletic world, here are the differences between the two and how to successfully transition from high school to college athletics
1. Your Team Is Your Family
If you thought you were close with your high school team, you have no idea what close is. Since most teams have their athletes live together, you will probably be spending every single moment with at least one of your teammates. Especially in-season, you will sleep, eat, travel, work out and have study hall and classes with your teammates. Even if you do not have one of your teammates in class, chances are someone else from the athletic community will be there and you will be their partner for every project.
The athletic community is one big family at most schools, because it is so much easier for make friends with people that understand what you are going through and what kind of stress you feel. NARPs (non-athletic regular people) just do not understand the pain of 6:30 a.m. lifting, class from 8 a.m. to noon, team lunch with a recruit at 1 p.m. followed by 2 – 5 p.m. practice and film after, but your buddy on the baseball team knows exactly what you're going through. You will party, date, live, study with and grow to love your entire athletic family more than you ever did in high school.
2. There Are So Many NCAA Rules
Do not get me wrong here, I knew going into collegiate volleyball that the NCAA had strict rules and regulations, but the full extent of them are absolutely mind-blowing. Sure, they have the expected no illegal-drug usage and no underage drinking rule, the do-not-take-recruits-to-strip-club statute and no coming back if you play professional ball, but the other stipulations we have to follow may be surprising.
For example, as an athlete, I am not allowed to advertise private volleyball lessons with my picture on them, because Southeast Missouri State University currently owns my likeness. Yes, schools can technically "own" you. Athletes are also not allowed to consume energy drinks or caffeine before games, and are not allowed to follow committed recruits on social media until they sign their National Letter of Intent. During the summer, when most sports have a few months of freedom, an athlete must be able to be contacted at all times in case of a NCAA-sanctioned drug test, because if they are unreachable, you will automatically be charged with a positive test. There are so many other strange rules athletes must follow, that it is almost impossible to list them all on here.
3. Your Sport Will Be Your Life
In high school, athletic commitment was usually limited to practices every weekday and one or two games a week depending on the sport. Every once in a while, team meetings or team bonding took up maybe an hour or so, but otherwise, an athlete committed to their one season, maybe a travel/club season as well and had free time beyond that.
College athletics is a much bigger time commitment, and will engulf a person if they are not careful. During the summer months, an athlete will usually stay at school for additional classes as well as conditioning, so they must be prepared to say goodbye to a long summer vacation for at least four years. In-season, an athlete's entire life will be their sport. A weekly schedule will include: lifting sessions, pregame meals, team study hall, travel days, game days, practices, meetings, team community service and film sessions, and that is not even including regular classes or time to sleep.
Out of season is much more relaxed, since coaches have restricted hours allowed in the gym, but athletes are still expected to work out, play and hang out together without the coach's requirement. Oftentimes, athletes will go months without going home or seeing their families, and may have to give up Thanksgiving, spring and sometimes even winter break if they are in a winter sport such as basketball.
4. You Will Either Love Your Sport More or Grow to Hate It
This point is a very touchy subject for many people. Since college athletes commit so much of themselves and their time to their sport, it is obviously imperative that they have to love their sport and want to play it more than anything. After playing volleyball for close to fifteen years and coming up on my last two seasons of eligibility, I have no idea what I am going to do when I am done, and I know I will be heartbroken once I wear my jersey, spandex and kneepads for the last time.
However, many people find that college athletics burns them out, and they wish for the end of their career more than anything. I urge anyone looking to a future in college athletics (especially D1) to really look inside themselves; are you going to play because you love to and you cannot imagine your life without it, or are you playing because it is expected of you or your parents want you to? The latter of these athletes are often the ones who burn out quickly and become miserable, which becomes obvious to their teammates and coaches. Make sure that you truly love to play and know the level of commitment, before you decide you want to be a collegiate athlete.
Overall, becoming a college athlete is one of the most fun and rewarding experiences that a sports lover can have. They become role models, the center of wild, yet loving fans, are showered in athletic gear and gain relationships with all kinds of different people that share the same love as them. Moving from high school to college can be a fresh experience for anyone, but for athletes, it will be as if seeing their sport with a new set of eyes.