Easy Money
If you're looking to make some serious bank this summer, look no further than your dresser.
By Alison McCarthy, University of New Haven
---
So, it's finally summer and you can put down the textbooks, stop obsessively checking your school email and sleep in past 8 a.m. everyday.
Unfortunately, if you're like me, summer also means that you stop making money from your on-campus job, so, bye-bye $11 an hour, and hello bankruptcy. Plus, since summer jobs for college students are scarce in my area, I knew I would have to get creative to scrape together some money.
I was cleaning out my closet recently, going through a bunch of old clothes, including some that I never wear, and others that I've been clinging onto since high school, when I realized that just because I don't want them anymore, doesn't mean that someone else won't. So, instead of simply getting rid of my old outfits, I looked into some different options on how to sell them for extra cash this summer.
There are countless apps, websites and stores to help you resell your clothes, and most of them are super easy to operate once you know what you're doing.
1. Depop
Depop is an app where you can list as many items as you please in your very own "shop."  You take pictures of your items from various angles, add a short, enticing description, set the item and shipping price and then you're good to go.
The app itself is easy to navigate; you can message with other users, and you can follow anyone's profile, from your friends to celebrities. You can buy any item, from a "Sports Illustrated" magazine signed by Shaquille O'Neil, to a leather jacket worn by Sleeping with Sirens vocalist Kellin Quinn. Listing an item for sale is always free, but, when you sell an item, Depop will automatically charge a 10 percent commission fee of the total transaction amount. Depop uses Paypal, so there is a small transaction fee associated with that as well.
2. Poshmark
Poshmark is similar to Depop, and currently has over 1.5 million sellers and millions of eager shoppers. While Depop is strictly an app, Poshmark can be accessed through a computer, although some of the features are limited. Unfortunately, Poshmark has a 20 percent selling fee, unless the items are under fifteen dollars, in which case, there is a flat $2.95 fee.
Poshmark waits until the buyer has received their items before the seller is paid, whereas Depop pays the seller instantly. It's super easy to use because they create a pre-paid shipping label for you, so you don't have to do anything except hit print and drop off your item at the post office. There is a $4.99 flat rate shipping fee, paid by the buyer, which is nice as a seller, because you don't have to try to calculate shipping prices.
3. Mercari
Mercari is another similar tool, and is only offered as an app, without a computer-friendly interface available. What's great about Mercari is that it doesn't take any percentage of the transaction and all profit goes directly to the seller.
While the other two apps are used mainly for women's fashion, on Mercari, you can list anything from electronics to boys' clothing. Similar to Poshmark, Mercari also gives you a shipping label when a user purchases your item. But, unlike on Poshmark, you have the ability to choose the shipping price. Unfortunately, the app itself is not as aesthetically pleasing and clean as the other two, and there is no message feature; any communication between buyer and seller needs to be had within the comment section.
4. Plato's Closet
Plato's Closet is not an app or a website; it is a physical store where you can bring in all your gently used, name-brand clothes and shoes to sell for a profit. They will go through all of your items and determine the ones they want to make an offer on and eventually sell in their store.
While that process is going on, you can walk around and browse through all their other must-have clothes. There are some true gems to be found in these shops, so be prepared to exercise some serious self-control if you want to leave Plato's without owing any money. Once they're finished rummaging through your items, the employees will make you an offer on the clothes they want to purchase. You can accept their deal and take the cash right then and there, so you don't have to wait for them to sell the items in order to be paid.
5. Consignment Shops
I know, I know, everyone thinks that only little old ladies shop at consignment stores, but, they're actually another great way to make extra cash. A quick Google search will give you a whole list of stores in your area.
Typically, you bring in the clothes, they'll pick out what they want to sell and then put the clothes up in the store. The owner will take down your information, and when someone purchases your item, they'll give you a call and you can come in and pick up your money. You won't get paid for the clothes instantly like Plato's Closet, but, you will probably make more money per item.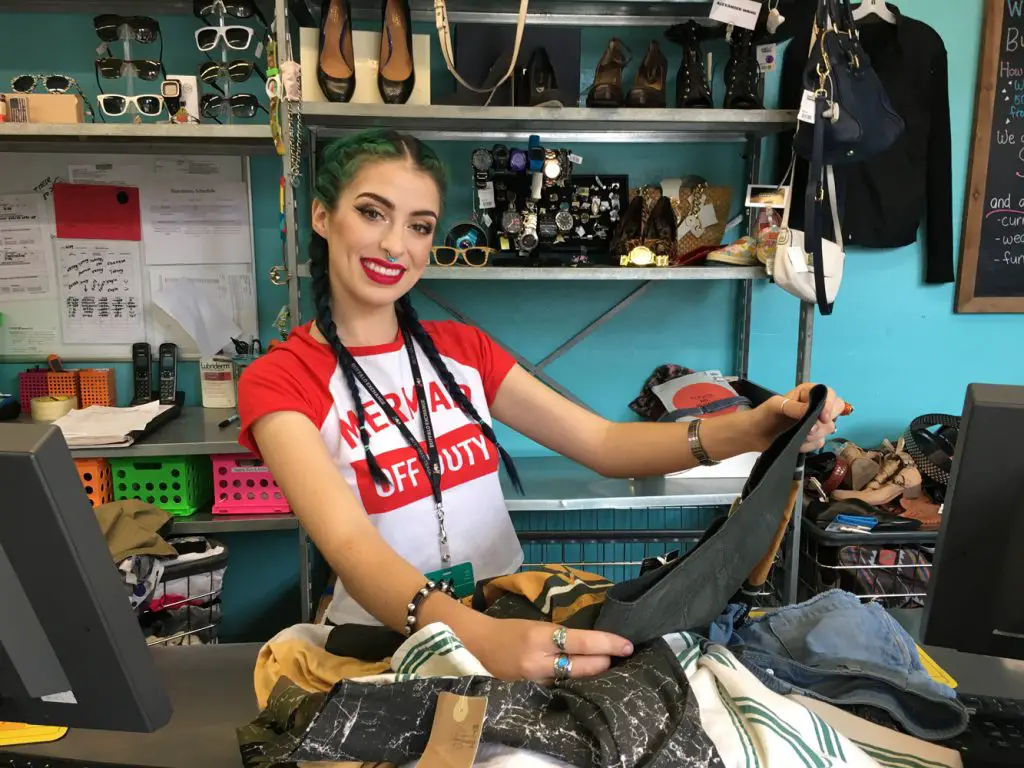 Look, I'm not going to lie and say that re-selling clothes isn't time consuming, because it is, but I will say that it's definitely worth the hassle. Plus, it can be a lot of fun trying on all your old clothes with your friends and having photo shoots, so that you can post some awesome pictures on the apps.
Personally, I use Depop and Plato's Closet, and I've made hundreds of dollars over the past few months. Another great aspect of the apps is that they're all free to join, so you can list items on multiple platforms and see which one you like better, depending on what style of clothing you're selling.
Just make sure that if an item sells on one of your apps, mark it as "sold" on the others as well, to ensure that you don't run into any issues. You're just a few quality pictures and witty captions away from some serious cash. So, not only will you have a clean closet this summer, but also money to fill it up with clothes all over again.