Freaks and Greeks
Not only is he biking across the country, he's strong enough to do it for those who can't.
By Mallory Arnold, Ohio University
Photography by Diego A. Ferradas
---
Talking with Jason Goldenberg is a rare treat considering he's always moving. No, seriously. He's constantly moving.
Goldenberg is a part of Pi Kappa Phi's National Philanthropy event called Journey Of Hope, a 3,600-mile bike ride from San Francisco to Washington D.C. that raises funds and awareness for people with disabilities. When the group isn't biking, they're stopping at local organizations that support people with disabilities to hang out, play basketball, and spend time with each other.
MA: What inspired you to do this?
JG: I was actually the first person in my Greek chapter at the University of Miami to participate, which was a daunting task because I didn't know what to expect. I did it because all the guys in my chapter really push themselves to be awesome people, and this is my way to break the mold and hopefully encourage others to do it. It's been tough, but the trip has been so worth it.
MA: Have you always been a biker?
JG: I was a rower in high school and actually won a national championship twice, so I've always been an athlete. But I got my first bike last summer. I have a buddy who is a triathlete who taught me how to use the bike and really helped me prepare for the journey. I did 1,200 miles of training, and he did every single one of them with me.
MA: How long are you riding a day?
JG: It all depends on the terrain. We're going through the mountains of Nevada right now, so we're going a little slower. The shortest day we've ridden was two and a half hours, and the longest took twelve hours.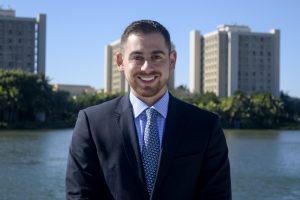 MA: What is most challenging about the journey?
JG: It is difficult being away from home, especially with trying to apply to medical school this summer—and of course cycling isn't always the easiest thing in the world. We've done 10 days of riding and put in 550 miles already.
MA: What is most rewarding?
JG: Even though it's tough, everyone has a great attitude and we push each other in positive ways. It makes it all worth it when we stop to hang out with groups that support the disabled community and we see the smile on people's faces. I wasn't expecting that whatsoever. It's like these people light up when you walk through the door, like you're a superhero. And what's crazy is that at the end of the day they're helping me just as much as I'm helping them.