How Tech is Changing the Way Professors Teach
Though long dismissed by faculty as a distraction, some professors are beginning to see the potential of popular apps in college courses.
By Olivia Buzzacco, Bowling Green State University
---
For several years, I have been a big advocate of using social media in the classroom.
It's something I did as an undergraduate in my classes and continue to do as a graduate instructor for my students. The idea of turning to social media first crossed my mind when I entered college as a freshman. I created Facebook groups for each class I took and added my classmates to it. I thought making Facebook groups might be a good way for the class to bond with one another, to help each other out with assignments and hopefully make some friends.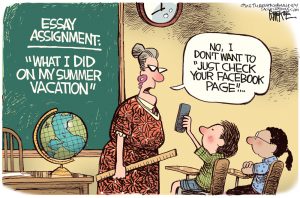 Because of this tactic, I went on to make some of the greatest friends I currently have. The success of Facebook groups prompted me to continue using social media for the remainder of my undergrad and for the college classes I currently teach. While some of the faculty doubts my social media strategies, I think they're pretty useful. And in a world where social media is always on the rise, isn't it the future of education anyways?
During my sophomore, junior and senior years, I worked as a teaching assistant for freshman academic writing courses. As a TA, I first decided to continue using Facebook groups like I did in the past to stay in communication with the writing students. However, with each school year, I realized the groups of students were not as drawn to Facebook as those from past years. The use of Facebook seemed, and probably still seems, to be on the decline in younger generations. But of course, the Facebook decline doesn't mean social media is totally out of the picture. On the contrary, rather.
While in Bowling Green State University's marching band, which is home to around 300 students each year, the director worked with Twitter to keep all of the marchers in the loop about practices, rehearsals, games and abrupt cancellations. The director set up a Twitter account, and the marchers followed the account one of two ways: through their own personal Twitter accounts, or, if they didn't have one, through a text messaging system that sent a text to their phones the moment a tweet was posted. Using Twitter seemed to be the quickest and easiest way to get ahold of such a large group of students, since they would be alerted almost immediately of any last minute changes.
I decided to turn to Twitter for the remainder of my TA days and continue to use it with my own groups of students. I mostly use Twitter for sending out due date reminders and if I need to cancel a class, but there are so many ways Twitter can be used in college. TeachHUB has a post of 50 different ways Twitter can be used in a classroom setting, and it's not a bad idea to check this list out. College students are rather drawn to social media and more than likely have several different social media accounts, so why not incorporate them into a learning environment?
Of course, education doesn't have to stop at Facebook and Twitter. I am always looking to use other forms of social media in my classes, and I have found some excellent ideas over the past couple weeks. Sewickley Academy in Pennsylvania has a great blog post from Michael-Ann Cerniglia in which he provides several ideas on how social media can be incorporated into a classroom setting, one of which includes Pinterest: "Used in a classroom, these boards can curate any unit of study and multiple users can be given permission to pin to one user's board (i.e. for small group or whole class)." The blog demonstrates how Pinterest can be used in subjects like English, geography, science and a language class. Their ideas are smart and practical, and are definitely something instructors could look into at a college level and make their own.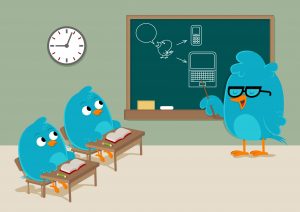 Believe it or not, some instructors are turning to Snapchat as well. NPR shared an article about Michael Britt, an adjunct professor at Marist College, who decided to get on the Snapchat train and start incorporating it into his classes. Britt takes snaps of "real-life examples of what he's teaching in class, and posts it to the app." He also does this right before exams as well, so students can use his videos while studying. One of Britt's students remarked on how the use of Snapchat helped her to achieve the grade she got, and said sitting in an early morning lecture is difficult at times: "You may be listening but you're not processing anything." But on Snapchat, the information is easier to retain since it is a medium students so often use.
Of course, it is important to note that social media is notorious for causing distractions in class. It is easy for students to hide behind computers if class is held in a computer lab, and in a lecture hall setting, it's almost too easy for students to not pay attention when they are sitting so far away from their instructor.
How can social media be used and regulated at the same time? In an article by Paige Abe and Nickolas A. Jordan, the authors briefly discuss a work from Michael C. Elavsky, Cristina Mislan and Steriani Elavsky, who look into issues of social media distraction in classes and how they can be fixed. "In order to combat the temptation of checking one's email or Facebook during class," the authors write, "using social media (such as Twitter) in the classroom creates a new pattern of social encounter.
Through the entire course of the semester, Twitter was used to allow students to answer questions and share opinions by 'Tweeting' during class and to fulfill assignments outside of class. Such assignments consisted of providing a prompt for students to respond to. Through the use of a 'hashtag' keyword (e.g., #assignment) students could also view their classmates' responses to the prompt." I cannot get enough of this Twitter idea, and I'm only sad that I don't teach a larger class to try it out.
Instructors shouldn't fear social media use by their students, but should rather embrace it. Many already have, but I reckon it's time for the sticklers to get on board. Abe and Jordan put it nicely when they say, "Social media provides educators with the exciting new opportunity to connect with students in a manner that continues to provoke thought and discussion outside of the classroom setting. The use of social media encourages students to interact with one another and may increase engagement and interest in the course content."