Teachers from West Virginia have gone on strike statewide for four days in protest for better pay and benefits.
The educators have gone on a teachers' strike to protest their position as among the lowest-paid teachers in the nation. Most teacher labor disputes start and end at the district level, where teacher salaries are more typically set. The strike in West Virginia, however, has closed schools in all 55 counties.
According to CBS News, some teachers have even stated that they might have to file for bankruptcy because their teachers income is so low. Some teachers said they could qualify for food stamps while working two jobs.
K-12 teachers earn a range from $42,668 (South Dakota) to $79,637 (New York) in the 2016-17 school year. The West Virginia average of $45,701 puts educators in the state near the bottom of the country.
Teachers have said they feel that they have no choice but to consider working in neighboring states that pay significantly more, including Maryland, where the average salary is $66,961, and Ohio, where teachers are paid an average of $57,000.
During the teachers' strike, the governor of West Virginia offered a 2 percent pay increase this year, followed by a 1 percent increase over the next two years.
Teachers, though, say the proposal for minimal raises will not make up for years of stagnant salaries and rising health care costs.
Josh Delk from The Hill reports that more than 20,000 teachers and 10,000 school staff members are participating in the teachers' strike.
Former governor Joe Manchin has recommended the legislature enter a special session to resolve the issue.
"You're going to the end of the session right now. Right now trying to fix something as momentous and monumental as this is going to be hard to do in the last two weeks," Manchin said at the state capitol in Charleston last week, where teachers were protesting.
According to the state's attorney general, the walkouts were unlawful and the governor may seek a court injunction to get teachers back into school.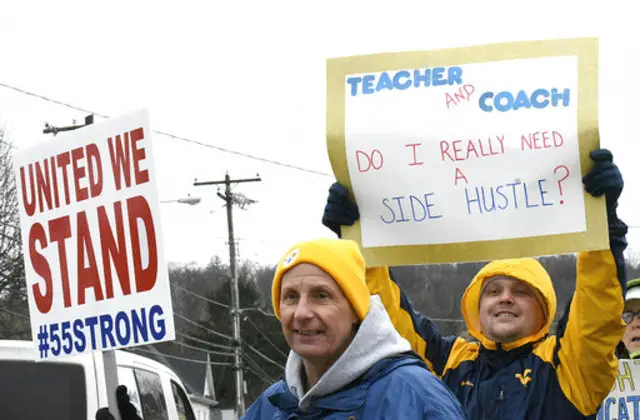 NPR reports that the teachers' strike is being rallied at the capitol in Charleston.
Besides a demand for salary increase and better health care, teachers are also demanding for a stop on what they call attacks on seniority.
They are also hoping lawmakers will walk away from a bill known as "paycheck protection" that would make union members who opt-in yearly have dues withdrawn from their paychecks.
Gov. Jim Justice has scheduled a series of town hall meetings around the state for Monday.
According to a news release, he will appear at high schools in Wheeling, Martinsburg and Morgantown.
As of now, no further action has been reported about what will be decided.