A noir thriller with dark comedic elements, writer-director Cory Finley's debut film, "Thoroughbreds," has all the makings of being the next cult classic. Its surreal dialogue and unsettling performances explore what human nature is capable of when drained of all decent emotions; the film itself has attracted comparisons to other timeless dark films of similar stature.
When it first debuted at Sundance last year, IndieWire went so far as to describe "Thoroughbreds" as a cross between Christian Bale's film in 2000, "American Psycho," that tells of a well-to-do professional by day who lives as a gruesome serial killer by night and "Heathers," the 1988 film about a popular high school girl, Veronica, whose boyfriend, J.D., is killing students he doesn't like, starring Winona Ryder and Christian Slater.
That last comparison, in particular, is one that the film's marketing team has used frequently to describe the movie. Vanity Fair proclaimed that actresses Olivia Cooke, 24, and Anya Taylor-Joy, 21, give the Heathers, clique leaders of the '88 film of the same name, "a run for their money," while Rolling Stone described the duo as quickly entering "into 'Heathers' 2.0 territory."
While similarities can easily be seen between the two films, each dealing with plans of unfounded murder and vengeful teenagers, "Thoroughbreds" has one element that the other did not: a startling dedication to the lead characters' lack of morality and eerie sociopathic tendencies.
The sociopath in question is Amanda (Olivia Cooke), a teenage equestrian who is under heavy psychiatric care after she mutilated one of the family's thoroughbred horses with a kitchen knife. On her mom's orders, she's come to the suburban home of her estranged childhood friend and polished A-student, Lily (Anya Taylor-Joy), for tutoring in the hopes of the two girls becoming friends again.
The film begins with troubled Amanda entering the glorious mansion where Lily lives with her mother (Francie Smith) and cruel stepfather, Mark (Paul Sparks), who irks his stepdaughter with rude comments and an obsessive fitness regime.
In a conversation on her own particular attitude, Amanda claims she has lost the ability to feel emotion, which contributes to her randomly and ever so casually suggesting one day that Lily can easily remedy her difficult relationship with Mark by killing him off.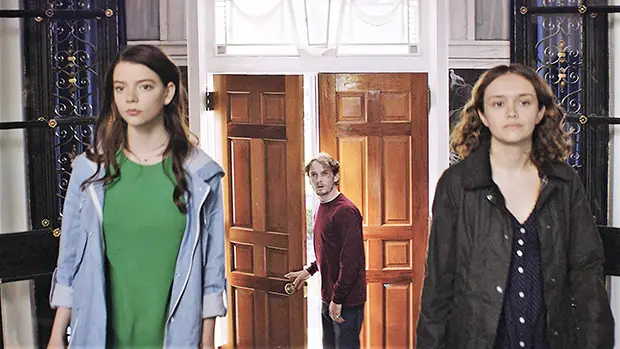 Amanda's oddly charming deadpan expression has captivated Lily by this point and the straight-A student simply questions when and how. To make the plan whole, the two rope a local drug dealer, Tim (played by late "Star Trek" actor Anton Yelchin in one of his final roles), into their criminal plot in the hopes of setting their lives straight.
It's the basis of so many noir plots: a weak, broken person is tempted to commit a murder for absurd reasons by someone just as messed up as they are. As the enabler, Amanda plays the femme-fatale role; the one pulling the strings and teaching Lily ways to manipulate others, like showing her how to cry on cue.
But there is a power struggle between the girls that shifts constantly and sometimes dramatically, keeping the audience on their toes, and each of the actors is up to the emotional challenge.
Taylor-Joy, who made a memorable debut in "The Witch," uses her sloe-eyed reserve to hint at the steel core of her character's fresh-faced innocence. Cooke, who brought complexity to her underwritten roles in "Bates Motel" and "Me and Earl and the Dying Girl," comes into her own here with Amanda's cuttingly conscious dialogue.
"It's not that I'm a bad person," Cooke as Amanda says. "It's just that I have to try harder than everybody else to be good."
Although in company with many other lines, this idea, in particular, is what set the stage of the film for director Finely. Working as a tutor after college, Finely saw children as just that: children who would never knowingly hurt someone. It's not until life throws something real into their path that some of them might have that apathy as their deadliest asset.
That's the story of how Lily and Amanda were born, the two characters weaponizing each other like a bomb and its detonator. On their own, both are relatively benign, but when the two are put in each others company, fueling one another's thoughts and actions, the pair should be separated from all things sharp and deadly.
Finley explained how the chemistry of it all works out: "I was interested in the idea that Amanda isn't necessarily a bad person. She has the capacity for cruelty, as we see in that first scene, but not the will for it. And then Lily has the will to be cruel, but not the capacity for it. She has the healthy moral instincts that we would all have, like for instance: 'Don't murder someone.' But meeting Amanda gives her permission to act in a different way, the way certain ideologies can enable people to do that."
Like Amanda, "Thoroughbreds" has a disturbingly self-aware quality; it strays away from normalcy, tricking the audience into thinking they know what to expect, only to withhold it. Some viewers may feel there's not a lot of substance behind all these subterfuges; Lily's motive for murder is thin at best and Amanda seems to goad her out of nothing but boredom and curiosity.
Still, by the end of the film, there's an odd tragedy about Amanda, the only character who doesn't delude herself into having a higher purpose. While Lily and Tim harbor adolescent fantasies of prestige and power, Amanda lives in the moment, calling out the bullshit of her elders and peers alike. As Amanda memorably tells Lily, "You cannot hesitate. The only thing worse than being incompetent, or being unkind or being evil, is being indecisive."
Unlike "Heathers," whose mildly happy ending meshed with the high-school films of its time, there's no specific reason behind Amanda and Lily's behavior. This storytelling technique seems purposeful, especially in a genre that thrives on intrigue and questionable morality.
The way that the film is made makes it so successful and necessary and overall very appropriate; it brings to light that bad choices aren't always made by bad people and that some bad people are not born bad but bred that way.