"Dumplin'" is the newest Netflix original movie that features a plus-size protagonist who knows what she wants, even if she can't have it. The film is based off the best-selling novel by Julie Murphy, which was published in 2015, and is directed by Anne Fletcher.
The film features rising actress Danielle Macdonald as Willowdean Dickson, the daughter of pageant queen and director Rosie Dickson (played by Jennifer Aniston), in their small, Texan town. From the start of the film, you know that the relationship between Willowdean and her mother is strained. This is understandable, seeing as Rosie is rarely home to spend time with Willowdean and even if she is, Rosie spends her time criticizing everything her daughter does or or talking about beauty pageants on the phone.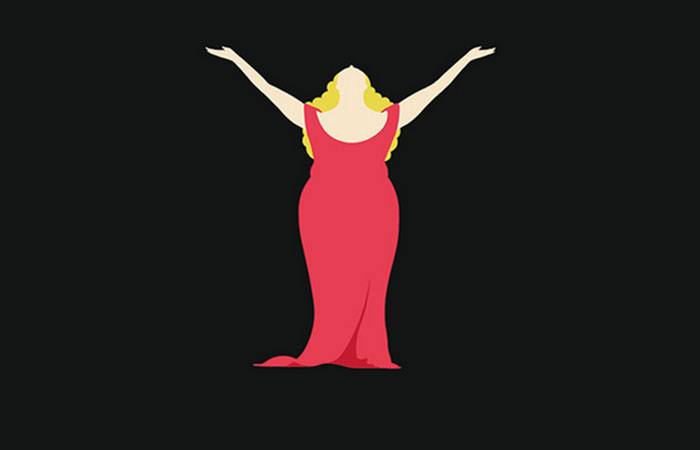 Willowdean's aunt, Lucy (Hilliary Begley), is a great character from the start of the movie. She's a maternal figure for Willowdean growing up. Whether it's showing Willowdean just how beautiful and unique her name is or standing up for her against a group of bullies Willowdean goes to school with, Lucy makes it clear that she has Willowdean's best interest at heart. She is also responsible for introducing Willowdean to her best friend, Ellen (Odeya Rush).
The relationship between Willowdean and her aunt is a special one. Lucy gives her niece life advice (inspired by Dolly Parton, of course) that everyone wants to hear. Toward the beginning of the film, Lucy tells Willowdean that "the world is full of people who are gonna try and tell you who you are, but that's up for you to decide." This life advice comes from Lucy toward the beginning of the movie and turns the plot after her sudden death.
Lucy's death causes a lot of problems for Willowdean, mostly because it causes her to feel lonely. Her relationship with Rosie hasn't improved, and it's heightened because of pageant season. Luckily, she has Ellen, who has been by her side since they were children. So, it comes as no surprise when Willowdean decides to sign up for the pageant after finding an incomplete application among Lucy's things.
It wouldn't be a Netflix movie without a little romance, though. The movie also stars Luke Benward as Bo, Willowdean's coworker whose crush on her is obvious to everyone except Willowdean herself. Their relationship takes a turn when Bo kisses Willowdean one night and she freaks out due to her own insecurities, asking herself why Bo would be interested in someone like her. This leads to a confrontation between the two, where Bo tells Willowdean that he thinks she's beautiful and "to hell with anyone else who's ever made [her] feel less than that."
The budding relationship between Bo and Willowdean plays a role in Willowdean's character development. The viewer sees just how deep Willowdean's insecurities truly run when Bo makes his affection for her obvious and she still can't bring herself to accept it due to the feelings she has toward herself.
The pageant is obviously a huge part of the story, and Willowdean wouldn't be herself if she didn't fight tooth and nail against the other pageant girls. She meets characters Millie (Maddie Baillio), a fellow plus-size girl, and Hannah (Bex Taylor-Klaus) during the pageant and they become a part of Ellen and Willowdean's small group of friends. When Willowdean meets Millie and Hannah, she doesn't want to win the pageant. She's just trying to make a point to her mother and prove that she's deserving of her attention, too. Things change, though, because Millie does want to win the pageant. While confronting her mother about the pageant toward the end of the film, Millie says, "Nothing says that big girls need not to apply."
They take various trips to Hideaway, a bar that Willowdean's aunt frequented. The girls go on their Dolly Parton night, where Willodean sees drag queens performing to various Parton songs and eventually meets Lee, a queen who knew Lucy personally. Willowdean opens up to him, explaining that she didn't know what she was doing anymore and had only signed up for the pageant to do what her aunt didn't get to. Lee gives her some of the best advice in the entire film and cites Parton herself: "Figure out who you are and do it on purpose."
This is a piece of advice that was shown at the end of the trailer and just might be what draws an audience in to begin with. Willowdean learns that it's important to be authentically and unapologetically yourself, and learns she can do that while also having a relationship with her mother. That being said, her relationship with Rosie is still very complicated and problematic at the end of the film. After all, you shouldn't have to immerse yourself in someone else's world to make them feel proud of you.
During the pageant there was a "health and fitness" portion, which is simply an alternative title for a swimsuit competition. Willowdean and Ellen walk onstage together, with text on their swimsuits that read "Every body is a swimsuit body." It wins them a standing ovation from the entire crowd.
The results of the pageant almost don't matter, except for the fact that Millie, the additional plus-size girl in the movie that has wanted to compete in this pageant since she was 8, wins second place. It's a very important part of "Dumplin'" because it proves to just about everyone at that pageant that anything is possible. Millie winning even seems to change Willowdean's mindset toward, well, her entire life. Suddenly, she believes more in herself than she ever has and gains the courage to talk to Bo again.
The movie may have its faults, and critics will definitely address them, but it's also great in many ways. For example, critics may not expect fantastic acting in a Netflix film, but the acting in "Dumplin'" definitely exceeds expectations. Aniston did a great job of playing the over-focused mom, not that anyone truly doubted she would, and Macdonald is hopefully going to go far after her role in this movie. There's no denying that all the actors and actresses did an amazing job and helped tell the story in a way that would make just about anyone fall in love with the story and its characters.
Additionally, the storyline in "Dumplin'" didn't appear to leave anything out or have any holes, which isn't always the case with Netflix movies. Of course, this could change after one reads the book. The movie is worth all the hype it receives.
If you haven't already, you should definitely go check out "Dumplin'" on Netflix. It may be a little cheesy, and there may be one too many Dolly Parton references, but there are also a lot of messages that are important for any young girl, and older women, to remember.
One of the most important? Everyone has a little beauty queen inside of them. You don't have to be like the girl next to you in order to find it. And, just as a reminder, it shouldn't take a beauty pageant to make someone proud of you. Willowdean was beautiful and worthy of her mother's affections before she went through the pageant, and so are you.