New Mexico received an exciting piece of news last week as Netflix, the online streaming success, announced a plan to buy Albuquerque Studios located in Albuquerque, New Mexico.
For the last hundred years, the state has been the home of Western films and a handful of big-name movies and television shows. This purchase will not only benefit the current film community of New Mexico, but will positively affect the state's economy by increasing tax revenue, creating jobs, establishing industry diversification and, finally, putting New Mexico on the map as an important hub of American cinema and television.
ICYMI: @netflix announced that it has chosen Albuquerque as the site of a new U.S. production hub. The company plans to bring $1 billion in production to New Mexico over the next ten years and create up to 1000 production jobs a year. Details at https://t.co/P0bNSj4gyV #OneABQ

— City of Albuquerque (@cabq) October 14, 2018
In the growing age of technology, Netflix founders Reed Hastings and Marc Randolph knew they had to cater to the next generation of media consumers. Netflix was born in 1997 as a through-the-mail movie service, taking on the digital form it is now known for in 2008. Since its online launch, it has gained 87 million subscribers around the world. The Netflix headquarters are based in Los Gatos, California, but the company has recently announced their expansion to Los Angeles, signing a lease for a new 13-story office building off Sunset Boulevard. Despite its roots, Netflix is not new to New Mexico. Netflix has produced series like "Longmire" and "Godless" in numerous locations throughout the beautiful desert state, though it was used primarily for settings.
New Mexico is an ideal location for filming for many reasons. The state has an amazing landscape that ranges from barren deserts to tree-covered mountains. New Mexico also has one of the most competitive incentives programs, offering high-percent refundable tax credit for production and post production, making it appealing to film producers. Many famous films are based or shot in New Mexico, such as "Butch Cassidy and the Sundance Kid," "No Country for Old Men," "Brokeback Mountain," "Wild Hogs" and "Cowboys and Aliens," just to name a few.
Netflix is currently producing two shows, "Chambers" and "Messiah," in the Albuquerque, or ABQ, area. The state and city of ABQ have a combined contribution of $14.5 million to Netflix's occupation of ABQ Studios. Netflix has estimated a $1 billion production revenue to New Mexico over the next 10 years. Not only will this be fantastic for the economy, but it will provide as many as 1,000 jobs to residents and attract skilled out-of-state laborers to the area.
New Mexico's governor, Susana Martinez, said, "Netflix is at the cutting edge of the film and television industry and it is an honor to welcome them to New Mexico." She went on, saying, "After years of hard work to cut taxes and make New Mexico business-friendly, we're seeing incredible results." This hardly begins to describe what this means for the state and city of Albuquerque.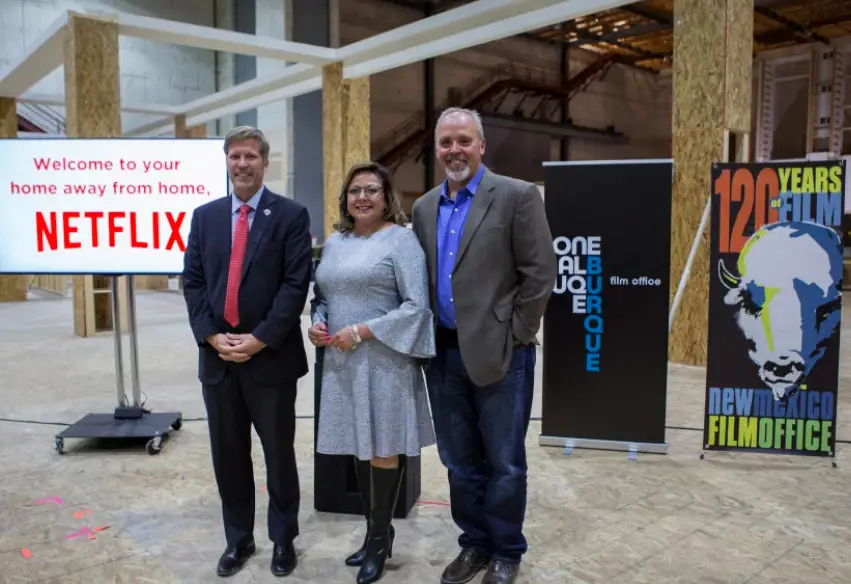 New Mexico's strategy for bringing business diversity to the state is brilliant. California, while famous for its film industry, is expensive, having the highest income tax in the country. New Mexico's competitive incentives make production and living in the state cheaper and more attractive. New Mexico also has an annual $50 million cap for the film industry, $10 million of which will go to Netflix. That leaves $40 million for the rest of New Mexico productions in need of funding.
Netflix is now the big fish in the pond, making it a priority for government funding. As Netflix provides hundreds of new jobs, income will be generated for residents and those moving to ABQ for work opportunities, increasing taxes that go back to the government. This will allow the government to generate tax revenue through taxes they have never before had thanks to the diversity Netflix brings in. Through these taxes, New Mexico and the city of ABQ can make competitive incentive offers because they can afford it. These incentives are beneficial for every party involved: the residents, Netflix and the local and state government. The deal is opening the state's eyes to bigger possibilities.
Now that New Mexico has Netflix headquarters, the state can be more competitive with its funding. There is already a discussion of raising the incentive cap to $100 million. As other companies discover the potential in New Mexico, they will catch on, making the state a competitive player in the business game.
ABQ Studios also has an impressive set-up. The studio spans 48,000 square feet, which is adaptable to eight sound stages or four 24,000-square-foot sound stages, and also provides production offices, mill space and a back lot. It has also already proven its capability of success, with production of many famous films and television shows like "Breaking Bad," "The Avengers," Disney's "The Lone Ranger" and "Sicario."
Netflix's expansion to New Mexico is only the beginning for the cinema powerhouse. Netflix has reached a global status and, therefore, must extend their efforts overseas. They have already announced their newest production hub in Madrid, Spain. Their Spanish original content has been doing very well and they hope to expand what they already have. This move will give undiscovered Spanish talent their time to shine and will provide global exposure, as Netflix now has a monopoly on streamable Spanish cinema and television that hits a global audience.
Erik Barmack, vice president of International Originals for Netflix, said, "From San Sebastián to Santiago de Chile and Toronto to Tokyo, Spanish-language content is savored by Netflix members across the world." This growing industry is important for art. Having access to other countries' media at the viewer's fingertips is monumental for cultural curiosity and understanding.
This is the deal of the century for film in New Mexico. Netflix is fighting the misconception that the only path to success in film requires moving to Los Angeles or New York. Unlike these other cities, New Mexico is not overcrowded and will allow for locals who do not want to move. This deal also gives locals who are financially unable to move a chance at their dreams. There is much confidence in the decision to move forward with Netflix's purchase of ABQ Studios. Film and television are heading in a positive direction, with the opportunity to create historic cinema. It will be exciting to see what Netflix will do with its newfound home of New Mexico, and the state welcomes it with open arms.