If you're looking for the next best show about adult relationships to fill the "Friends"-sized hole in your heart, stop your search with Netflix's "Lovesick." The British sitcom, originally bearing the unfortunate title "Scrotal Recall," has been generating a lot of buzz with its recently released third season. USA Today calls it "sweet," The Independent says it's "the most charming sitcom on Netflix" and Buzzfeed proclaims that it will "restore your faith in romantic comedies."
What's in "Lovesick"?
The show's original premise finds main character Dylan retracing all of his romantic failures as he notifies each of his past partners that he has recently tested positive for chlamydia. Viewers will quickly forget the venereal disease at the heart of the show, however, as they are swept up in the delicate, endearing nature of Dylan's story. Along the way, we meet best friends Angus, Evie and Luke, and learn about Evie and Dylan's eternal will-they-or-won't-they friendship through flashbacks of the last six years.
Even if it sounds like a typical rom-com setup, where Netflix's "Lovesick" shines is in its truly genuine depiction of love, charting both its high-emotion heartache and its quiet, everyday presence. The show explores the anxiety of dating in the modern age, the dynamics of love in deep friendships and the painful vulnerability it sometimes takes to stand in your emotional truth.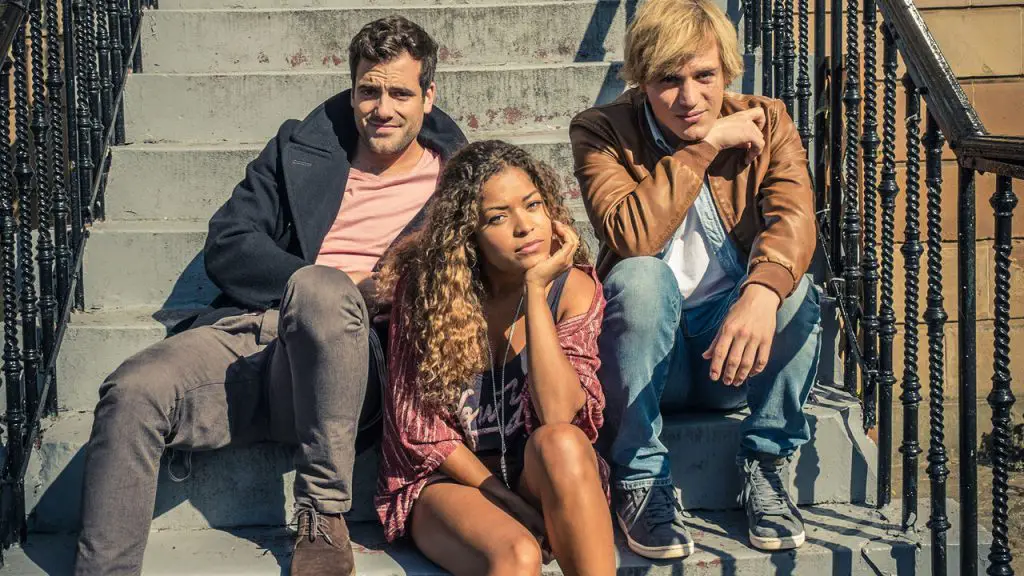 Through the six years of flashbacks, audiences are exposed to Evie and Dylan's descent into love in much the same way it happens for them: slowly, carefully and never on quite the right timeline. Because the show is told in flashbacks, viewers only get pieces of the puzzle every episode; they aren't able to see the full picture until the storyline catches up in the present.
The structure adds a mystery element that makes for great binging, but that also contributes to the story's emotional resonance. A few episodes in, you get the feeling that Dylan's flashbacks aren't just charting his romantic failures, but one particular failure — the one that finds him several years into a platonic friendship with a woman who just may be the big love he's been searching for all along.
The setup also allows us to meet (and subsequently fall in love with) the rest of the gang, which includes openly horny but secretly softie Luke and loveable but often daft Angus. While each character struggles with their own misgivings and insecurities surrounding love, their genuine affection for each other never suffers because of it. The show's driving question is Dylan and Evie's relationship, but its beating heart is in the quiet, genuine moments it depicts between lifelong friends.
Vulnerability and The Turn-away from Traditional Rom-coms
Part of what sets Netflix's "Lovesick" apart is its exploration of one essential concept: vulnerability. If any message is communicated through the romantic entanglements the characters face, it's that the fear of never finding love is in daily competition with the fear of facing rejection and, worse, one's true feelings, which makes finding the much-sought-after love rather difficult.
While the plot has featured rom-com tropes like the broken engagement and the public declaration of love, it handles them in an understated but impactful way, focusing on the emotions each character is feeling and suppressing as they are broken up with, hurt and uplifted by the ones they love. Then, at times painfully, the show asks the viewers to feel those emotions alongside them. Bustle writer Samantha Rollins conveyed it best when she wrote, "The result is a show that is able to imbue the types of rom-com moments we've seen tons of times before … with deep pathos that makes them feel like more than cookie-cutter tropes."
These genuine emotions are effective because of the skilled actors behind them. Johnny Flynn, who plays Dylan, can convey yearning, caution, hurt, fear or joy with just the right look from his big blue eyes, while Antonia Thomas' Evie can convey longing and hurt with the smallest touches, embraces and welling up in the eyes.
Even Daniel Ing's Luke gets a surprisingly complex and thought-out emotional background, which, as it comes into view later in the series, reframes all of his playboy caddishness of episodes past. Every lead character in Netflix's
"Lovesick" could have easily fallen into a ready-made archetype — the nice guy, the moody alternative girl, the player, the nerd — but they don't, lending them both surprising story turns and living, breathing hearts.
The Idea of Love in a Modern World
Perhaps the lesson that speaks most closely to modern love in the show is the idea that an inability to communicate, to really share your heart and soul with someone, can quickly become a roadblock to genuine connection and love. As Dylan retraces his steps, he is able to really talk with all of his ex-partners, allowing him to examine his past faults with clarity so that he can grow and learn from them. He starts to learn, as does everyone around him, the value in speaking from the heart and living in one's truth, whether it's pretty or preferable or easy or not.
More than anything, Netflix's "Lovesick" isn't afraid of confronting the big questions head-on — Are we all meant to find love? Is there such a thing as "the one?" If there is, how do you know it's going to work out? — with big doses of humor and heart. Writing for Buzzfeed News, Bim Adewunmi says, "Instead of the puerile comedy, 'Lovesick' tells a far sweeter story about friendships, love and loss. The lives of the trio have become a sort of quasi-manual for people navigating that post-university, pre-real-adulthood life."
The emotional quality of the series connects with young people because it taps into the same anxiety, fears and longings we all feel and wraps it up in loveable, relatable characters. It may not be the easy fun of "Friends," but it will be the companionable roadmap every 20-something needs to navigate love, in all its forms, post-graduation day.