Everyone who's ever been in high school remembers the stress of taking the SAT for the first time, but a new Netflix film, "Bad Genius," explores that anxiety from a different angle. The film centers around every high school student's worst nightmare: What if, despite all the tutoring and academic resources in the world, nothing could prevent you from failing the SAT? What if, though, your best friend was the smartest person in school? Enter, the premise of "Bad Genius."
"Bad Genius," a Thai film recently released on Netflix, explores the real life corruption of the academic system. Lynn, played by Chutimon Chuengcharoensukying, is the perfect high school student. She has straight A's, numerous academic awards and hasn't done a single bad thing in her life. That life of perfection stops, however, when Lynn attends the top private school in Thailand on a full scholarship.
On her first day of school, Lynn befriends Grace, played by Eisaya Hosuwan, the only girl that would actually talk to her. Grace, who struggles academically, soon realizes that Lynn is a genius. After consulting her boyfriend, Pat, played by Teeradon Supapunpinyo, Grace and Pat decide to convince Lynn to literally cheat the system, so that their grades are high enough to get accepted into college.
Lynn is reluctant at first, but changes her mind when she discovers that her father is hiding hefty "student fees" from her, which aren't covered by her scholarship. Grace and Pat's wealthy parents are Lynn to provide their children with the answers, and Lynn agrees to help her wealthy friends.
Word spreads throughout the school of the three students' cheating syndicate, which brings in more customers for Lynn's service. With an ingenious method to all the madness, Lynn collects a heavy cash flow and students are pleased with the results.
Unfortunately, the win-win system takes a tumble because of Bank, played by Chanon Santinatornkul. Bank is the male version of Lynn, but isn't aware of Lynn's service until he sees it unravel before his own eyes. Since Lynn and Bank are competing for the same scholarship to continue their post-secondary education, Bank takes matters into his own hands.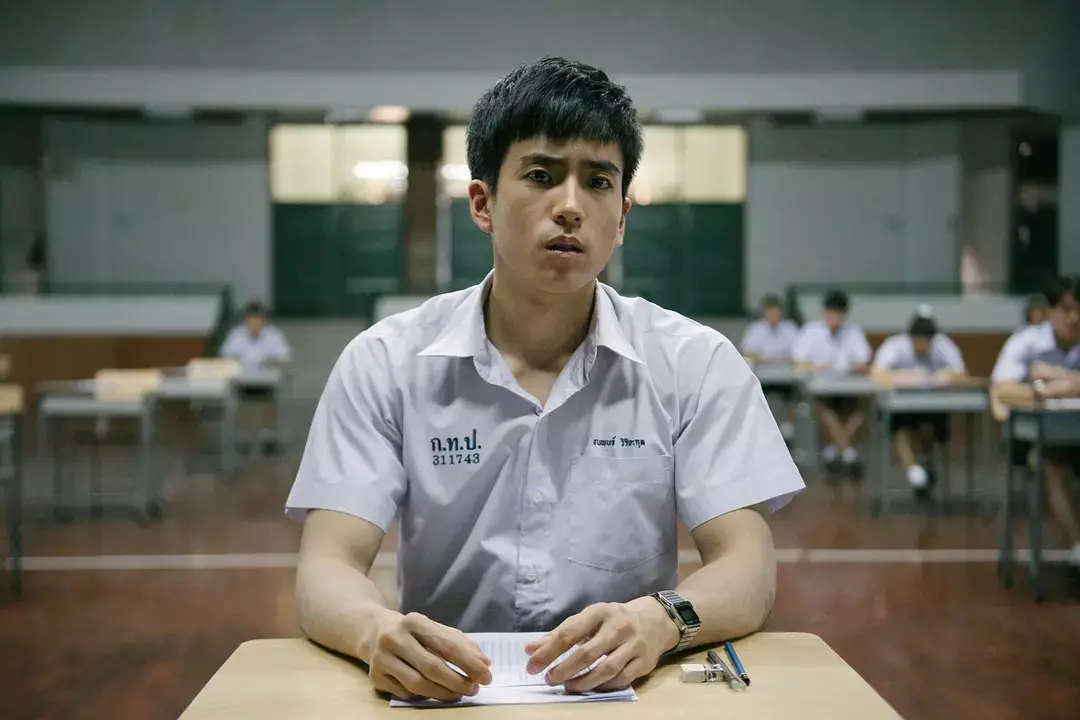 Lynn's service is so successful that Grace and Pat look towards the next big picture: the international STIC exam (basically the same thing as the SAT). These three students devise a scheme worth millions of Thai Bahts, Thailand's currency, that can't be accomplished without one other person: Bank.
Directed by Nattawut Poonpiriya, "Bad Genius" will put you on the edge of your seat each heart-stopping close call. "Bad Genius" glues your eyes to the screen as you watch students cheat their way through school, but there are light additions of comedic moments scattered in the film that allow you some breathing room to re-energize for the next exciting scheme that takes place.
In this nail-biting thriller, "Bad Genius" seems to provide students with ideas on how to cheat the system, but this is far from the truth. Instead, the film proves to viewers that cheating can only get you so far before the consequences of your actions catch up to you.
Some examples of the corruption in this Thai private school are seen through the exchange of "tea money." For example, students pay their teachers for cheat sheets when they can't keep up their own grades. Additionally, the student fees that Lynn has to pay even when she's on a full scholarship show the loopholes that the school can squeeze through to receive more money from the students that are in attendance.
The character development in "Bad Genius" is on par with the morality that each student possesses through their whirlwind cheating syndicate. Even though Lynn became lost in the pressure of her friends and money, she stays the most morally grounded. On the other hand, Bank's moral decline shows that not everyone can stay as grounded as Lynn and can lose sight of the repercussions of their actions.
The wealthy duo of Grace and Pat are socially intelligent , but it can't make up for their suffering grades. Their characters evolve like any person that is always craving for something bigger. Once Grace and Pat expand Lynn's service throughout the school, they ask Lynn for larger and larger favors. They even offer Lynn a chance to go to school with them in the United States to help with their future collegiate level exams. Through Grace and Pat's motives, people can never fully be satisfied with what they have and are always seeking more than they can bargain for.
Thai films are not common around the globe, but "Bad Genius" has sparked a new era for internationally acclaimed Asian films. Hitting box-office records at home and garnering more interest in Thai films abroad, "Bad Genius" is clearly the highest grossing Thai film to date and for good reason.
Through deception, manipulation and different motivations, "Bad Genius" shows the underlying corrupt school systems and desperation for good grades. If everyone is taking shortcuts around you, then you are more likely to conform to that new norm, even if you are the smartest person in the room.
For Lynn, the only way to pay off her exorbitant student fees is to help others cheat instead of get a job. At first glance, this would be seen as a dumb decision for Lynn, and as one that goes completely against her character. Nonetheless, Lynn is smart enough to outline the risks of her decision and knows that the quickest way to earn the most money is by cheating. As Lynn says in the film, "If you don't cheat, life will cheat you."