Those who identify as transgender have faced many hardships both inside and out of the academic atmosphere. In order to create a safe and encouraging space, Pakistan recently opened an academy for the transgender community on April 21, 2018. Located in Lahore city in the Punjab province, the Gender Guardian School is the first of its kind and stands to break down the social injustices that plague the population.
Currently, there are about 25 – 30 people who have enrolled on the school's opening day and the school has been hailed by human-rights activists, lawyers, teachers and students as an unprecedented initiative to mainstream the marginalized community.
A project of the NGO Exploring Future Foundation (EFF), the school currently offers training in eight fields, including cooking, fashion designing and cosmetics, and plans to introduce a more formal education soon.
The founder of the Gender Guardian School, Asif Shahzad, hatched this idea after seeing a similar establishment being bombed in Indonesia in 2016. As it was the only transgender school in any Islamic country in the world at that time, Shahzad thought it was his duty to create a space for those at risk in his own area where he could lead and pave the way for them into society.
Shahzad continues to say that "in Pakistani society, there are schools for disabled people, orphans and minority groups but there is no institute for transgender people. So we decided to come up with a proper educational system to empower and educate them so they can make a living and play a bigger role in Pakistan."
The focus of the school is primarily to introduce transgender students to a safe learning environment where they can study and also receive career counseling too. A major target goal "is to end the division among Pakistanis and permeate pluralism and tolerance in the country."
The school aims to help transgender people obtain more opportunities and integrate into society, alongside becoming role models for others in their community. The plan is to provide a diploma course so that the students will be able to either work or set up their own businesses, and the NGO is to facilitate both procedures. There is no age restriction on who can be a student.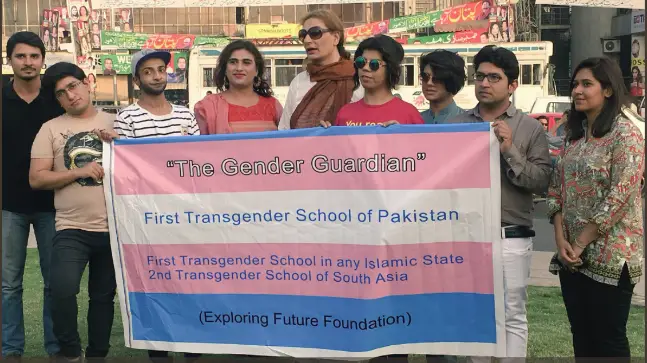 "If the community is educated and gets empowered, definitely, they will avoid some unethical professions. So we will work for them so they can get rid of these negative activities and can be brought into mainstream [society]," Shahzad says.
Transgender people face many challenges in conservative Pakistan, where they are often harassed, sidelined by society and looked down on. In 2016, a 23-year-old transgender activist named Alisha was shot seven times and rushed to the Lady Reading Hospital in Peshawar, where she died due to delayed treatment, reportedly because staff couldn't decide whether to place her in a male or female ward. Her friends blamed it on discrimination and can only hope that circumstances like this don't continue to take place in the future.
While constitutional and legal inroads have slowly been made into securing basic rights for transgender people, the implementation of those rights in Pakistan has had a slow turn out on some occasions.
The transgender community was only allowed to vote in federal elections in 2011. Last year, they were recognized as a separate category in the national census. Although constitutionally they also have been granted economic rights, such as inheritance rights, it is not often put into practice. Even religious groups abstain from taking part in the last ritual rights of transgender people, as it is thought to be against Islam.
Most transgender people in Pakistan are disowned by their families and are forced to fend for themselves. "[M]ore than 90 percent of transgender people face the same problem: that their parents have disowned them." Shut out of employment and estranged from family, some fall back on dancing, begging or prostitution for a living.
Shahzad explains that people in these situations end up living with their gurus (or in other words, life mentors). Parents are not contacted when questions need to be answered, but rather the gurus are — they stand by and help transgender people during their most difficult times.
"They are people, same as we are, and they are worthy of being in this society and living a normal life like us. I hope with the help of this school, they [will] be able to make a living and be accepted in Pakistan," says Eeman Khan, a non-transgender teacher of the English language and computer education at the school.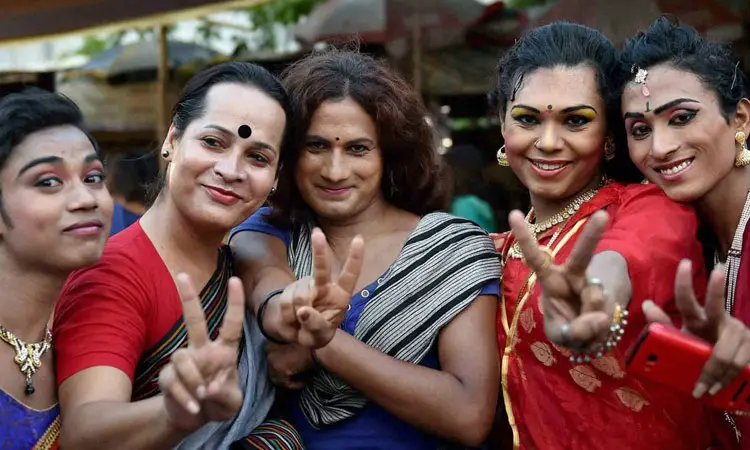 Khan said that she accepted the teaching job because she wanted to create awareness among Pakistanis that everyone is equal and should be treated as such — including transgender people. One of the main hurdles to change is the widely entrenched mindset (even among transgender people) that they are different.
Thus, the school aims to normalize the transgender community. "This is the very first initiative for the marginalized transgender community, so there will be hindrances," Sanya Abbasi, a transgender teacher at the school, says.
"But this step of establishing a school for transgender people will bring a change in Pakistan. I personally believe that the social, familial and economic hurdles and the gap between transgender people and other Pakistanis will be narrowed because of this initiative."
Abbasi does her best to empower her community because "when they receive proper education and training, it will help them secure jobs and make ends meet" in the future; she and other supporters of the school believe transgender people deserve to get any help they need.
While the Gender Guardian School is starting small with a couple dozen students taking classes, Lahore and its surrounding areas have a population of roughly 30,000 people who identify as part of the transgender community. Shahzad hopes that the school will eventually expand and other individuals can experience the safe space that's been created for them.