When considering the world's powerful ladies, the American celebrity turned Duchess of Sussex and the worldwide champion of women's tennis are an incredible, but unlikely duo.
Consequently, when Serena Williams announced in an interview with an Australian news program that she had been texting and "relying on" Meghan Markle a lot recently, the internet frenzied.
The girl-empowering-girl news is much more positive than the headlines surrounding the two famous females recently, and according to Williams the heavy scrutiny on each of them is exactly what has brought them closer than ever before. This interview was only three days after the devastating U.S. Open loss, in which an argument with the umpire landed the tennis champ with three violations and a case for why tennis, among other sports, is still extremely sexist.
This was after Williams was penalized for wearing a medically designed compression suit made by Nike to combat postpartum blood clots, because it was not respectful tennis-wear. Williams has since been beat around by the media, including being mocked by an Australian cartoonist in a racist caricature depicting her throwing a tantrum after the U.S. Open.
For all of Williams' success in become a worldwide champion and household name in tennis, she is also the center of ridicule and negative attention from body shamers calling muscular frame manly, and even accusations that she was born a man.
While Markle receives far less ridicule of the physical or athletic nature, her name in post-wedding headlines has been predominantly related to familial infighting and general unrest. It began with the media deals made between her father Thomas Markle, and ultimately led to him not attending her wedding. The two have since been estranged.
The newest scandal involving the Duchess of Sussex is that her sister Samantha, who has not spoken to her in 10 years, is traveling to the UK to meet with Markle discussing her treatment of their father. So far, Samantha Markle has had no luck reaching the duchess.
Earlier this month Samantha made cutting remarks about her sister to the press, denying the duchess' identity as a humanitarian on account of how she had remained estranged from their family. "Humanitarians work towards resolve and peace… But my sister disposed of the entire family," said Samantha in an interview with Good Morning Britain.
With these powerful women's fame comes near constant judgement and gossip, but thankfully Williams and Markle have each other, and have had each other since 2010. It was that year's Super Bowl in Miami where the two first met each other. On Markle's lifestyle blog she admitted the two "hit it off immediately." They played in a flag football game together and were "chatting not about tennis or acting, but about all the good old fashioned girly stuff."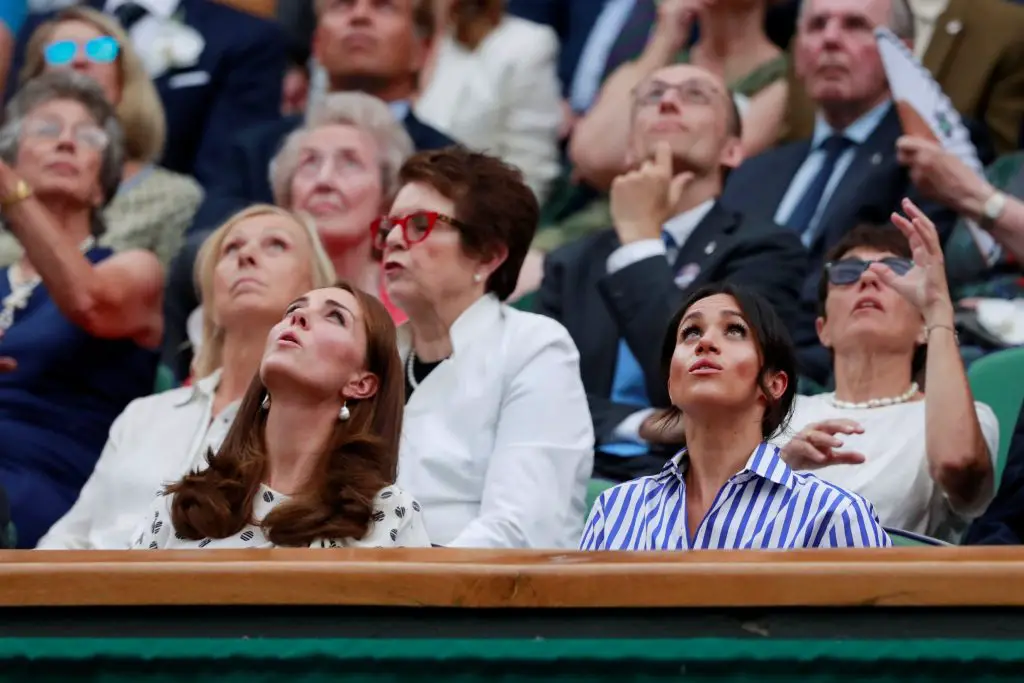 Markle supported her friend Williams at several Wimbledons in a row before becoming the Duchess of Sussex, and the two also hung out at the 2014 Super Bowl and two years later at New York Fashion Week.
Markle has spoken to Vogue about her admiration and love for Williams, including excitement regarding the birth of the athlete's first child. "She will be an amazing mom. The very best, because she is so attuned to balancing strength and sensitivity. Plus, given that she is pretty epic at karaoke, I think she'll put her signature Serena spin on singing lullabies for the baby."
And of course, it goes without saying Williams was an attendee of the royal wedding, which she observed with immense pride. Williams was reportedly honored to see the first African-American influence in the royal family through the marriage of Prince Harry and Meghan Markle.
"I feel like in a few years we are going to look back at that moment and it's going to be so historic that ― it's going to be something that people never forget," Williams said in an interview with the Huffington Post.
Williams also wrote a heart-warming note on Instagram congratulating her friend on the release of a cookbook made in coordination with female victims of the Grenfell Tower fire to raise awareness and funds for people were affected by the disaster. "I used to call you Meghan (and I still do) but dear Duchess of Sussex your first project 'Together' [is] a cookbook bringing women of all cultures together," Williams wrote, "I could not be more excited about it and proud of you."
Supportive vibes abound, and it's clear why Williams and Markle have relied upon one another more heavily these past few weeks. Their strength and poise under pressure is regal. They are role models for women around the world, even down to the way they lift their female friends up and stand tall through criticism.
Amidst all the backbiting and pettiness that forms negative stereotypes about female friendships in the celebrity realm, Markle and Williams give us a glimpse into friendship that bridges all boundaries and provides an unlikely but pure partnership between British royalty and tennis royalty.