To say the least, Serena Williams' French Open appearance early this summer was a momentous occasion. If she won, it would be her first Grand Slam since giving birth to her daughter last year, and it was a powerful moment of solidarity for women who have had to fight to bounce back into their careers after becoming mothers. But beyond the symbolism of her appearance, the real topic of discussion ultimately became the skintight black cat suit that she wore while competing.
Specifically designed to help Williams, who has been open about suffering from blood clots and maintaining good circulation, the suit was a strong departure from the skirts and dresses that are generally associated with tennis and immediately became a sensation.
It's difficult to imagine Williams looking even more powerful on the court than she does on a regular basis, and yet the cat suit did so by just existing. Talking about her choice to wear it, Williams said that it was her way of "being a superhero," and that she felt like a "warrior princess" from Wakanda, a reference to the blockbuster movie "Black Panther."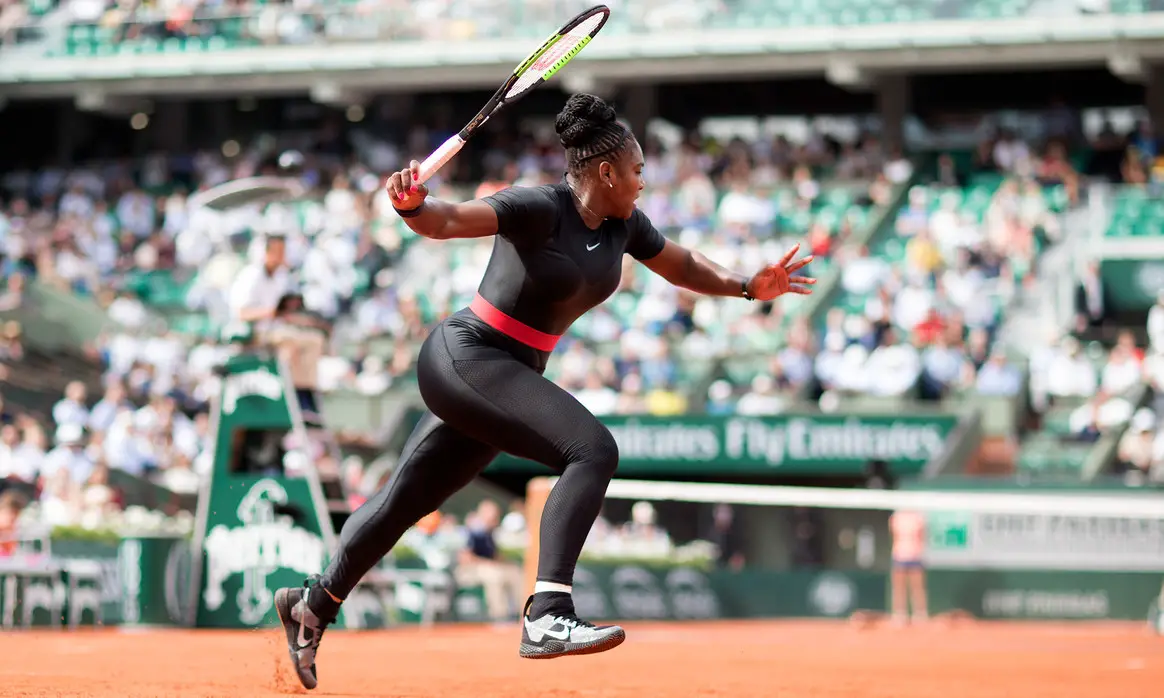 Though she had to pull out of the tournament due to an injury, her performance and that cat suit felt like a step forward for women who want to be celebrated for their strength rather than femininity. But unfortunately, even a woman as badass as Serena Williams isn't immune from others' sexist standards.
The organizers of the French Open didn't feel too excited about her choice of wardrobe, and the president of the French Tennis Federation said just this month that the organization would be implementing a dress code, implying that the cat suit went "too far" and saying "one must respect the game and the place."
The implication that Williams was disrespecting the game of tennis with her warrior-esque and medically practical fashion statement immediately ignited a social media firestorm, with many calling the statement sexist and indicative of a double standard between male and female athletes.
Just a few days after the dress code comment was made, French player Alize Cornet was given a code violation warning at the U.S. Open because she had quickly taken off her shirt to adjust it after she realized it was on backwards.
The United States Tennis Association quickly issued an apology for what they considered to be a misunderstanding, but that didn't do anything to stop social media from once again calling out the double standard.
While these incidents might feel isolated from one another, they're indicative of the problem that so many female athletes face, which is a sexist disparity in the treatment that they receive compared to their male counterparts. And it's a problem that spans across all sports and careers in the industry.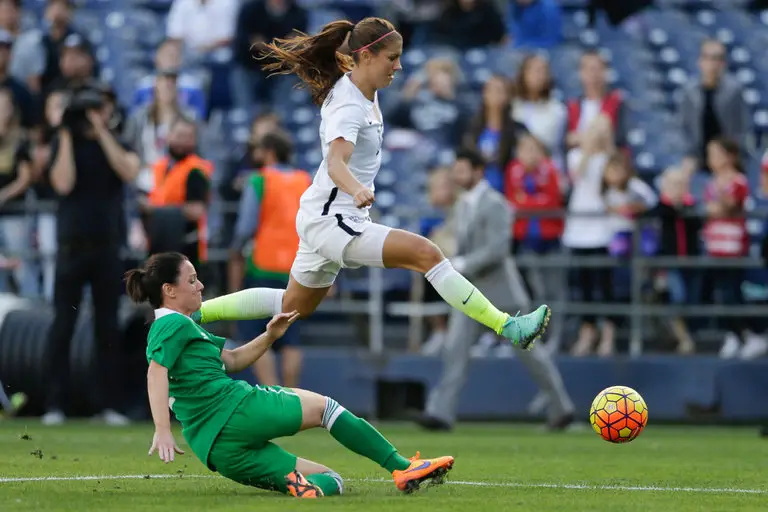 Despite their incredible success on the field, the U.S. Women's National Soccer Team spent five years attempting to resolve the massive pay gap that left them earning less than the men's team. The 2016 Olympics in Rio repeatedly faced criticism for sexist coverage of female athletes, such as when bronze-medalist trap shooter Corey Cogdell-Unrein was simply referred to as the "Wife of a Bears' Lineman."
Sexist comments also resulted in several gymnasts being body shamed for their muscular appearances. And just last year, Carolina Panthers' quarterback, Cam Newton, openly laughed at a female reporter after she asked him a football-related question.
Unfortunately, moments like these feel so common that they're hardly shocking. They can even be discouraging when you think about how hard female athletes have had to fight in order to get the sort of treatment that they get today.
Perhaps the most poignant example of this was the media saga that was "The Battle of the Sexes," referring to the tennis match between 55-year-old self-proclaimed male chauvinist Bobby Riggs and 29-year-old feminist Billie Jean King, both world-renowned players, in 1973.
One of the most-watched events in sports history with over 90 million viewers, the event was considered to be a turning point for women in sports. King herself later said that she "thought it would set [women] back 50 years if [she] didn't win that match. It would ruin the women's [tennis] tour and affect all women's self-esteem."
To be clear, the sexist attitudes that male athletes, commentators and fans alike demonstrate towards female athletes for the most part have nothing to do with strength or ability. No one could deny that a woman like Serena Williams is a force to be reckoned with.
But the culture of global sports just wasn't created with women in mind. In almost every way, athletics is a boys' club, the absolute epitome of the cultural perceptions of masculinity that emphasize the importance of strength and power among men.
When you see those ancient Greek statues depicting the first Olympic athletes, they're ripped, flexing men who look like they're pumped with steroids. But if you were to see a female athlete today who looked like that, someone would probably say that it's not good for her to look so "masculine."
It's that association with masculinity that has made it so difficult for women to achieve parity with their male counterparts, and forced them to have to prove themselves over and over again. For some, the idea of seeing women in a position that's not necessarily dainty or ladylike is just unthinkable. There was overwhelming power and symbolism in Serena Williams' French Open appearance, but in the end, all that really mattered was that she didn't want to wear a skirt.
Sexism has been a staple of women's sports since what feels like the dawn of time, and it's probably not going away anytime soon. To expect a sudden shift in the sports culture is just unrealistic, but with each woman who makes a name for herself as an athlete or a broadcaster, progress is being made.
It's clear that there's far less tolerance for sexist comments now, and while these women might be powerless against the attitudes of the men around them, their ability speaks for itself. That's just the reason why ultimately, while discussing sexism in sports is essential to changing the culture, it won't be the most vital part. That role will go to the female athletes, fans, and broadcasters who pave the way for others just like them.