They met two months ago. They're engaged. They love clouds and karaoke and the Wizarding World of Harry Potter. They're very, very in love. If you're not sure about that last one, check their Instagram accounts — at least one of them has said it in the last 12 hours.
Pete Davidson and Ariana Grande's relationship has been the focus of a stunning amount of attention in the last few weeks. There are timelines of the weeks-long relationship, rankings of the TMI moments and constantly-updating Instagram accounts dedicated to the pair. Twitter users track and analyze their every move, from Davidson's hasty relationship tattoos to Grande's posts about Pete's, uh, energy.
There is something so fascinating about their relationship that it turns me, an even-keeled NPR listener, into a crazed gossip hound, scanning dozens of Page Six articles while watching an illegal stream of TMZ and sending incremental updates to a group chat called "PetexAriana Trash." I can't look away and, judging by the sheer amount of press coverage, neither can most of America.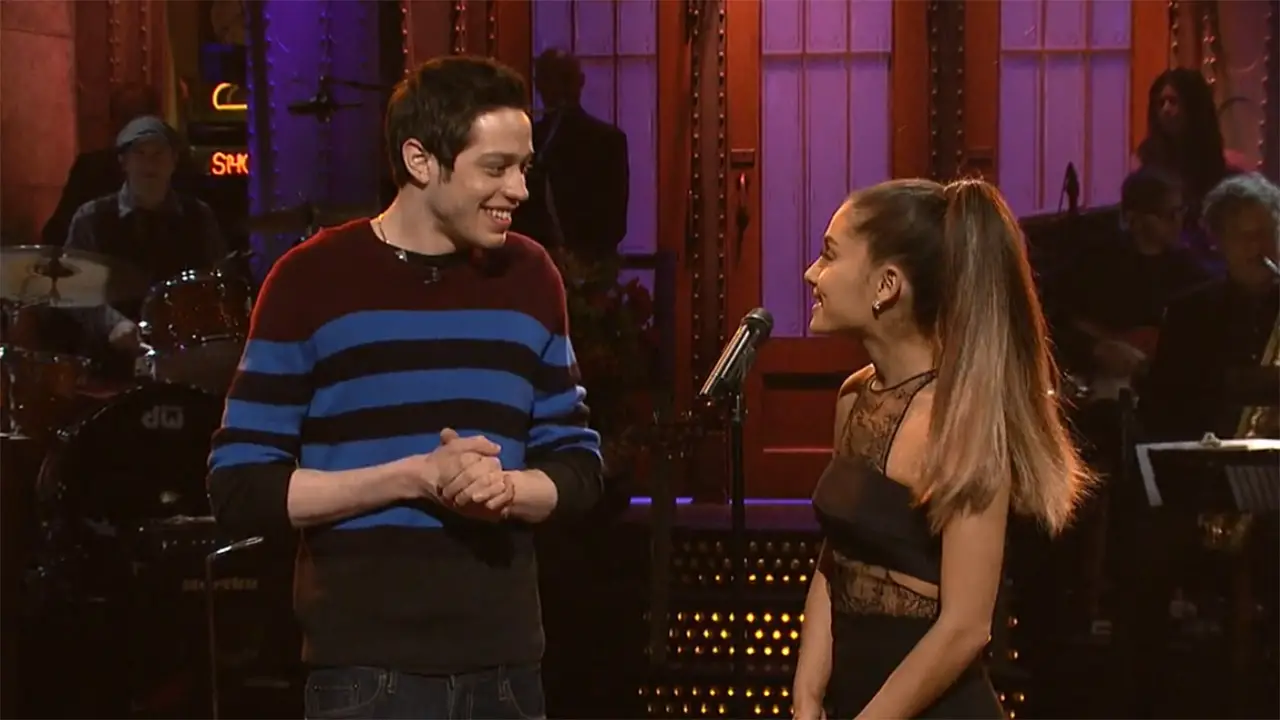 But why is this relationship between a tired-looking comedian and a glittering pop princess so fascinating? Why am I so invested?
Before #Grandson became a thing, both Davidson and Grande were young, successful artists in their respective fields. At 25, Grande has lent her powerful voice to nine chart-topping singles and garnered comparisons to vocal titans like Mariah Carey and Christina Aguilera.
She's a petite, sugary-sweet teen star with a slightly disturbing sexy baby aesthetic and an eternally high, impossibly long ponytail. She is never seen without a perfect flick of eyeliner and Louis Vuitton thigh-highs, and even in the face of a tragic bombing at her concert in Manchester last year, she remained coiffed, dignified and impermeable.
Davidson walks with a calculated slouch, sports a huge collection of tattoos, an enviable sneaker collection and a pair of eye bags that make him look exhausted. He joined "Saturday Night Live" at age 20 after four years of performing in the New York City standup scene, becoming one of the youngest SNL cast-members.
He has somehow stayed on the show for four years despite only playing a narrow range of characters — endearing underachievers who speak in short, deadpan sentences and are usually named "Pete." His easygoing, slacker looks hide a clear sense of drive (how else would he get on SNL?) and a deep well of sadness that he mines in his standup routines.
They're a couple that no one would have predicted. In a 2016 SNL episode that Grande hosted, Davidson's flirty advance at her — "Hey Ariana, I overheard. Do you want to like, smoke some pot or something?" — is played for laughs, as he stands a full foot taller and still seems nervous to be talking to someone so out of his league.
In a cheesy high school movie, she would have been painting glittery posters between show choir rehearsals. He would have been passing a joint and cracking jokes behind the auto shop building, fine with ditching track practice but careful to not get the ash on his pre-calculus homework. Their paths would have never crossed, until one magic moment when she dropped her books in the hallway and…you get the picture.
Their pairing is satisfying in a young-adult-novel way, a showbiz Juliet and Romeo hailing from the plastic world of arena tours and "Good Morning America" performances and the grittier world of comedy clubs and roast battles. They don't make sense together, and that makes them more magnetizing.
But there's more. You see, the more that I dig into six weeks of evidence, the darker their relationship seems. Pop culture writer Nicole Boyce made a helpful calendar of their confusing timeline the day after they announced the engagement, and the more that I stare at this, the less sense it makes.
my official ariana grande and pete davidson timeline pic.twitter.com/hDdXMGIAOA

— nicole boyce (@nicolewboyce) June 12, 2018
As you can see, both Ariana Grande and Pete Davidson had high-profile breakups from their previous long-term relationships only a few days before they became a public couple. Grande split with rapper Mac Miller on May 9, but a source told E! that the relationship's end was long overdue.
Davidson's break with TV writer Cazzie David ended more abruptly, on May 16, after two years of dating. Four days later was the Billboard Music Awards on May 20, where Pete was seen cheering Ari on backstage, and the couple was considered official the next day.
Now put on your tinfoil hats and get out your bulletin boards and string. In an Instagram post announcing her breakup, Grande stated her unconditional care and respect for Mac Miller, but also included a cloud emoji for no apparent reason. When she guested on "Saturday Night Live" three days later, she had a cloud-shaped phone case.
On May 13, Pete was spotted with a matching one. The day after he broke things off with David, he got a tattoo of a cloud. Ariana Grande now has a matching cloud tattoo and is releasing a perfume in a cloud-shaped bottle. Do you hear me foaming at the mouth here? Do you see my bloodshot, crazed eyes? I have a problem, but it gets worse.
Davidson and Grande announced their engagement on June 11, but Ariana Grande was wearing the ring on June 2. According to TMZ, it's a custom diamond that took at least two weeks to make, meaning that Davidson must have ordered it a mere four days after his breakup with David and only a week after Grande was on SNL. If I were to suggest romantic foul play, this is where I would do it.
But the timeline is only the tip of the iceberg because then there's the content of the relationship. The couple seems to be so obsessed with each other that they have lost all sense of social media self-awareness and are constantly gushing about and at each other on their respective accounts. They comment on each other's' posts so much that it's a wonder they have any time to actually talk to one another.
Ariana Grande posts an Instagram story of her wearing a Pete-themed sweatshirt and lip syncing to her new album, and then one of her straddling Pete as he lays on a massage table, belting out "Can You Feel the Love Tonight" from the Lion King.
Pete posts adoring photos of Ari daily, and when people (including, weirdly, Seth Rogen) comment their annoyance, he claps back with "when ur getting married to the hottest girl in the world you tell me how you'd act."
The PDA is brazen and unceasing, with Ariana Grande failing to resist any opportunity to remind her young fans that the couple do indeed have sex.
There's also this photo, which should be classified as an act of public indecency: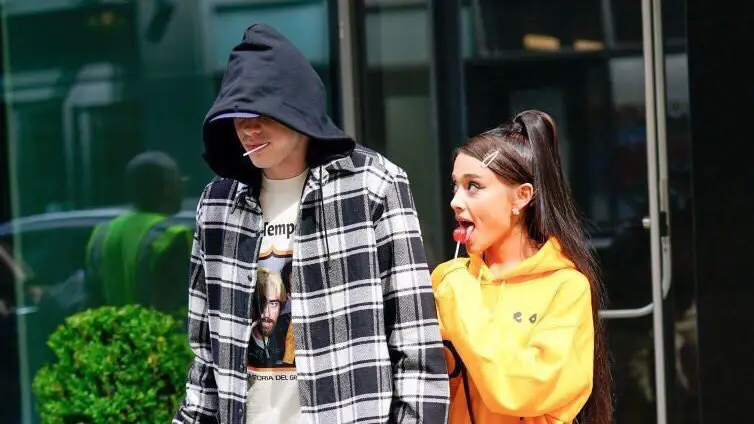 Then there are the tattoos. I think the number one rule of relationships is to never get a significant other's likeness permanently inked on your skin, but two weeks of official dating was long enough for Davidson to cover up his previous tattoo of Cazzie David and get new ink of Ariana Grande's initials and signature bunny mask.
The pair also are now up to three sets of matching tattoos, setting a pace of one for every two weeks they've been together, including the early cloud shapes on their middle fingers; the acronym "H2GKMO," which stands for "honest to God knock me out" on their thumbs; and now, Davidson's late father's firefighter number, which Pete has had on his forearm for years and Ariana Grande added to her foot over the weekend. The sentiment is sweet, but even the artists who are being paid for the tats are telling them to chill out.
Their whirlwind romance is also a bit disturbing considering Davidson's diagnosis of borderline personality disorder, which he has openly discussed in the past. I want to be clear here: A mental illness does not disqualify someone from a loving relationship, but one of the hallmarks of BPD is fast-moving, intense romantic relationships that can turn sour due to dependency and abandonment anxiety.
Grande also struggles with PTSD from the suicide bombing that killed 22 fans at her concert last year. While I sincerely hope that the relationship is healing for both, there is a bit of darkness behind their connection.
There are so many issues at play here. There's the public performance of romance, the double standard that lets male comedians date pop stars while female comedians are seen as unattractive, the fact that the "Queer Eye" guys are friends with Pete and haven't slapped some sense into him, Mac Miller's post-breakup DUI and the urgent discussion of what "Big Dick Energy" is and who possesses it. Peteiana Grandson is a distraction from the horrors of the world, but god, is it a layered one.
By the standards of modern romance, they are moving too fast and sharing too much, and their unabashed public gushing feels more like teenage infatuation than a stable, loving relationship.
Ariana Grande and Pete Davidson exist in the uncanny valley of celebrity intimacy, between the stately silence of the Carters and the everything-on-display drama of the Kardashians. They make viewers feel like they are seeing too much of their private life, but leave key questions hanging.
In a year filled with terrifying news items and out-of-the-blue human rights violations, the Davidson-Grande relationship is the rare news story that feels fascinating and outraging without being deeply depressing. To continue the high school analogy, they became the couple that calls each other pet names in public and sloppily makes out in the middle of the cafeteria.
On the periphery of the cafeteria is a burning trash fire that I can only stand to look at for a few moments at a time, so of course I continue to stare at them and speculate to when their partnership will spectacularly collapse.
Watching Ariana Grande and Pete Davidson hurtle through the milestones of an adult relationship in fast-forward — going from first date to moving in together in a mere five weeks — feels like watching a car crash in slow motion. It provides the stomach-churning thrill of voyeurism, of seeing something you shouldn't, while reminding you that everything you see is a result of the cult of oversharing that this generation is trapped in.
I wish them the best, but this over-the-top love seems destined for an over-the-top breakup, and I can't help but watch.