A major poll for LGBTQ Americans, conducted by Whitman Insight Strategies and BuzzFeed News, has shown new insights surrounding the thoughts and opinions about the current political climate, gun control specifically. The poll itself surveyed 880 LGBTQ Americans, asking 100 questions about politics, life, family and discrimination. According to BuzzFeed, its margin of error of plus or minus is only 3.3 percent, and it is one of the most detailed surveys of its type in the United States.
The survey revealed a lot about the political views of LGBTQ Americans, and, most importantly, it found that changing gun laws is the top issue in the next election. Seventy-one percent of the LGBTQ adults surveyed agreed that their vote in the upcoming election will be affected by a politician's position on gun control, and only 9 percent said that a politician's gun-control position will not affect their vote. Seventy-seven percent agreed that an assault weapons bans should be put in place. On top of this, nearly one-fifth of LGBTQ adults reported gun control as their most important issue in the upcoming election.
Regarding gun control in particular, 87 percent of participants supported background checks, 86 percent want to restrict access to individuals with past convictions and 75 percent want to ban high-capacity magazine ammunition. Forty-seven percent revealed that their support increased after the 2016 shooting at the gay nightclub, Pulse, in Orlando, Florida. Either way, one thing remains clear: big changes need to be made.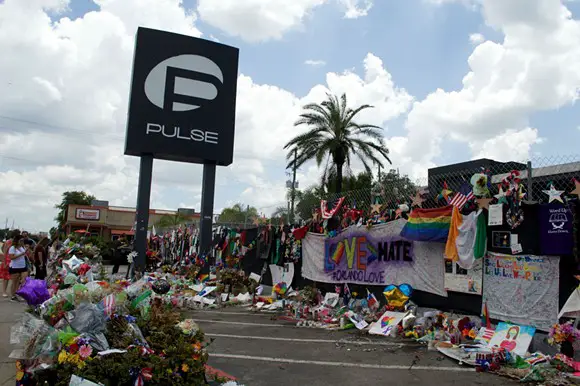 Rather unsurprisingly, the survey of LGBTQ Americans showed little support for Donald Trump, with a seven to one margin saying they would not vote for his reelection (72 percent to 9 percent). The same percentage also agreed that the Trump administration posed more problems for the LGBTQ community than the former Obama administration. Although the majority of people surveyed did not support Trump, the ones that supported him in the last election remained supporters and will probably vote for him again in the future.
Following many mass shootings and gun control rallies, more people are paying attention to the issue of gun control in America. At gun control rallies such as March for Our Lives, crowds chanted phrases such as "Vote them out!" With gun issues in America, it comes as no surprise the survey of LGBTQ adults shows support. But the real question is, what comes next?
If gun control remains to be the top issue for LGBTQ and all Americans, then the people currently in power will most likely be voted out. Trump's non-existent support for gun control is unhelpful, and many believe that the Republican party's efforts will be inadequate.
But really, this comes down to one thing, voting. In the survey, a full fifth of LGBTQ people said that they did not vote in last year's election. In order to make a change, everyone needs to get out and vote. Whether it be the LGBTQ community, the younger generations or people who are just "too busy," voting is the only way to truly get support on the issues that matter to you. Your voice deserves to be heard.