If you watched Kanye West's news livestream last Thursday night, then you also sat through the first-ever PornHub Awards show, which West was the co-creative director of. As the old saying goes, truth truly is stranger than fiction.
But, as to be expected from an enigma such as West, the show was nothing like the awards shows everyone is used to. For starters, West imagined the awards as a fashion show set in the year 6918. Nothing about the awards screamed "very distant future" except (maybe??) the monochromatic outfits from West's clothing line, Yeezy.
So that is a bit strange, but a whole extra layer of odd gets added when you find out that the show, which took place at the Belasco Theater in downtown Los Angeles, used PornHub's streaming data to determine the winners and was the first awards show to be broadcast into virtual reality through a site called Oasis.game.
The show itself was a bit of a disaster. There were audio and video glitches, MIA awards recipients (when adult video star Johnny Sins didn't show up to collect his trophy, the host begged "anyone with a p—- please accept this award") and a headliner who apparently dropped out but whose name wasn't taken out of the script.
All in all, the whole thing seems to just be yet another platform for West to advertise himself. In addition to designing the hosts' and recipients' outfits, West also personally designed the trophies themselves, each one created specifically for each individual recipient.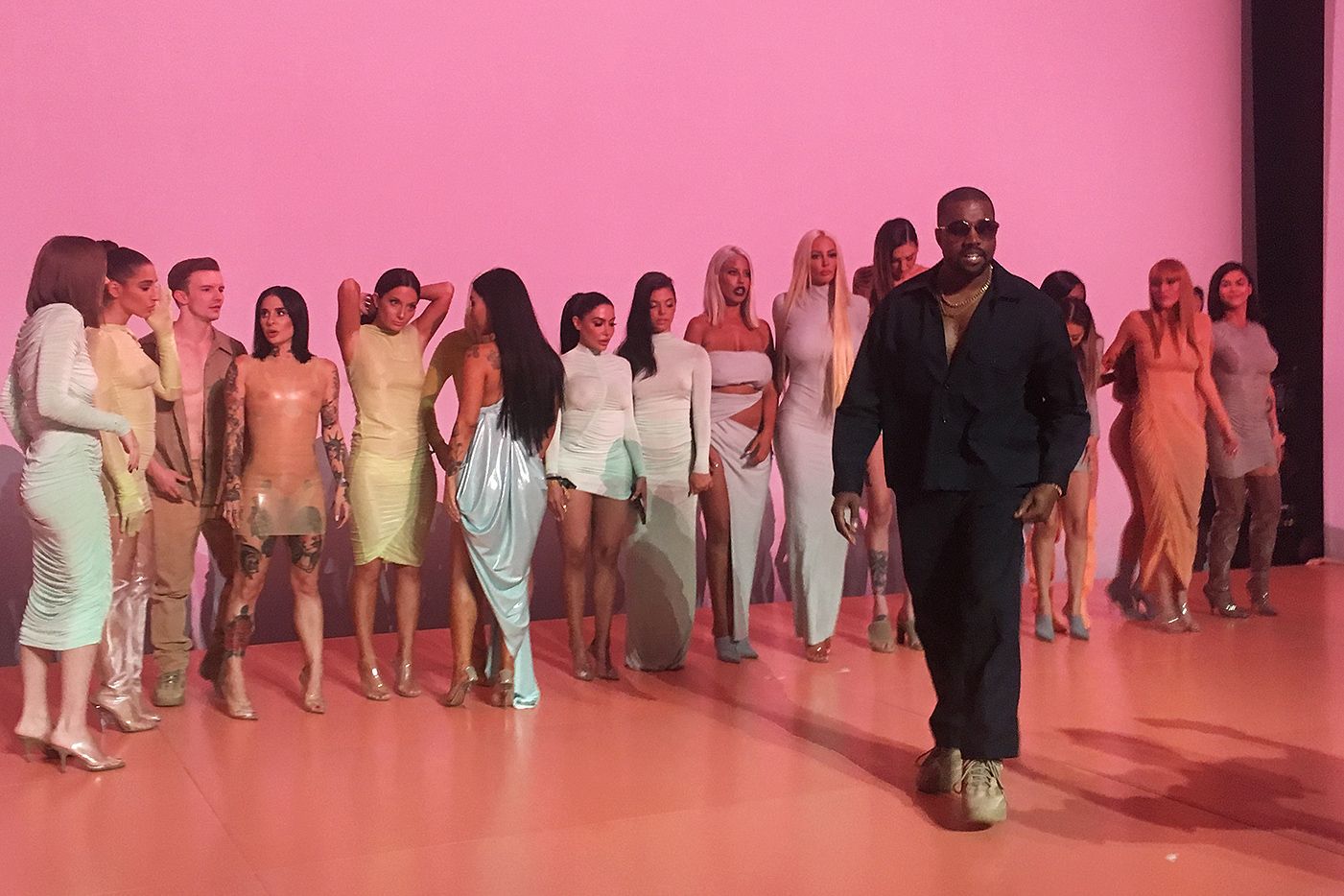 Attendee and Twitter user @mitchsunderland live-tweeted the event and affirmed that "the PornHub Awards are the new VMAs: sexy, controversial, relevant."
Take that claim with a grain of salt (please do) because only 10 minutes later he added to the tread: "The PornHub Awards trophy looks like two p—— glued together to look like a Nintendo console."
Maybe West should have made the awards gaming themed … seems more appropriate, is all I'm saying.
Kanye West & Lil Pump - I Love It feat. Adele Givens [Official Music Video]
In addition to heading up the affair as co-creative director, West also debuted a new song and video. The song, a collaboration with Lil Pump called "I Love It," and video, directed by Spike Jonze, followed Teyana Taylor's performance. So at least the night had some artistic merit.
Just to add some lightheartedness to an evening that took itself far too seriously (as West is apt to do), @mitchsunderland added to his Twitter thread that "KANYE WEST JUST KICKED THE ONE TWINK OFF THE STAGE SO HE WOULD BE THE ONLY MALE ON STAGE WITH THE KARDASHIAN IMPERSONATORS."
KANYE WEST JUST KICKED THE ONE TWINK OFF THE STAGE SO HE WOULD BE THE ONLY MALE ON STAGE WITH THE KARDASHIAN IMPERSONATORS

— Mitchell Sunderland (@mitchsunderland) September 7, 2018
Will there be a second annual PornHub Awards? Only time will tell. If there is, let's pray that West won't be involved.