Belcalis Almanzar — or, as the rest of the world knows her, Cardi B — has turned the hip-hop world upside down in a very short time. Her first major hit dropped less than a year ago, and since then, she's all that women, men and TMZ can talk about. She's known for her raunchy humor, open spirit and chart-smashing success — all adequate grounds for obsession.
She also tends to be a bit problematic, and as with any star that spends years in the limelight, Cardi B has had her share of bad press and Twitter attacks. She's been called out for making rape jokes, transphobic comments and even for staying with her unfaithful fiancée.
But despite any controversial drama or slips of the tongue she might have had in the past, Cardi B should still be regarded with respect by the feminist community. Just by being herself, Cardi B has distinguished herself as a modern feminist icon. Here are some of the reasons why feminists around the world should be applauding the Bronx-born rapper.
1. She's breaking records and paving the way for female hip-hop artists.
Rap has been a dramatically male-dominated genre, and the hip-hop industry hadn't seen many record-breaking female MCs since Lauryn Hill in the '90s. In such a short time, Cardi has brought the feminine voice back to rap music. She's been topping charts and taking over rap radio stations ever since her hit single, "Bodak Yellow," dropped in 2017.
For rap, a genre that's been particularly tainted with misogyny and toxic masculinity, it's a huge deal to be able to hear a woman take her role in the lyrics. Most often, from a male rapper's perspective, women exist only to be talked about in a hyper-sexualized way, often equated to stacks of money.
Cardi opens doors for female rappers looking to come into the spotlight. She encourages women to talk the same way that men do in rap, boasting about success and sexuality. It's refreshing to hear a woman rap about her own pleasure instead of listening to another man bragging about his own.
2. She's open about her advocacy for gender equality.
Besides just being a symbol of feminism, Cardi B proudly labels herself as a feminist. In an interview with i-D, Cardi talked about what feminism means to her.
"But being a feminist is real simple; it's that a woman can do things the same as a man," she said. "Anything a man can do, I can do. I can finesse, I can hustle. We have the same freedom. I was top of the charts. I'm a woman and I did that. I do feel equal to a man."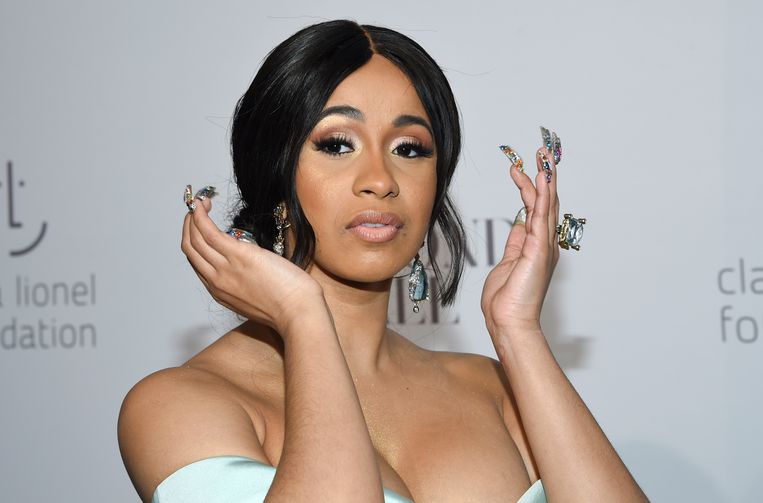 It's crucial for a woman in such an influential position as hers to be aware of the power she has. Cardi has the opportunity to lead, existing as a role model to so many young girls who might be afraid to follow their dreams because of their marginalization. Cardi knows this and willingly speaks out about it in order to educate the public and change minds in any way she can.
3. She speaks unashamedly about her past as a stripper.
As if she didn't already have the public opinion against her as a risqué black female rapper, Cardi B often opens up about her past working as a stripper. She's not afraid of where she came from or any of the steps necessary to find the success she has today.
It doesn't bother her that such a strong stigma exists against women who work hard in the sex industry to make ends meet. She's outspoken about every part of her past and she's not ashamed. Instead, she normalizes the line of work and encourages women to do whatever it takes to make it.
4. She doesn't care about what people think.
Cardi has become extremely outspoken about topics that women don't frequently broach in public; one of the first things people think of when they hear her name are her suggestive catchphrases and R-rated tweets. Anything she says, sings or tweets can consist of anything from vulgar language to jokes about her sexual history to dabbling in toilet humor. Regardless of the topic, Cardi genuinely doesn't care — she's inarguably real in a society that might not be used to seeing it.
Cardi spoke to Dazed about her refreshing level of realness. "The things I talk about on my Instagram are things I practically finished talking to my friends about 15 minutes ago," Cardi said. "It's something that's natural to me. I really don't care… At the end of the day, before I was an artist I was a human being who paid attention to society."
It's not very often you see a celebrity tweeting about their bodily functions or sex habits, and it's not a bad thing, either. Cardi knows the public doesn't expect this type of behavior — from women, especially — and she fights that stigma until women are normalized as humans with plenty of flaws and humor to go around.
5. She made it big from nothing.
Cardi has one of the greatest success stories of any artist working today. Starting out in a low-income community in the Bronx, she managed to become one of the most popular rappers in the industry by simply working hard. English wasn't her first language, and she had to suffer through a lot of tough jobs before she thrived as an artist.
She's even spoken out as being a victim of domestic violence. With such a dark and trying past, the fact that she pushed through with so much dedication is extremely motivational. So, can you really blame her for her ambitious, money-hungry lyrics? She worked for it! You have to admire that level of tenacity in a woman.
Say what you want about Cardi B, but chances are she won't care. She'll only come out stronger.