It's important that you take steps to ensure your website is always bringing in a steady stream of leads for your business. You can then nurture these leads, and some will become full-fledged paying customers over time.
In this article, we're going to take you through some techniques you can use to capture more leads with your website. Read on to find out what these are and how you can implement them.
Highlight positive reviews and testimonials from past customers
Most people tend to trust word-of-mouth recommendations over marketing. So, it's a good idea to display reviews and testimonials from people who have bought from your brand. Reviews show what a great job you've done for customers in the past, can be great for boosting your site's SEO and, most importantly, they can generate more leads for your business.
Of course, you'll need to collect reviews from your past clients. For instance, you could simply send them a polite email to ask how they're enjoying your products or services and how likely they are to recommend you to their friends and families.
You could also register on independent review sites like Reviews.io and Trustpilot, include the link to your business's profile in an email, then send that email to past customers so they can give their reviews. After they've done that, you can then add some of the reviews from those platforms to your website and include a link to the review site so people can see even more testimonials from your customers.
Now, to give you some inspiration, let's take a look at how different companies have chosen to display reviews on their websites.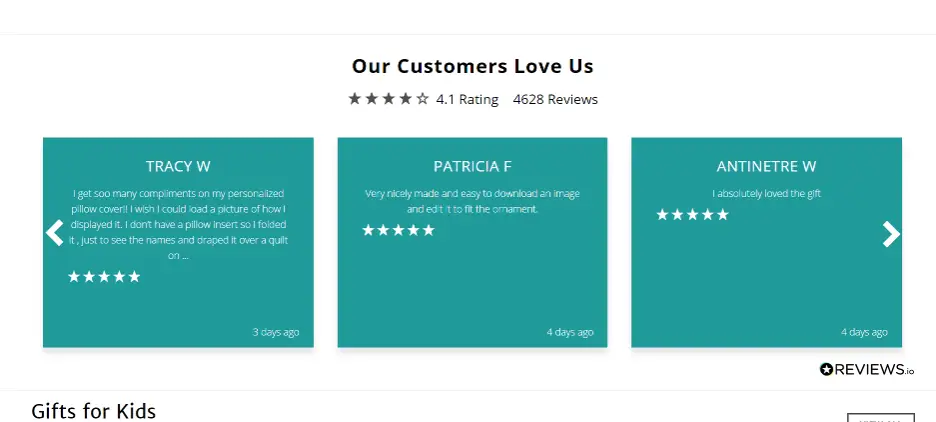 A Gift Personalized is an online store that sells customized gift items for men, women, and kids. On their homepage, they have a section that they've dedicated to customer reviews, and you'll see that they've included several reviews from past customers who've purchased an item from the store.
These reviews include a combination of comments and star ratings, and they do a really good job of showing future customers that the company is trustworthy and sells quality products. They also include a link to Reviews.io, one of the independent review platforms we mentioned earlier. And, if you click on that, you'll get access to many more reviews from past customers. It's a great way to build trust with prospective customers and it could help the company generate more leads that will eventually turn into customers.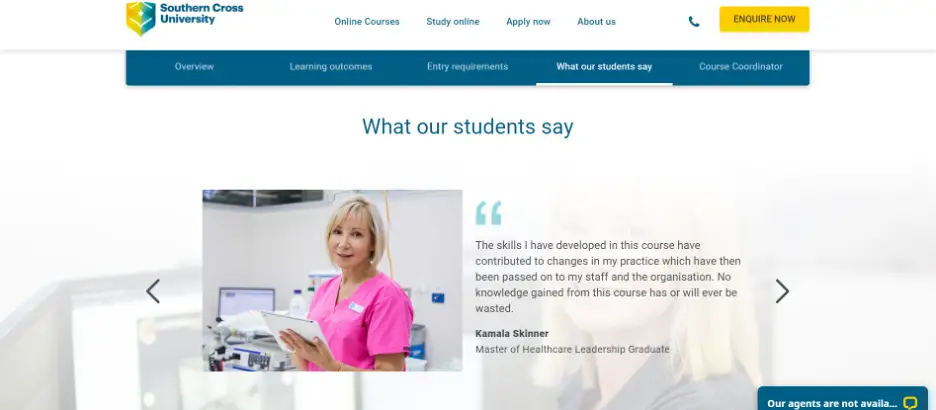 Southern Cross University offers a variety of online courses, and they've chosen to display reviews on each of their program web pages.
Take a look at their page for the SCU Master of Healthcare Management online course, for example. As you read through all the important information about the course, you'll also see the testimonials they've included from past and existing students of the course.
These testimonials show how useful the course has been in the lives of those who took it, and they also outline the benefits that the program has to offer, which can be very instrumental in getting more people to enroll in the course.
Include a strong call to action on every product or service page
If you want to turn website visitors into customers, you'll have to harness the power of strong calls to action (CTAs). These are prompts that tell your visitors what they should do on your website. And, to create a strong CTA, you'll need to keep a few things in mind.
First, you have to make sure that you're using strong command verbs that tell people exactly what you want them to do. Examples are words like "subscribe," "buy," or any other verb that gives a clear instruction. You also need to ensure your CTAs stand out on your website, and you can do this by using bright colors for your CTA buttons so they will contrast against your background and make it easier for people to spot them.
To give you some inspiration, let's study an example from a business that does a great job of creating strong CTAs for its website.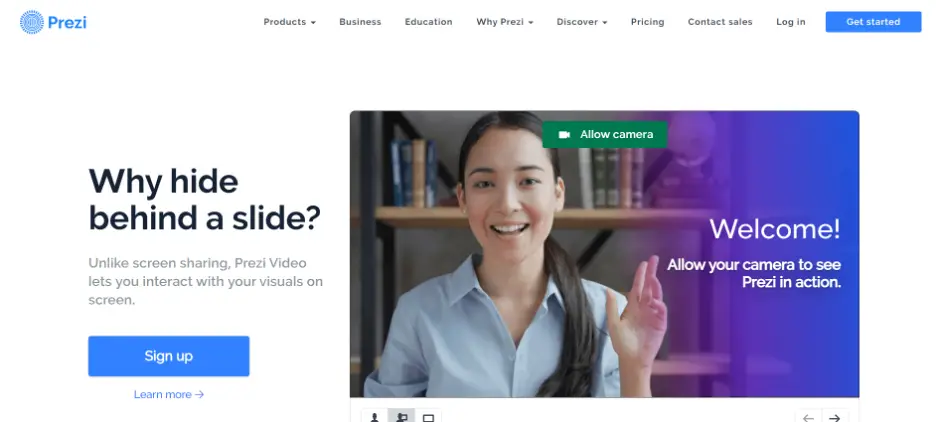 Prezi offers visual communications software that allows people to give presentations and create quality charts, infographics, or other designs. If you take a look at their homepage, you'll see that they've put a lot of thought into creating a strong CTA that can help them capture more leads.
The CTA copy gives a clear instruction, which is to sign up, and it is placed on a blue button that contrasts against the white background of their homepage. It's a great example of an effective CTA because it clearly tells visitors what they need to do and its bright color makes it almost impossible to miss, which means they'll have a better chance of converting more website visitors into leads.
Allow customers to personalize their shopping experience
If you're able to provide a positive and customized shopping experience for your website visitors, you'll find that it encourages more people to buy from you. One of the ways you can personalize people's shopping experience is by creating a virtual try-on feature that allows them to visualize how a product would look like on them if they were to buy it. You could also create a sophisticated search tool on your website so visitors can filter out what they don't need and search for specific items that will be tailored to their needs.
Another thing you can do is provide interactive calculators that assist in customizing the experience of your visitors, depending on what industry you work in. To give you a better idea of how this could work, let's look at an example of an interactive calculator that's already been created.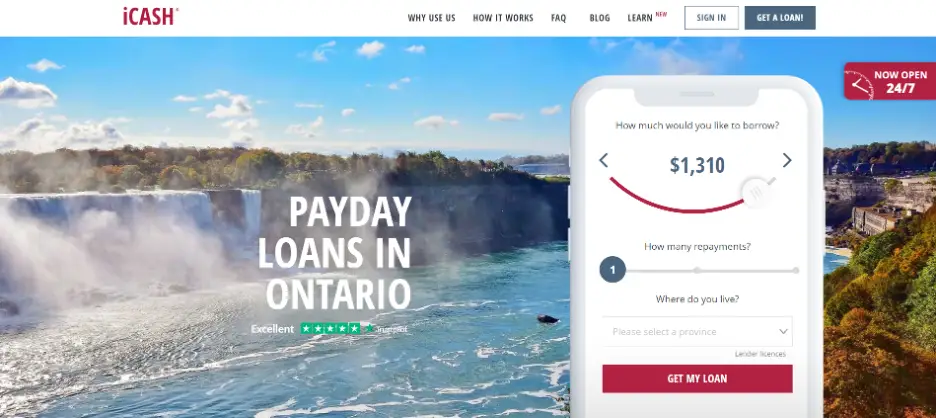 iCASH is a financial lending company that provides assistance to Canadian residents in several provinces. To personalize the shopping experience for their customers, they've created an interactive calculator that assists people who want to get a loan from the company.
The tool allows prospects to select exactly how much they would like to borrow, the number of repayments they can make, and the Canadian province where they reside. The calculator then gives them more information about whether their request can be granted and the cost of borrowing.
One thing you can learn from this tool is that the calculator is not only useful for creating a customized experience for each visitor, but it also makes the loan application process more transparent. This could be enough to get more leads and customers for the company.
Introduce your team so prospects feel connected to your business
People will be far more likely to buy your products and services if they feel a strong connection to your business. And, one of the best ways to foster that connection is by introducing the people behind your brand to your website visitors.
For instance, you could create a detailed "about us" page where you introduce every member of your company or create videos that show off the faces behind your business. Something else you could do is publish behind-the-scenes content that gives an insight into the day-to-day activities that go into running your company.
Here's an example of a business that uses this tactic well by introducing its team to website visitors.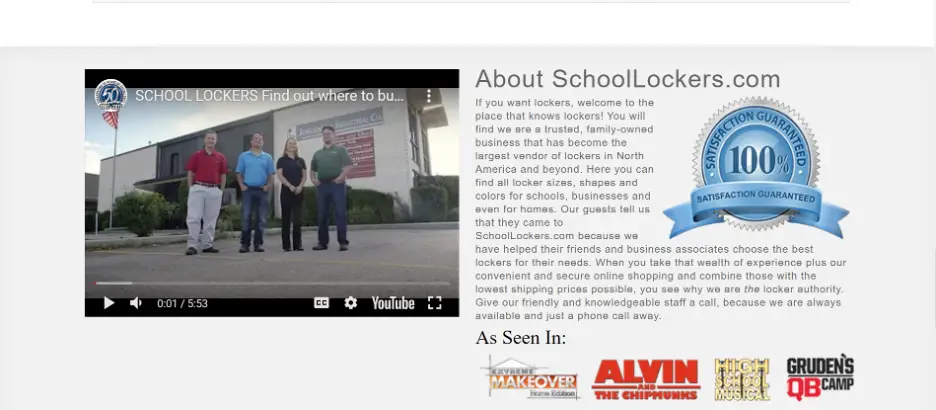 At SchoolLockers.com, you'll find a variety of lockers for different establishments, including schools, gyms, and workplaces. On their homepage, you'll see a short video where they introduce members of their team and show behind-the-scenes content.
The video starts with an introduction to one of the employees who talks about her job at SchoolLockers.com, and then she continues narrating the services the company offers and how they are able to satisfy their clients. It works as a great way to help the company get more leads because prospective customers will easily connect with the friendly faces in the video, see good examples of the lockers they can get, and be encouraged to make a purchase from the company.
Show your products or services in action to get people excited
Sometimes, people might want to see your products or services in action before they can decide whether or not to buy them. So, it's worth showing images or videos of what you sell, as this could be a great way to turn website visitors into customers. For example, a cosmetic brand can show images or videos of models using their beauty products, or a university could post videos of its students clearly enjoying their courses.
The idea behind this technique is that it will allow your visitors to see what your products or services look like when in use, so you need to keep this in mind when creating your images or videos. If, for instance, you sell kitchen equipment, including a photo of your product being used in a kitchen is a great way to get prospects excited about the idea of using your products in their own homes. It would also help if you were able to use models that look like your ideal customers so you can build a connection with the prospects who visit your site and possibly get them to convert into leads.
Now, to provide some inspiration that will help you use this technique well, here are some examples of businesses that are doing a great job of showing their products and services in action.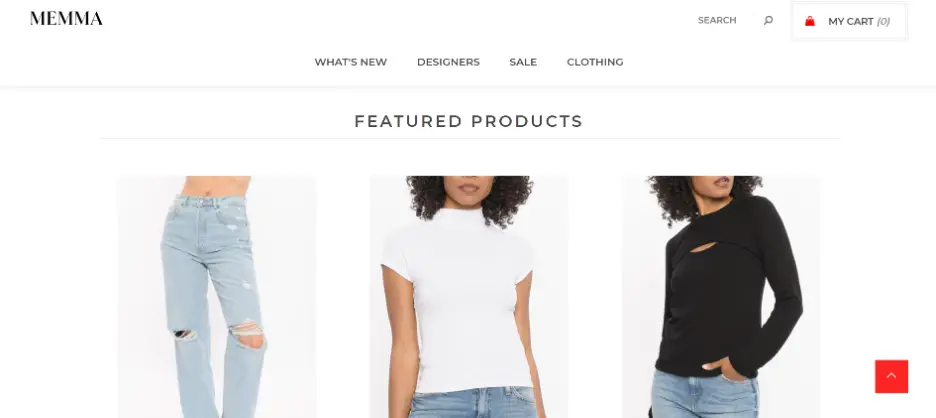 Memma is an online store that sells curated clothing items from different designer stores for women.
Looking at their store, you can see that they don't just display pictures of the clothes on a hanger. Instead, they have several images that show a diverse range of women modeling these clothes to give prospective customers an idea of how the items might look like on them. So instead of guessing, it gives shoppers a more accurate picture of how they would look wearing the clothes, which is a great way to motivate more people to become leads and, eventually, customers.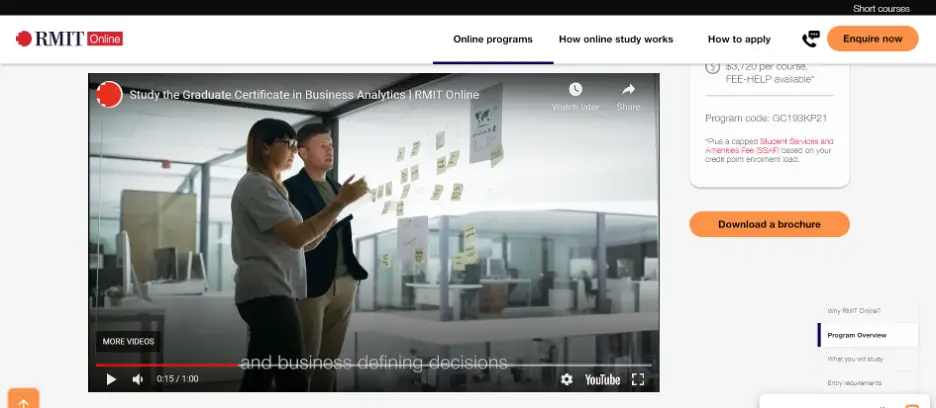 Also, one of the courses offered at RMIT Online is their Graduate Certificate in Business Analytics. On the page where they provide all the necessary information for this course, they've also included a video that shows prospective students what it's like to study the program.
The video is quite short, but it still does a great job of showing how current students are enjoying the course and learning new things about the world of business analytics. This video could be a fantastic motivator for prospective students who are interested in this course, and it could end up being the very thing that influences many people's decision to enroll in the program, thus getting more leads for the university.
Summary
In this article, we've looked through several techniques that you can use to start capturing more leads for your business. From highlighting positive reviews on your site to using strong CTAs and personalizing the shopping experience for customers, these are all great tips that can help you get started.
While it may not happen overnight, you need to be consistent with your efforts so you can see good results as time goes on.
---
Adam Steele is the COO at Loganix, an SEO fulfillment partner for agencies and marketers. We build easy-to-use SEO services that help businesses scale. If you liked this article, please check out our SEO guides and templates on the Loganix blog.