When Adrian Hale was 3 years old, his mother already knew that he had a bright future ahead of him. Buying him all the encyclopedias he could carry, his mom was planning for his continued education, one that went beyond what Hale could even image as a 3-year-old.
The future Yale bulldog grew up in the inner city of Rochester, in a community where many kids didn't even graduate high school. His household had its fair share of problems, but what made his family stand out was their positive outlook despite their bleak surroundings. Hale's parents, especially his mother, instilled in him at a young age that he could do whatever it was that he wanted to do, regardless of what that was.
He later became the first member of his family to graduate high school, after which he joined the military and achieved success there. He then went on to attend Yale, one of the nation's most prestigious colleges, and was the first in his family to graduate from an institution of higher learning.
Though they were the biggest influences in his childhood, Hale's parents were not the only support he received. "I know it sounds cliché, but it takes a village," he says. Everyone from friends and family, to teachers and coaches helped him through the many obstacles thrown his way. Stepping in at different times in his life, they helped Hale adopt the mindset necessary to confront the challenges and obstacles at that particular time. Whatever life threw at him, Hale was ready to face.
Hale also developed a deep love and pride for his country in his youth. His great grandfather served in the navy during World War II, so he held the military in high esteem, considering the armed forces to be the untouchable super heroes that did the impossible. After watching the tragic events of 9/11 unfold, Hale began to realize the sheer brutality of war.
He then began to consider joining the military himself. While working as a cashier for his local supermarket, he met a military recruiter who convinced him to join. While he had some initial doubt, something inside of him clicked, and he knew that this was what he wanted to do, "If I don't do what I can, I will never be able to forgive myself," he told himself.
A strong believer in fate and purpose, Hale knew this was his shot, both to serve the country he loved, and to validate his mother's belief that he was destined for great things.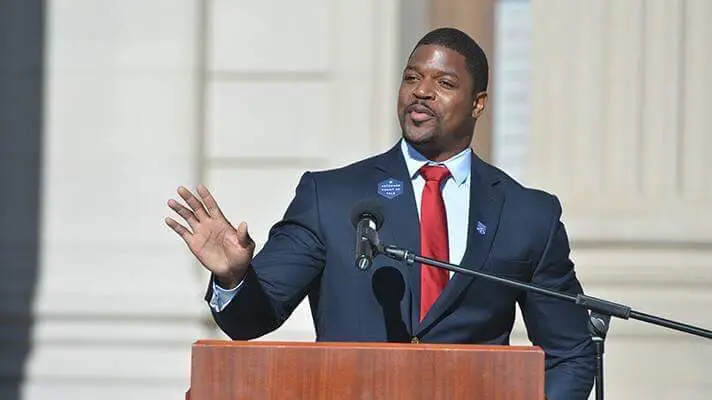 Hale always knew he wanted to continue his education, but didn't feel ready straight out of high school. Watching one of his close friends give the valedictorian speech at his graduation, he reflected, "That could've been me." It was during this moment that Hale realized he was no longer comfortable sitting back and living life in his comfort zone. But he knew that, if he was going to go to college, he wanted to do it right and when he was fully ready.
The military served as place for self-realization for Hale, better preparing him to face the world. Never one to take the easy route, the young serviceman enlisted in the Marine Corps out of high school. His time in the service gave him life experience, maturation and a deeper understanding of what he was interested in.
He always knew that he loved people, and his time in the Marine Corps allowed him to realize that to help people, he needed to actively take place in institutional and systemic reform. "The problems, whether they be poverty, illiteracy, unemployment — you name it — are being actively produced in people by poor functioning institutions that were created to help people," he says. He was also exposed to new schools of thought and discovered a love for reading.
His time in the service also allowed for some self-reflection, and it was here that he gained an acceptance for his true self, as a gay man. "The combination of the pressures and the sheer exhaustion forced me to confront that I really needed support in a way that I wasn't getting because I was gay," he says. He had been in denial, but he realized that he was up against a wall.
At first, Hale came out to close friends and family, and then soon returned home and began to live life as a gay man. As a result, the veteran has become adamant about working to dismantle damaging stigmas and stereotypes.
After returning home, Hale found it initially difficult to transition back. He hit a low point, and in August 2012 he decided to reenlist the Air Force Reserve. One month later, he was enrolled at Monroe Community College, and suddenly, he had a place where he could discuss and debate with other engaged students. It was there that he first put to use all that he learned from the many books he read.
Hale quickly became a top student, with a 4.0 GPA that he would maintain throughout his time at MCC, and he also got involved as a student leader, joining the student government as the speaker of the senate, for which he received the Chancellors Award, a high honor.
As a student leader, Hale attended many functions and fundraisers for MCC, and at one of these he met his current mentor, Robert Duffy. Hale had known about and looked up to Duffy since he was in diapers. Duffy was the police chief of Rochester, the mayor of Rochester and then served as the lieutenant governor of New York.
At the fundraiser, Duffy took an interest in Hale. He told Hale that he was going to return to Rochester to work for the Chamber of Commerce, and gave Hale his personal number, telling him to keep in touch. Hale did just that.
When it came time to graduate MCC and transfer, Hale's professors told him to aim high. He applied and interviewed at some of the top schools in the nation, but picked Yale because of the support he felt.
During his interview, he saw they really appreciated his story, and this hit home for Hale, who is a strong believer that everyone's story is important. "When people can really appreciate [our] stories, especially if they don't look like you or share your background, it's that empathy that I think makes the world a better place."
The transition to Yale came with a culture shock that he had never experienced before. While Yale is located in the inner city, and attempts to create a diverse student body, the culture was dominated by the upper class elite. There is a strong pressure to conform to this privileged culture, which made Hale's first semester at the school difficult as he struggled to find where he fit in. "I had to make a decision early. Are you going to play 'that game'? Or are you going to be you?"
Although it would have been easier to conform, Hale chose to be himself, and learned a valuable lesion by doing so. "When you stand for what you believe in and provide people with an authentic representation of who you are and what your life has been, you will find that people will build a genuine respect for you." Hale picked Yale because he wanted to better prepare himself to be a leader that could make real change, and he felt he could only do that by being true to himself.
This May, Hale walked the stage at his graduation, completing what once seemed impossible. "It didn't really hit me until I saw the diploma in my hands with my name on it," he says. To this day, Hale is still processing what he has accomplished — born in the inner-city with seemingly endless struggles and roadblocks, to now being a Yale graduate, with seemingly endless opportunities ahead.
During his time at Yale, Hale took part in an undergraduate fellowship with the Yale institution for social and policy studies. Part of this included a summer internship focusing on policy. Hale chose to go back to Rochester and work for their Chamber of Commerce, under the leadership of his mentor, Robert Duffy.
This internship led to his senior thesis on education reform in the Rochester city school district. After graduating, Hale went back to work in Rochester full time. He admits that the main reason he returned is because of Duffy. "I wanted to learn his style of leadership and why he was able to do so much," he says. At the Chamber of Commerce Hale is working on improving education, workforce development and jobs.
While Hale's mother never doubted what he could achieve, many would've doubted such success based on the situation Hale was born into. However, Hale never shied away from a challenge, and used the confidence given to him by his family to achieve great things.
Now a Yale graduate, he is working to give back to the community that raised him by helping fix some of the problems that keep many kids like Hale from reaching their goals. As an overachiever, he is far from done, and we are sure to hear much more from Adrian Hale in the years to come.