Keaton Hendricks is a fourth-year Marketing major at Taylor University who founded the company Sky Footwear, a sock company that donates a pair of socks to an assigned monthly shelter every time a customer purchases a pair from Sky Footwear's line. Since its inception, the company has donated more than four thousand socks to eleven different homeless shelters.
Born in Evansville, Indiana, Hendricks is making a difference in the world one sock at a time. "I may be the first college student to have seven thousand socks in my dorm room," Hendricks jokes. "I'll probably never have to buy socks ever again in my life. We have seven thousand in my dorm room and another seven thousand at my parent's house. We have ordered a lot of socks, and I'll never have to order another pair again in my life, I'm pretty certain of that."
In November 2015, Hendricks, along with recent grad and friend Eric Cellier, came up with the concept for Sky after being inspired, or, rather, shocked into action, by the disproportionately large homeless community in Evansville, where Hendricks was raised. "The city has a huge homeless population, but it's a relatively small city," he says. Hendricks started volunteering at a homeless shelter in the area called The Genesis Shelter, and from that volunteer experience, he established a lot of relationships with the people there. "I developed a heart for those people. I've connected to their stories and who they are through our conversations. I always had this passion for the homeless, and I knew through my experience that socks were the number one requested item," he says.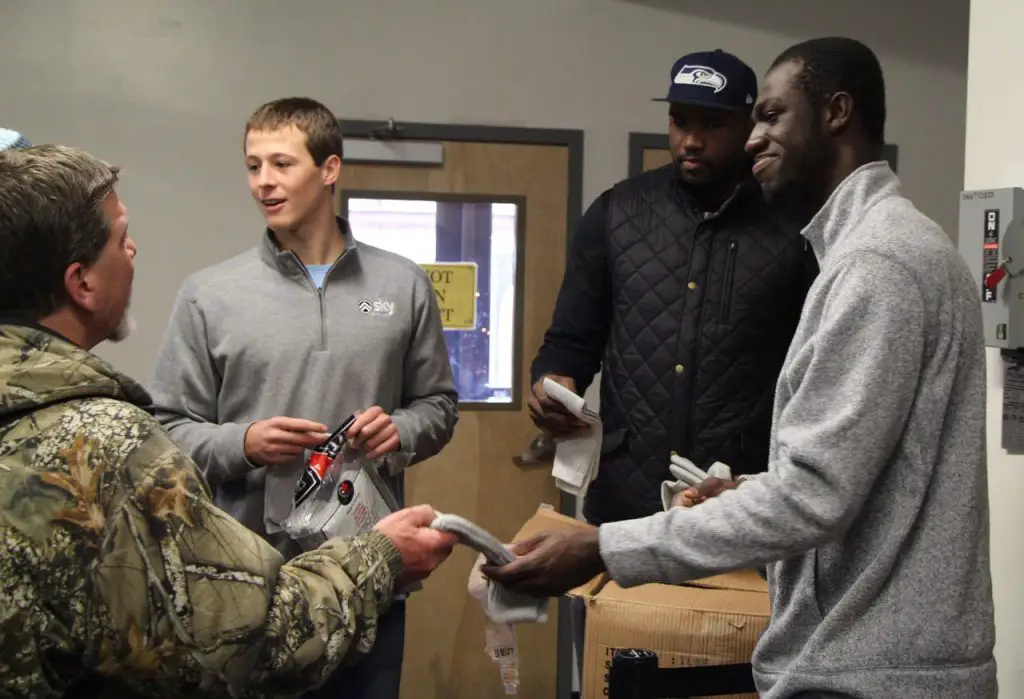 Hendricks and Cellier got together in fall 2015 in the hopes of creating something that would help the homeless, and they knew that socks were the number one requested item from displaced people, as well as a trending fashion accessory. "We realized we could hit on this trend and support these people for whom socks are such a huge need," he says. Sky Footwear focuses on a one-for-one model, and they partner with a different homeless shelter each month in the U.S. Every month, they tally up how many socks they sold and then donate that number to a shelter that rotates monthly.
Hendricks says, "For instance, this month we are partnered with the Hartford Rescue Mission, in Hartford, Connecticut. For every pair that is sold this month, at the end of the month we will provide their residents with socks. The socks that we provide them with are wool socks, which is a different material than we sell on our website, because what they need is something that is durable, something that will keep them warm and something that will last."
Hendricks and Cellier started their company with the money they had from their own pockets and put in all that they could. Since money was tight, Sky started out with thirteen different styles. Since then, they have increased to twenty-three styles, and they plan to add a total of thirty by the end of the year. "We eventually want to have as many styles as we can offer, but it just takes time," Hendricks says. The inspiration for the sock designs comes from Hendricks' three sisters, his girlfriend and a ton of friends that all come together as a collective and brainstorm designs.
Before they had launched the company and made it into a success though, the duo had to first find a name. They actually debated this for a while and were unsure what to call their company. Hendricks says, "We knew we wanted something that was short and easy to remember and that also matched our mission. We felt like 'Sky' is a symbol of hope, and it has an optimistic vibe to it. That's kind of what we are trying to provide for these people. We are trying to help them out and encourage them by providing them a simple need, so we hope that this one small act of kindness can go a long way."
"Honestly, I enjoy the work that I am able to do, and the impact from when we go to shelters and hand out socks has been awesome."
The socks come in a wide assortment of colors, patterns and cuts. According to Hendricks, "The USA America crew socks do really well, as do the Old School Athletic socks and a lot of our dress socks. The Shades of Gray are very popular, as are the Arcade Classic and Think Pink dress socks. The Bel-Air pair is up there and sells really well, too." My personal favorite is probably the Farmers Market trio pack, which comes with the Peaches 'n Cream Dress Sock, Pineapple of the Caribbean Dress Sock and the Watermelon Slice Crew Sock; I love the wide variety of funky colors and trendy patterns. However, depending on Hendricks' mood, he says he probably wears the Old School socks the most. "It's just a casual, everyday sock that's pretty plain, but I like the stripes in it. But, I wear them all, I go through phrases of what I like the best."
This summer, while still running his sock business, Hendricks interned with Wal-Mart at their home office in Bentonville, Arkansas. Originally, Hendricks planned on devoting the entire summer to making improvements on Sky Footwear, but the opportunity with Wal-Mart was too valuable too pass up, as, in Hendricks' words, "they're the king of retail." He helped with the web operations and was in charge of working with their team to integrate stores with the dotcom side and increase the assortment online and the amount of products that are published online for in-store shoppers. "With my dotcom experience, that was something they were interested in, and it enabled me to learn more about the dotcom side of things on a larger scale," he says.
With only one year left at Taylor, Hendricks has some big decisions to make about his future. He says, "I would love to do this full-time, but there are just a lot of things that factor into that, but it is definitely my goal to be able to do. Honestly, I enjoy the work that I am able to do, and the impact from when we go to shelters and hand out socks has been awesome. To be able to give to those people and have those conversations, I truly enjoy doing that."
To find out more about Sky Footwear, check out their website and social media accounts to learn how to join their mission.