Thousands of students across the country have their hopes set on entering the medical field, but few are as determined Alanna Gordon, a senior at the University of Delaware majoring in medical diagnostics. In fact, not only does Gordon plan to become a physician, she has her sights on becoming an orthopedic surgeon, a notoriously competitive, male-dominated field.
More specifically, Gordon wants to be an orthopedic surgeon in the U.S. Army. "If I could give back to a soldier by giving them back their everyday function, it would make me feel like my job is more than just making money," she says. "I want my career to be meaningful. I want to change my patients' lives for the better, and take part in something bigger than myself."
Gordon has known that she wanted to study medicine since she was a little kid. When her grandmother got sick, she was able to see firsthand how important a good doctor is. Something about the field intrigued her, and she knew she would not only be challenged by it, but flourish as well. In short, she wants to be a better doctor than the ones that helped her grandmother.
While she has had a lifelong interest in medicine, the University of Delaware senior only recently realized she wanted to become an orthopedic surgeon. It wasn't until she studied abroad on Faial Island, an Azores island off the coast of Portugal, in 2015, that she found her calling. On the island she was allowed to go into the surgical room and watch the doctors in action, an experience she had formerly been unable to witness. "I saw changes being made right in front of my eyes," she says.
Being in the operating room next to the orthopedic surgeon, watching his every move, made her realize what an amazing field it was. She watched hip-and-knee replacements and was mesmerized by the surgeon's ability to reconstruct their patients' joints in order for them to regain mobility. It was there that she realized she had the capability to give back, and she soon developed a drive to be the best orthopedic surgeon possible.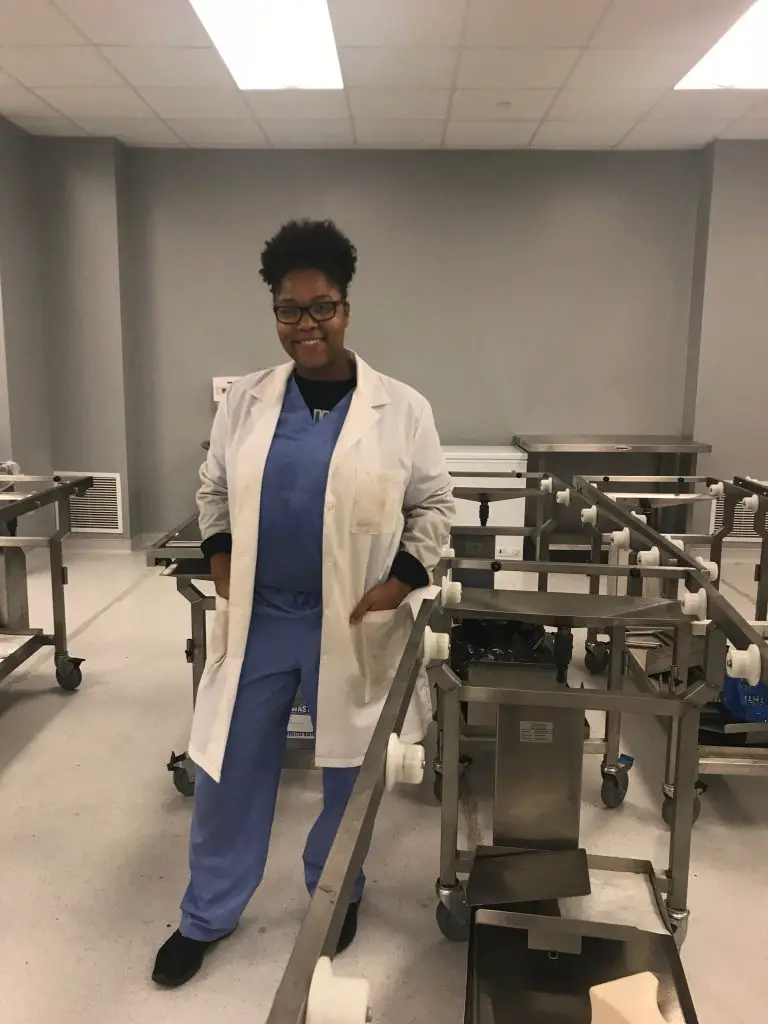 The study abroad trip included a clinical internship that allowed Gordon to gain 75 hours of experience shadowing physicians of many different specialties, an experience she described as the trip of a lifetime. When she wasn't shadowing in emergency medicine, internal medicine, nephrology, oncology or surgery, she was conquering her fear of heights by hiking a number of volcanoes and touring the adjacent islands in the archipelago.
Despite how foreboding the volcanoes were, Gordon was unintimidated; she is, after all, a woman pursuing a career in orthopedic surgery, a medical field dominated by men and not one for the faint of heart. While other young female surgeons might feel cowed by the specialty's gender bias, Gordon is motivated by it. "Women are often doubted," she says. "Most men feel women aren't as good surgeons. We have to work harder at everything and prove ourselves more."
Orthopedic surgery can be more physically demanding than other medical fields due to the drilling, sawing, ratcheting and other mechanical motions required by the procedures. However, the physicality of the job shouldn't hinder anyone who's able to do the work. Less than 5 percent of orthopedic surgeons are women, but Gordon hopes to help change that statistic.
In fact, as a black, female, pre-med student, the most challenging part of her career has been overcoming the racial and gendered stigma against her and focusing on what she needs to do to cross the finish line. "As long as you work twice as hard as those around you and seek out opportunities that will enhance your experiences, you will succeed," she says.
Despite how much time she devotes to her University of Delaware schoolwork, Gordon is also passionately invested in community service. "I feel it's important to give back to the community and community service makes you a less selfish person," she says. "It made me realize there is more to life than just what I'm dealing with."
Specifically, the UD senior is heavily involved with the Big Brothers Big Sisters organization. Through the program, she acts as a mentor to underrepresented minority students in disadvantaged neighborhoods at the local elementary school.
Gordon is also active with Habitat for Humanity, where she volunteers to help build affordable homes for families in need. And when she's not helping with Big Sisters or Habitat for Humanity, the pre-med student works with Lori's Hands, where she helps local, infirm residents with mobility disorders.
As her time as an undergraduate comes to a close, Gordon is focused on the next step. After she graduates from the University of Delaware in May, she plans on giving her brain a rest by taking a gap year before starting medical school.
She can't completely stay away from medicine, though. During her year away from school, she will be working as a clinical information manager at New York Presbyterian Hospital. Here she will be involved in a shadowing position. "I'll kinda be like one of the interns on 'Grey's Anatomy,'" she says.
Gordon's unique University of Delaware coursework and dedication to beating the odds stacked against her help set her apart from your average medical student. She thrives off of people doubting her or telling her that she will not be able to accomplish her goals. In her undergraduate career alone, she has been exposed to clinical coursework that most students don't see until they're in medical school in their rotations.
More than anything, Gordon is looking forward to having her first patient. She understands the difficulty ahead of her, but is unconcerned about the amount of work she'll have to put in. "I am willing to work 10 times harder to prove myself in this field," she says. "I can do anything a man can do 10 times better. I am smart and powerful and will have to overcome bias with confidence."