To celebrate Black History Month, Montpelier High School in Vermont became the first public high school in the United States to openly announce its support for the Black Lives Matter movement by flying a Black Lives Matter flag outside the school.
Montpelier High School rose the flag at the beginning of the month and allowed students to take turns in presenting the flag, which since has gained them national recognition.
Raising this flag was a unanimous decision from the school board decision, which has earned them messages of both praise and distaste. After receiving threats from many white supremacist groups, police were present at the raising of the flag, but no threats came from in-state or posed an immediate danger.
Even with the protests, Montpelier High School chose to remain flying the Black Lives Matter flag, reaffirming their inclusive approach to all. Since the raising of this flag, other nearby high schools, such as Burlington High School, have expressed interest in publicly showing support and flying a flag for the Black Lives Matter movement as well.
#BlackLivesMatter Movement
Like many movements, the Black Lives Matter movement has sparked controversy since its inception the three activists Alicia Garza, Patrisse Cullors and Opal Tometi in 2013.
The hashtag #BlackLivesMatter was used in response to the many cases of police brutality and deaths involving black people. The movement grew from a grass-root campaign on social media to one with actual power and inspiration, organizing protests and other events around the country.
As #BlackLivesMatter grows, the resistance against grows as well, prompting many people, some of whom identify with multiple white supremacist groups, to an alternate hashtag of #AllLivesMatter in its opposition.
The argument from the opposing side was that it is unfair to focus on one group as all lives are important. While it is true that all lives do matter, all lives are not being oppressed the way black lives are.
The Black Lives Matter movement focuses on those who need to be protected more than the white Americans, who are graced with privilege in regard to their race. America is built on privilege and the Black Lives Matter movement is a fight against this.
It's Not Just a Flag
Montpelier High School itself is made up of 350 students, 18 of whom students are black. According to the 2010 United States census, Vermont is one of the whitest states with only a 0.87 percent of the population are African American, which makes the public appearance of a BLM flag all the more significant.
It is a statement that not only black people follow the Black Lives Matter movement but White people support it as well.
By flying the BLM flag, they are spreading awareness and standing in solidarity in a different way: showing that you understand the oppression that does not affect you and that you are willing to work to help the people who do not have access to the same privileges.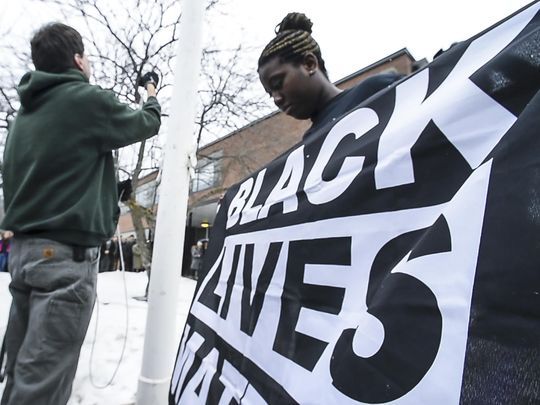 By supporting the movement, schools are demonstrating their acceptance and support of all races. Whether it is a predominantly black school, a predominately white school or a school with a mixture of both, all schools should support the Black Lives Matter movement.
The time students spend at school has a big impact on not only the students themselves but also their family. By supporting Black Lives Matter, along with providing education on the matter and movement, schools are also providing a safe and inclusive environment for every young person to grow.
More than that, by supporting movements such as these, schools are providing a great example of social awareness to others in the community, encouraging more active engagement from community members in creating an equal environment for all.
On most college campuses, it is common to see flags for movements such as Black Lives Matter advertised in student's windows or dorms. However, secondary school students are not always given such freedom.
Allowing them to fly the Black Lives Matter Flag means empowering them to speak for themselves, to advocate for what they believe in and join a fight that the entire country is fighting. The Black Lives Matter flag, therefore, is not just a flag; it is a lesson of acceptance and inclusion to students, teachers and community members alike.
A Conversation Kindled
The raising of the flag sparked discussion around Montpelier High School. It was reported that black students in the community were reaching out and telling their stories, educating white students on topics and experiences that they could not relate to.
This is what Black History Month is all about: spreading awareness and supporting the black community in this country. This is exactly in line with the focus of the Black Lives Movement and why schools should follow in the footsteps of Montpelier High School and stand in solidarity with it.
By flying a Black Lives Movement flag at least once, schools can spark the racial discussion in their community, showing support and acceptance to all students of different races and ethnicities. Students should feel as though they are safe and encouraged in their learning environment regardless their race.
Although Montpelier High School is a just one small community in one of the county's smallest states, it is setting an example that all schools should be following in expressing inclusivity. So yes, all lives matter, but right now, black lives and black rights are the issue at hand, and schools should continue to support this movement not only during Black History Month, but all year round.