At a time when most high schoolers are worrying about prom dates and college acceptances, McKenna Carrigan was busy building a campaign, called Share a Pair, to challenge society's troubling beliefs about sexual assault. Now a senior at Drake University, Carrigan is continuing to fight for those affected, as well as people suffering from human trafficking and abusive relationships.
Between school and her sorority, as well as her work with Share a Pair, the Lotus Legal Clinic and as a healthy relationship ambassador, the public relations and graphic design major has little time to spare. Unlike the typical (and unwarranted) sorority stereotype, Carrigan contains multitudes.
The senior's interest in social justice issues had an unlikely beginning. In fact, her famous slogan, "Share a Pair," came from a class assignment. "For my honors class, we had to do a community service project. Everybody was doing something like a bake sale or a food drive, but I wanted to do something different — more impactful," she says.
For her, this meant using inspiration from the Denim Day Project, created when an Italian court ruled that a woman could not have been raped because her jeans were too "tight" to be removed without her consent. Her brainchild, called Share a Pair, meant she collected and displayed 1,050 pairs of jeans — each one representing a sexual assault that occurred while she was in school that week.
Carrigan did not anticipate the huge level of support her project would receive, as the newspaper articles and TV interview requests came in. "It grew into something much bigger than myself," she recalls. "That was a powerful thing. It became the community's project, about our community coming together for the same cause."
That was just the beginning for Carrigan. When she came to college, she continued work with Share a Pair, started working for the Lotus Legal Clinic and found a way to use her passion within Greek life.
She is a member of Delta Gamma and wanted to join Greek life for the strong community. "When I transferred schools, I knew I wanted to be a part of a supportive community. I wanted to be surrounded by uplifting and powerful women. Once I joined Delta Gamma, it felt like home to me," she says. In fact, the Angel Band Project, a group Carrigan is partnered with, is run by fellow DG alumni Rachel Ebling.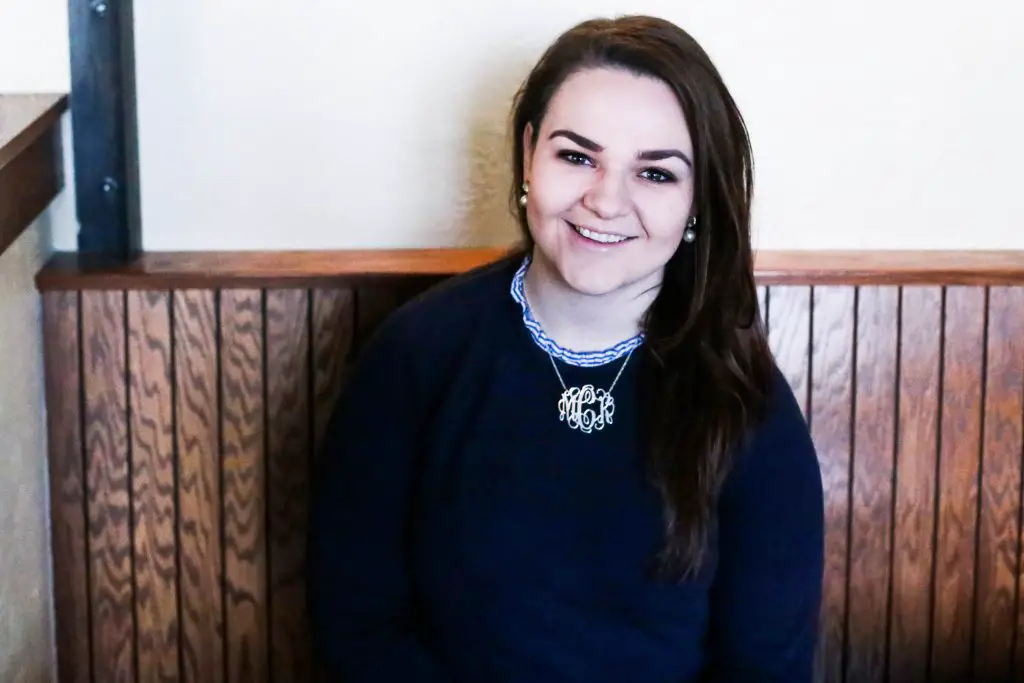 Every sorority chapter has one or two healthy relationship ambassadors, and Carrigan filled this position for DG. For this, she says, "I went through training where we learned about teaching members about what a healthy relationship looks like. We go over things like stalking, rape culture, cat calling, etc. We want to support our members and let them know what resources are available." This information is valuable for many people, seeing as unhealthy behavior is often normalized. "Girls will come up to me or message me saying, 'thank you so much for talking about that,' 'I really needed to hear that' or 'I didn't realize what that was'," she says.
Working for the Lotus Legal Clinic is another way Carrigan strives to empower women. The organization aims to help those affected by human trafficking.
Carrigan sees it as a way to help these women not only find a new life, but also to get rid of the stigma and false beliefs about trafficking. "They want to help people get out of the system, protect them and let them start fresh. For example, if you were a victim of trafficking and now needed a name change, they would help you with that," she explains. "The conversation has shifted away from telling people it's their fault if they were involved, to putting the blame correctly on the ringleaders, and knowing that you were roped into it and just couldn't get out."
She sees her sorority experience as a source of solid, constant support. "Whether I'm struggling with a class or just really stressed out, I always have this incredible community of women to empower and support me," she says.
In fact, after Carrigan appeared on the cover of "The Anchora," Delta Gamma's quarterly magazine, her sorority sisters wanted to be a part of her movement too. "When the article came out, I didn't tell anyone, so the magazine arrival was a surprise. Everyone was so incredibly supportive. My sisters thought it was amazing and started asking if I was doing it again, and if there was anything they could do to help."
As of now, Carrigan is gearing up for another Share a Pair event at Drake's campus this spring. She hopes to possibly involve Delta Gamma and other Greek organizations in furthering the discussion about sexual assault.
When asked about the broader future, Carrigan says she looks forward to helping Share a Pair to grow impact as many women as possible. "We've been starting to talk about creating an official non-profit organization, and furthering the work of the Share a Pair Project," she says. "We want to be able to go around to different college campuses and have the same work and discussions go on there. That's the hope right now! We'll see what doors open and what opportunities come up."