Though only a freshman majoring in healthcare management and public affairs at Indiana University (IU) Bloomington, Alaskan Native American student Caleb King is teaching students about Native American heritage and culture.
As a founding and executive member of the American Indian Student Association (AISA) at IU, King, along with his co-founders, aims to create a space on campus that allows others the ability to give back to the Native community.
Apart from the organization, King also joined the First Nations Educational and Cultural Centre (FNECC), another platform that serves to teach, support and build an inclusive Native community within IU Bloomington.
Racially identifying as Sugpiaq Alutiiq, King has been a member of his Alaskan indigenous tribes, Seldovia and Koniag, since he was five years old. Growing up in Anchorage, Alaska, King learned important Native American values, such as respecting one's elders, utilizing resources fully and honoring God and one's family.
Moving from Anchorage to Bloomington, Indiana, at the age of 15, while an arduous experience since his peers challenged his Native identity at times, King eventually channeled his vulnerable moments of frustration into productive moments of teaching and connecting with his peers.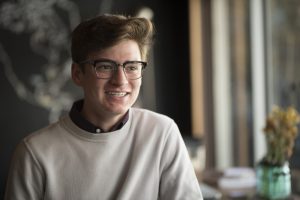 An issue King focuses on is the ability to gravitate away from viewing American Indians as historical figures as one that requires continual effort. "Sometimes we get asked, 'I'm supposed to do a project on a Native, can I do it on you?' and this enters the realm of interviewing Natives for idolization purposes as opposed to understanding them," King says. Though gradual, American Indianism is moving away from being defined by Native American "history" to using the key word "heritage." The word "history" freezes indigenous peoples in the past rather than bringing into conversation their culture and who they are today.
King prioritizes his indigenous community and identity, especially in consideration of his career aspirations in healthcare. Once he graduates medical school, the Alaskan native hopes to return to his home state to improve the current standard of its healthcare.
After a few years of interning at both Southcentral Foundation and Alaska Native Medical Center in the Primary Care unit, King witnessed at the ground level the health issues that Alaskan Natives faced in excess to Native American communities across the United States. "Alaskan Natives are at the lowest of all health outcomes. Most obese, most depressed and have a high risk of death by suicide or disease. It's one thing to know a statistic, but another to see it being played out in everyday life," says King.
King's pursuit and knowledge of healthcare policy will afford him the agency to be aware of the care and treatment his future patients will experience in the healthcare system. He says, "I'm a person who doesn't like being told no. I'm also a person who doesn't like not being told why. So, as a future medical doctor, I want to know why there is a why and why there is a no. And I want to know why Alaskan Natives are not experiencing the caliber of healthcare that other people are."
Since he spent his formative years in Anchorage, King learned the meaning of community from his family and the Alaskan Native people. "Growing up as an Alaskan Native, you have a community and culture. You experience culture together. You experience relationships with your community as soon as you are born, such as the microaggressions and racism that happens daily." Despite the racism King has experienced over the years as an American Indian, the ability to discuss said experiences with his Native community members, who also share such encounters, has given him the opportunity to move past these negative experiences.
Entering into the Seldovia and Koniag tribes means that King has blood descent and gained the acceptance approval from tribal governance. With this approval comes privileges, but also a tribal identification number, which registers an American Indian into the federally registered Native American database and record.
Though the experience has been a mostly positive one, King claims that numbers can also be restrictive. "When I was younger, especially because I looked white, I felt I wasn't connected to that community since I did not have a tribal identification number. Now that I do, I have been challenged on my blood quantum by peers who have asked me 'How Native are you?' or have questioned why I don't agree with people dressing up as Native Americans for Halloween."
King also claims that the number is academically restrictive. "Now that I have a number, I also felt that my dreams of becoming a medical doctor were threatened because of the negative connotations associated with being a Native American, such as alcoholism and a perceived lack of intelligence."
Though numbers can be restrictive, so too can a peer's lack of understanding. A particularly visceral moment in his history class at Washington High School in Indiana, reminded him how much work the Native American community still has to do. King and his peers were learning about the Ghost Dance, a Native American dance ritual used to bring back the buffalo and send away the white man during the Wounded Knee Massacre in 1890. To King, the dance ritual represented "a call for help and a cry to God."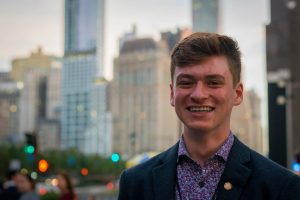 However, his peers viewed the dance as a laughing matter. "When my classmates were laughing at Native Americans performing the Ghost Dance, they were really laughing at my people being quartered, slaughtered and dying. I still feel a painful, visceral emotion from it, but I took from it that my job now is to teach others about Native American culture."
However anger-inducing and hurtful these moments can be, King has learned that anger is of no service; instead, these are moments to teach others how hurtful their actions or reactions can be and to move forward together from it. "When you can teach someone instead of getting angry at them, that creates a bridge of connection instead of a border. Empathy has to be taught, it can't be expected," says King.
The American Indian values King has learned from his own family and community have guided his decisions and actions in his life. Respect for one's elders is integral to American Indian culture. "I know that my elders have more wisdom and experience than me and I have to respect that. That means when an elder asks me to do something, sometimes I don't ask why until later. I do what they ask me, then when I ask why; it is not as a challenge, but rather to learn."
He goes on to add that his values clashed with different societal values. "If I am at a public event, I get very stressed out when elders aren't put in line first to eat. In our community and family, letting elders eat first is a priority."
Just as indigenous peoples hold their elders in high esteem, so too do they maintain a reverent attitude toward land and the animal kingdom. Back in Anchorage, King often hunted with his father who taught him the value of food. "When we hunted and killed a bear, we thanked God for giving us the bear. We used every piece of it; it didn't just go to waste. We consider resources, such as animals not as prizes, but rather as necessary means to continue living because when you waste, someone's going in need."
King claims that being able to live out one's Native culture today is a privilege — one which Native Americans in previous generations did not have. He says, "I, along with others, am able to move past the generational trauma and into a new era of American Indianism. Today, Native American communities are moving past the past. Even though right now I feel I have to set my flag down and assert myself — I know that my work, along with others', will benefit future generations."
King recently attended the Big Ten Native American Conference in November, which was also Native American Heritage Month. The event, which was put on by the FNECC, allowed students and staff to share their Native heritage experiences. He realized there was a gap in the AISA community he was establishing at IU. "We didn't have a community. We were putting educating others ahead of our own health needs, which is ineffective. You must be aware of cultures. We need to stop fighting and start teaching," says King.
Today, King claims that a major barrier to establishing this bridge to connection is ignorance, though he doesn't view it in a necessarily negative light. "Ignorance is not a bad word. In its purest form, it means not understanding. We need to teach and be ready to teach. Moving forward, we can teach instead of getting mad. Don't expect people to know why they don't understand. Move forward together. Togetherness is key," says King.