Although born in America, writer Nancy J. Huang's roots bind her to her Chinese heritage, which continues to influence her perception of the world as well as her creative work.
Huang has had her work—prose, poetry and journalism—published to various online and print magazines, but even amidst the success and recognition she's found, she undergoes the same stress and strain that all writers do. She spoke to "Study Breaks" about her early beginnings, her writing method and where she draws her influence.
Aliyah Thomas: How did you get into writing?
Nancy J. Huang: When I was younger, I would read picture books, memorize them and recite them to my parents on long car rides. My grandfather, who really loves literature, made me read everything, and he kept buying me books, which he still does. I got into writing in third grade. They had these class awards and I got an award for "Best Writer." My grandparents framed it and it's still hanging up in their apartment. That award sort of just started everything else.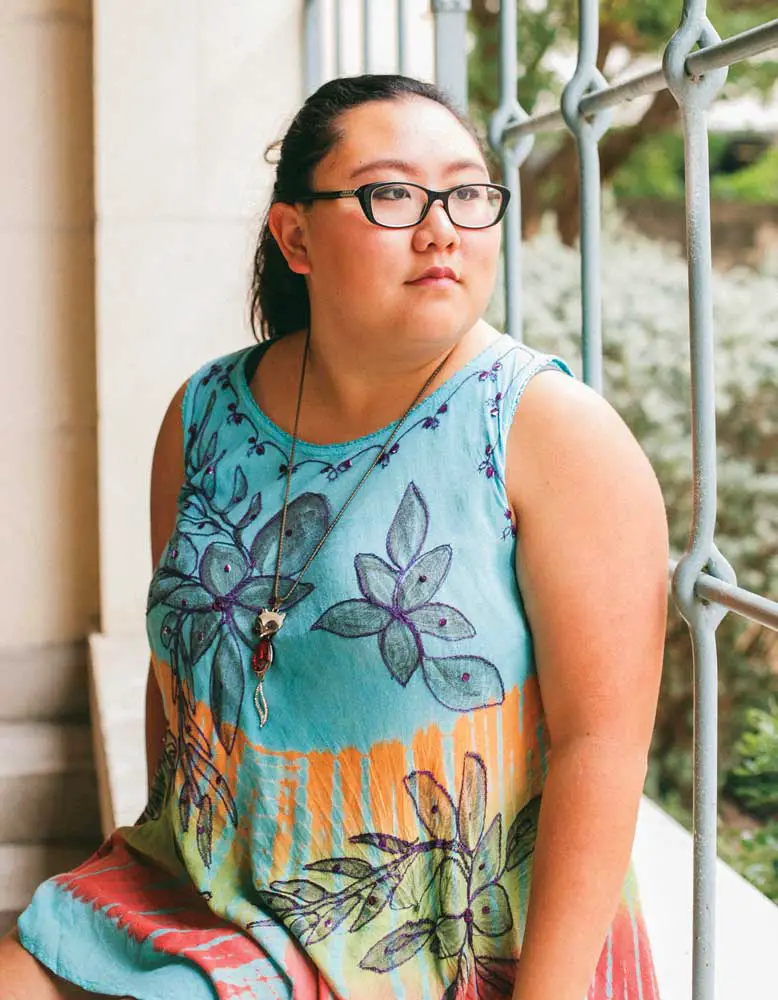 AT: I'm a writer as well, so it's great to be able to speak with someone who understands the same sort of level I operate on. I prefer prose when writing creatively, but do you have any inclination toward prose or poetry?
NJH: I like both for different purposes. I think that when it takes me a long time to process something—like years and years to process something—I usually use prose as a tool of unpacking it all.
Poetry is just as emotionally in-depth, though. Like I can see something I'm angry about online and then write a poem about it, revise it, read it out loud and revise it again in a shorter time span.
So, I think poetry is more immediate for me, and I can't do that with prose. I have to be able to stew over things and take up a lot of time thinking and feeling things. I don't know if I prefer one over the other, but there was a time when I preferred poetry over prose, and now I love them both equally. They're like my two children.
AT: I expected an answer like that, especially when you're asked to choose between two mediums that you love and use so often. Just in a general sense, and this can be poetry or prose, what are some of your favorite pieces you've written?
NJH: It's really hard not to be critical of my own stuff, but I actually really liked a poem I wrote, which got published in Bodega Magazine titled "Circadian Rhythm." I wrote that over a period of three months and it's only six lines—six lines of imagery, but they're all super condensed and it's very restrained. I think it took a lot of emotion and thinking to get to the final product, and I really like how it turned out.
AT: Who are some of the writers that influence you?
NJH: The answer to this question always changes. This month, I've been reading a lot of Asian poets, which has been incredible. Ocean Vuong and Franny Choi are like my poetry soulmates. I finished a poem by Li-Young Lee—she was recommended to me by a friend—and I'm still working through most of his poetry, but I love his stuff. For prose, I love Jeffery Eugenides and Donna Tartt, so it's a good mixture of new and old.
AT: How would you describe your writing style? Is it affected by anything you've read?
NJH: Very sparse. Strong narratives, but weak structures. I've always had a problem with structure. Second to language, it's the thing I try to pay the most attention to because I know I have a problem with it.
When I'm writing anything, language is always a priority. I'm still at that phase where I don't really know my own voice, you know? But I like where I'm at right now—it makes me more willing to experiment with different things. It has its downsides though, like I can't really answer this question!
AT: I feel the same way. I think everyone has a hard time with that question. What about your writing process? Could you take me through that?
NJH: It varies a lot. Sometimes it's just rambling or a stream of consciousness. Sometimes when I feel experimental, I try to limit myself to fun exercises. For any piece, I try to start with the emotion or images that represent the core of the piece, and then I get down to all the technical stuff. For prose, I always write an outline, like an essay outline because prose is more structured and timed that way—beginning, middle, end.
For poetry, I dive into it and start free writing or put a handful of words I know I want on paper and start making connections. Those are very surface-level things, but after that I spend most of my time revising stuff.
AT: When the writing process gets difficult, like going through a spell of writer's block, how do you get through that?
NJH: I get up and stretch, go out and take a walk or get something to eat. Reading definitely helps! Whenever I read something good, I always feel like I want to write something. It's good to have my favorite books with me, or some links to really good poetry. I think writer's block is just a lack of momentum, and everything I do is an energizing tactic.
AT: Tell me about growing up in America and China, respectively, and how those experiences influence you.
NJH: I moved to China in fourth grade and I lived there for three years. China really brought forth this certainty of who I am and my relation to everyone else in the world. Now that I have that context, I can write about things more deeply, too, and explore things more in-depth.
When I moved back to America, I faced a really bad phase of culture shock: I missed all of my friends; I missed the special bond we'd had from being an international student in a foreign country; I just missed a lot of things.
I started writing about it and… it ended up one of two ways: It was either very emotionally draining or it'd be healing—it was just a mix-up of those two extremes. I lost so much of myself, but I also discovered a lot of who I am, too.