In a world that is predominantly run by STEM careers and majors, it takes an extra mile to stand out from the crowd. At Illinois Institute of Technology (IIT) in Chicago, Malek Sarhan is a third-year Mechanical Engineering student who specializes in aerodynamics. Malek also works to emphasize his cultural heritage and has made extra efforts to shed light on the Arab community of engineers and architects at IIT.
As president of IIT's chapter of the National Arab Association of Engineers and Architects (NAAAEA), he's helped students find and form connections to gain internship, career and experience opportunities. As an Arab student myself, I was ecstatic to have the opportunity to talk to Malek about his efforts to enhance the college experience for other Arab students.
Maya Halabi: When did your passion for engineering begin?
Malek Sarhan: In high school, I had a big interest in engineering but more specifically aviation. I loaded up on math classes. I stayed up to date with the newest releases of plane models. It was kind of a hobby of mine. I was passionate about engineering and knew that they make decent pay, so I might as well go for it.
MH: Totally! I'm assuming IIT has a lot of opportunities to excel in engineering. Has there been anything that has helped your specific major?
MS: IIT's engineering and aerospace programs are very good, but we are based in Chicago, which isn't an aerospace hub at all. Aerospace is popular along the West Coast, so if you want to pursue it at IIT, you really need to want it. Going to conferences, doing internships and putting yourself out there will help you gain contacts and social skills. A school name can only do so much, so it's imperative to back it up with experience.
MH: What experiences have you gained so far in college that pertain to your major?
MS: My major is specifically Aerospace, but I still have an engineering background. The organizations I'm involved with are specialized toward aerospace and automotive engineering, such as the Society of Automotive Engineers. A team of us students had to put together a racecar from scratch in the span of a year. We took the car to compete against other schools across the country. It was almost like working a full-time job. Because I'm involved in aerodynamics, I was able to help with those aspects of the car.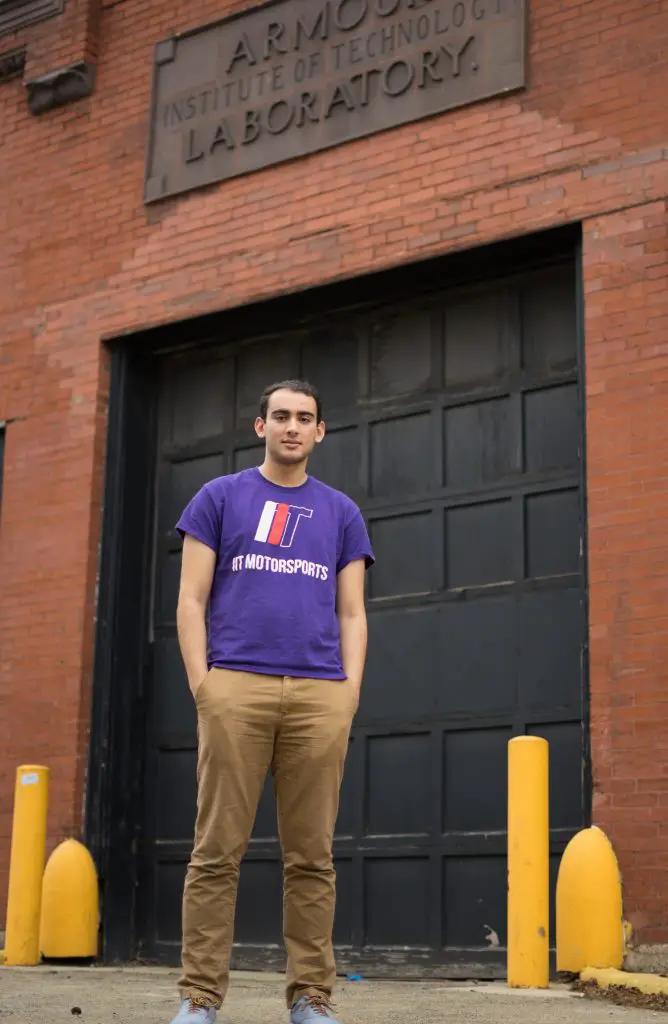 MH: That's awesome, I can't even work my running car. In addition to that, you're president of NAAAEA. What does the organization do?
MS: As a cultural organization, NAAAEA focuses on connecting Arab students on campus with professionals in their major. It's more about opening opportunities for students than working on projects. We like to make sure the Arabs on campus are accessible to job and networking opportunities.
MH: How have you, as president, spearheaded the organization?
MS: The whole executive board was graduating the year I decided to get involved. The NAAAEA has always been a strong group at our institution. Once I got involved, I was able to stabilize the executive board to save the organization. The whole executive board this year is very devoted to serving the best for our members.
MH: Is the Arab community consistently growing in Chicago? I have yet to hear about an organization like that where I live, in San Antonio.
MS: Chicago has the second-biggest Muslim community in the country. If an Arab is going into engineering or medical in the Chicago area, they'll go to IIT. Outside of the organization, we're all friends, but the NAAAEA brings us together as officials.
MH: Middle-Eastern culture heavily revolves around family and close friends. How has your family supported and impacted you as an engineering major?
MS: I'm really close with my family. Both my parents are teachers, so they never really limited my path options like the stereotypical, "You can only choose between medical and engineering" Arabs. They always have known I liked planes. They encouraged me to do whatever I wanted with the understanding that family and a stable job are priority. My parents gave me the leeway to do what I'm passionate about.
MH: As an Arab myself, it's nice to hear about someone having a genuine passion towards STEM and not being forced into it. Do you have any internships or future career goals planned?
MS: I'll be doing a couple office internships this year. My involvement with automotive engineers has given me a good outlook on what the automotive industry looks like overall. It's actually put me on the border between aerospace and automotive engineering. Company-wise, there's a couple options I could choose from, including Toyota. I really enjoy aerodynamics so I'm considering all my prospects. Career-wise, I still think I have some learning to do in order to make a set decision.