What do you get when you combine a bearded man, a t-shirt and your love of nature? You get TheMountCo, a clothing company that was co-founded by childhood friends Braden Cleary and Preston Smith.
Growing up, Cleary spent most of his time skiing or participating in the Boy Scouts, where he did his fair share of outdoor activities. His passion for the outdoors is what sparked the idea for TheMountCo, a clothing company dedicated to promoting nature and the National Park Service.
The idea came to Cleary in high school after he and Smith decided they wanted to start a business together once they got into college. Even though Cleary and Smith went to different colleges, Cleary going to Michigan State University and Smith going to Capital University, they stuck to their goal and started TheMountCo their freshman year of college.  
Becoming a Brand
Once Cleary and Smith had the idea for the clothing line, they needed a logo—something that would stand out, so people would recognize them.
First, they had the idea of a line of t-shirts with simple features—a man's face, a thought bubble and the image of his favorite sport within the bubble. For example, one t-shirt they designed depicted a man's head with ski-related quotes, such as different ski mountains, above it. So, Cleary and Smith hopped on the computer to try and make this idea come alive, but when they started to design it, they came up with The Bearded Man instead.
They started small at first, mostly selling their product to their friends and family, but once their clothing line picked up some steam, they added a website and beefed up their social media presence. Soon enough, The Bearded Man could be spotted across the country on their hats, t-shirts, sweatshirts and more.
The company's most recent exciting venture is becoming grassroots partners with Warren Miller Entertainment, the world's biggest name in snow-sports cinema. Every year, Warren Miller goes across the country showing their latest films of different snow-sports athletes doing what they love to do on ski mountains across the globe. The excitement the films generate drives adrenaline-seekers in the audience to actually come and marvel at the beautiful, snow-filled landscapes that act as the athletes' playground. "I wanted to come up with a collaborative project, thought of Warren Miller films and was able to promote at the biggest filming in Michigan," Cleary says. By partnering with Warren Miller Entertainment, Cleary was able to bring his clothing line to the biggest showing in Michigan, in his college town of East Lansing, and promote it to fellow ski bums.
Becoming a Co-Founder
So, how does the senior marketing major keep up with his growing business, school work and still be a part of the MSU Alpine Ski and Snowboard team? Cleary delegates his time, something he learned back in Boy Scouts. "That's a key factor for me to do all of it," says the MSU senior.
And he doesn't have any plan to stop soon. After graduating in the spring, Cleary plans to move to Trevor City, one of the biggest vacation towns in the state, and open up shop there so he can focus on growing the brand.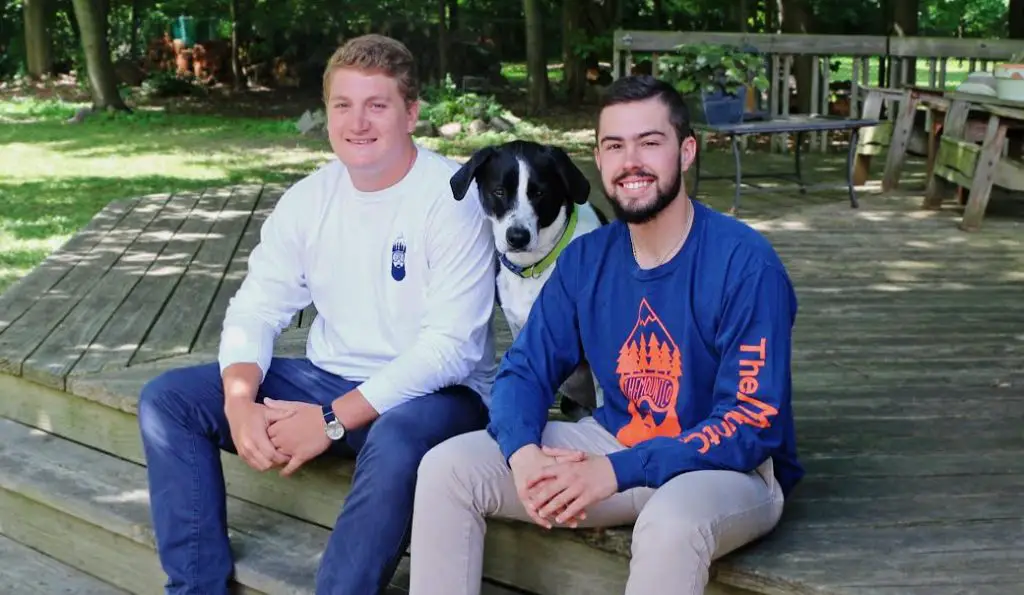 In addition, he also plans to improve the products by placing even more emphasis on their performance features. "I want to be able to do more technical stuff. Right now we have hats, hoodies and beanies, but I want to take that and make it outdoor friendly." In particular, he is working on creating clothing that has water-wicking capabilities, which is essential for those long days skiing or snowboarding on the mountain.
More Than Clothing
TheMountCo isn't just your regular clothing company for nature junkies; it's a clothing line based on the love and preservation of nature. And the company is trying to do just that by bringing awareness to a huge issue facing our National Park Service that many people might be unaware of: the decline of visitors under the age of twenty-five. "It's a hidden issue where the demographics aren't favorable to parks in the future," says Cleary. "It's mostly seniors and families going, but not our age."
According to CNN's Morgan Spurlock, while national parks have seen an increase in attendance, the number of visitors under the age of fifteen has decreased by half. Cleary and his team came across this issue last year while researching for their campaign to celebrate the National Park Service's centennial year. Ideally, Cleary hopes that his company could act as the bridge between national parks and millennials.
Cleary and his team are helping to bring awareness to this issue with their newest blog series, the National Park Project. The team sent out the real-life Bearded Man on a year-long journey in a MountCo van across the United States to visit all fifty-nine national parks. The Bearded Man has been chronicling his time at different parks and speaking to different park visitors, executives and park workers to highlight the beauty and necessity of the national park system.
"We feel like people our age can find anything on their phone and they can see national parks on their phones but it's different when you get out there," says Cleary, and the Bearded Man project strives to promote just that.