The Messiah College women's field hockey team woke up to falling snow on the morning of the Division III National Championship. It was November in New York, and their semifinal match the previous day had been played under beautiful clear skies. Unfortunately, the morning's forecast didn't look quite so promising for the most important game of the year.
"It was miserable outside; it was insanely cold, and I thought my fingers were going to fall off as I played," says Carissa Gehman, Messiah's leading scorer. She shared the sentiment with most of her teammates, but they knew that they had to give that game everything they had, regardless of the weather. After a full hundred minutes of playing time, the score was still tied 0-0 between Messiah and Tufts, so the National Championship continued forward into overtime.
Then double overtime.
With the score still tied up after two additional periods, the teams moved into a head-to-head shootout during which five players on each team were given eight seconds to score against their opponent's goalie. "Eight seconds may not seem like a lot, but it's plenty of time to score a goal," Gehman explains. She had the first opportunity to score for her team and ended up making her shot. "It's kind of a blur, but in the end we put in two goals and they only put in one. Our goalie was our savior; she was awesome. She stopped so many goals." With a final score of 2-1, Messiah College took home their first ever National Championship.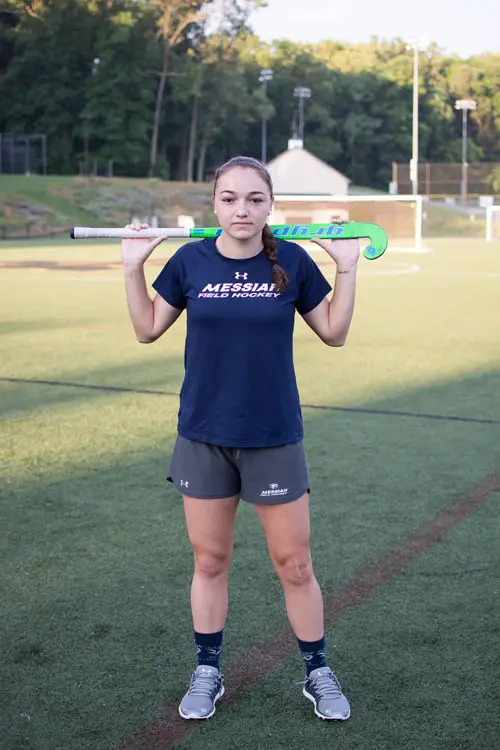 Their victory was well deserved, as it was their ninth consecutive time playing in the championship game, but their first victory; for the past eight years, they had taken second place. Dedicated to breaking the runner-up streak, the ladies of Messiah College laced up their shoes and did what they had to do to find the top of the podium.
Field hockey is an officially contested sport in the NCAA, but it is relatively new to the United States. "Field hockey is mostly popular in Europe," Gehman explains. "It's actually a men's sport in Europe, and in the U.S. it's mostly women who play." Gehman considers herself lucky to have grown up in Lancaster, Pennsylvania, one of the most popular places for field hockey in the United States.
The sport is played on the turf with a stick similar to those used in ice hockey. In a brief rundown of the sport, Gehman points out that what makes field hockey unique is players are only able to use one side of the stick, unlike ice hockey where they can dribble with both sides. In field hockey you have to actually flip over the stick to the flat side when you're dribbling. A variation on ice hockey, field hockey can be played on turf fields anywhere—no sub-zero temperatures required.
Growing up, Gehman's athletic life revolved around soccer. When she got to middle school she decided to take up a second sport in order to stay in shape for soccer season, so she grabbed a list of sports offered at her school and stuck her finger on field hockey. By the time she was in high school, Gehman had abandoned soccer completely in favor of her newly discovered passion.
When the time came to choose a college, she did so with field hockey in mind. While she could have chosen to play for a Division I school, Gehman decided to look toward Division III, where she could be more than just an athlete. "That's part of what attracted me to Division III rather than Division I. I know there's going to be an emphasis on academics—that my coach isn't going to be completely focused on field hockey, but that she'll also make sure we're students first, rather than just athletes." Division III programs encourage a balance between athletic excellence and academic achievement, allowing Gehman to pursue a degree in Applied Health Sciences while still putting in hours upon hours of practice on the field.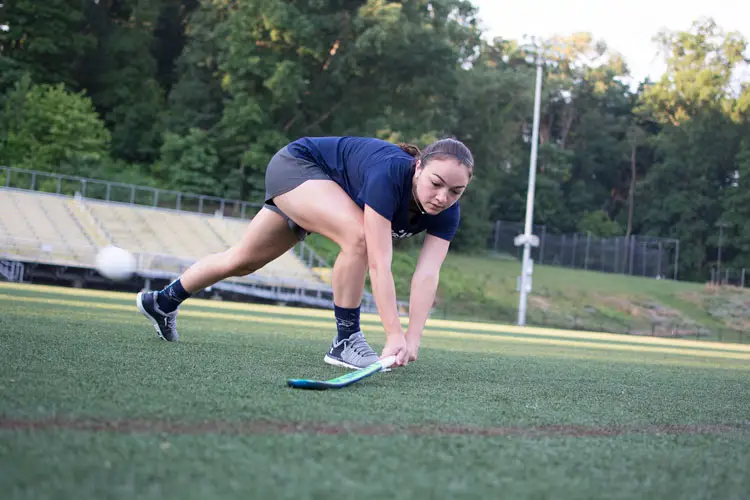 Those hours paid off as Gehman, who scored more goals this season than any other member of her team, helped lead Messiah to the first national championship win in the history of their program. A rough season opener was an important moment for Messiah field hockey, as they lost to the team that would go on to win the Division II championship later in the year. Making the decision that they would refuse to lose another game, the ladies turned around and pulled off an undefeated regular season. "I know a lot of my teammates felt like that game was going to define our season," Gehman says, "but it didn't end up that way at all, because we didn't lose any more games after that."
They climbed back through the rankings until they were seeded number one in their division. Fighting their way through the NCAA playoff bracket, the team eventually found themselves on a snow-covered field in Geneva, New York, for the championship game.
The rest was history.