Olivia Ewing, fashion marketing major at Savannah College of Art & Design (SCAD), launched Lifestyle by Liv as a junior in high school.
Born and raised in Tennessee, Ewing lived in a rural area that placed little emphasis on the arts, but her mother was always interested in art and style. Ewing's mom is a painter, writer and president of their local arts committee, and one of the biggest influences on her life.
Ewing first starting creative writing in high school and eventually found herself developing a strong interest in fashion, which later spurred her passion for combining writing and storytelling with her favorite form of art. The combination of these two loves is what catalyzed the idea for her fashion blog, Lifestyle by Liv.
Lifestyle by Liv is a lifestyle brand that inspires people daily through compelling words, art, design and style. "It provides a space for women who appreciate these things to share their opinions and be a part of conversations surrounding them," Ewing says.
In efforts to communicate her ideas about fashion to the world, Ewing also aims to make fashion statements in her wardrobe. "For anyone interested in fashion, art, design, etc.," says Ewing, "I feel as if everyone shares a common goal: the freedom of self-expression."
In addition to this, the SCAD junior specifically targets women in her articles, hoping to inspire even just a few of them to be more daring and unapologetic in not only their wardrobe choices, but their views and opinions in society.
"I think it's inspiring when people have opinions and stand for something, regardless if I believe in what they stand for," she says.
By growing up in a pretty conservative area, Ewing discovered power in being unapologetically vocal in her opinions. That's the beauty of self-expression.
Moreover, Ewing seeks to express herself in ways that are oftentimes inspired by other art forms, especially poetry, which she writes as a stress-relieving technique and plays a cathartic role in her creative process. For sources of inspiration, she looks at social channels and specific Instagram accounts, such as Song of Style, Man Repeller and Refinery29.
Also, being that Ewing attends a creative college, she's hardly ever short of inspiration. Most of this inspiration is channeled through projects she does at school, such as a digital marketing class she's currently taking that requires a lot of work in motion media and filming.
Her group has decided to do an entire Gucci campaign with GIFs, a look book and a minute-long fashion film for the brand. As Ewing draws inspiration from fashion week and school, she hopes to incorporate the project into her portfolio before she enters the workforce.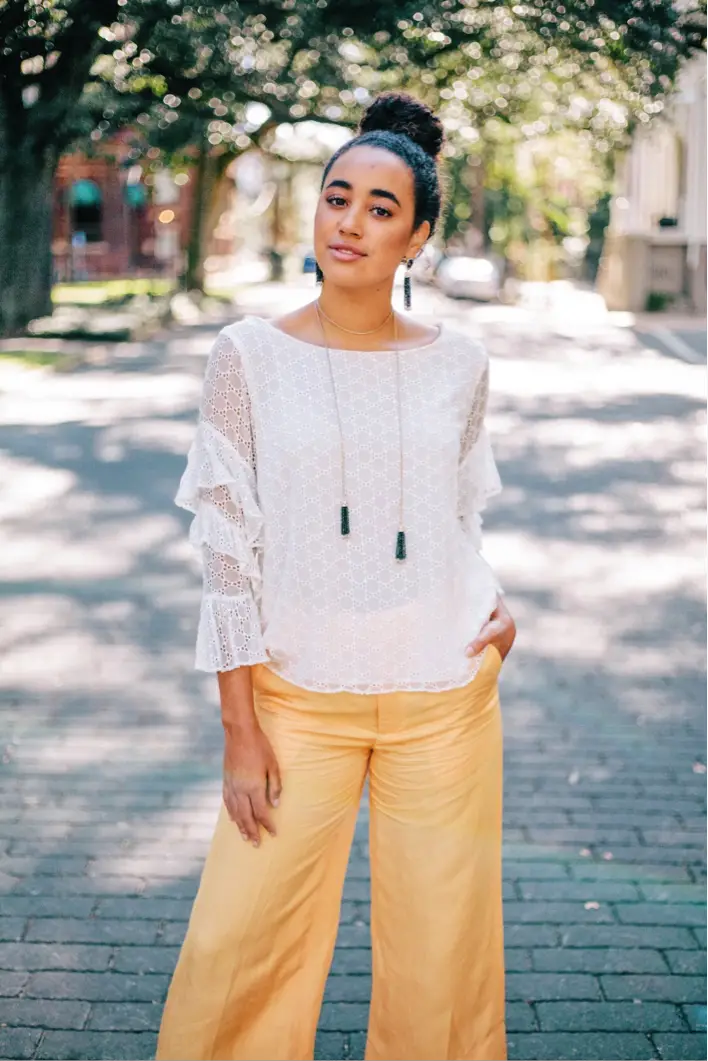 In five years, Ewing wants to be New York-based, as she'll be graduated from SCAD by then. Since she's working in industry, she plans on using what she's learned and applying it to a personal platform to grow a larger community for women to express their thoughts and opinions, as well as being inspired by current trends. More specifically, Ewing would eventually love to publish a book but isn't quite sure if that'll be in the next five years. Maybe ten.
In addition, Ewing says she'd love to design products for her followers and sell pieces that she's obsessed with or inspired by. "I'd love to be the creative director of my own digitally based lifestyle brand," she adds. One day, she wants the experience of her platform to come full circle for the viewer.
SCAD is a leader in fashion among all art and design schools, with an endless list of networking opportunities provided to students weekly. Ewing considers herself to be exceedingly fortunate to be able to attend the prestigious, Savannah-based school. "[I've] always known that SCAD was a top-ranking college for my field, but after visiting and seeing the technology and experiences they offer, [I] knew she had to be a part of it," she says.
Fortunately, one of these experiences included attending some of the runway shows from this year's New York Fashion Week. Expectedly, Ewing had her own personal favorites. She's noticed a pendulum swing in the fashion community this season, from minimalism back to maximalism.
"Minimalism was kind of the go-to trend, but many brands are pushing the opposite by using fine detailing or highly saturated colors," she says. In particular, Ewing praised Son Jung Wan, Christian Siriano, Sies Marjan, Chromat and Ulla Johnson.
If you look at Lifestyle by Liv, you'll see that Ewing tries to stay as classic and timeless as possible, while including touches of current trends. It's all about balance.
Ewing says, "So many people are quick to jump on ideas and trends they aren't fully interested in because they think the perception is 'cool.'" Thus, authenticity is one thing that the fashion marketing major plans to change within the scope of the fashion industry.
She wants to know that her favorite blogger loves a product because it's amazing, not because of its perception or because she was paid to post about it.
Indeed, Ewing hopes to contribute to leading toward a fashion industry filled with authenticity, opinions and freedom of expression, constants that are crucial to the culture of Lifestyle by Liv, and her personal branding.