When it comes to college students with remarkable stories, Kevin Lee has one that just may top them all. The Paul Quinn College junior has excelled both inside the classroom and out, serving as class president for the past three years and receiving numerous academic awards, such as the NAEHCY Scholarship and the Paul Quinn Presidential Scholarship. In 2015, Lee was nominated for Texan of the Year.
But, perhaps the most remarkable part of Lee's story is the adversity he has overcome.
He and his mother were left homeless when he was a teenager, leading to several years of tumultuous uncertainty. Through it all, he maintained an upbeat attitude and the unfailing belief that he could overcome the obstacles thrown his way. Today, Lee lives on campus year-round as part of his role as a resident assistant. He hopes to attend law school once he graduates from college.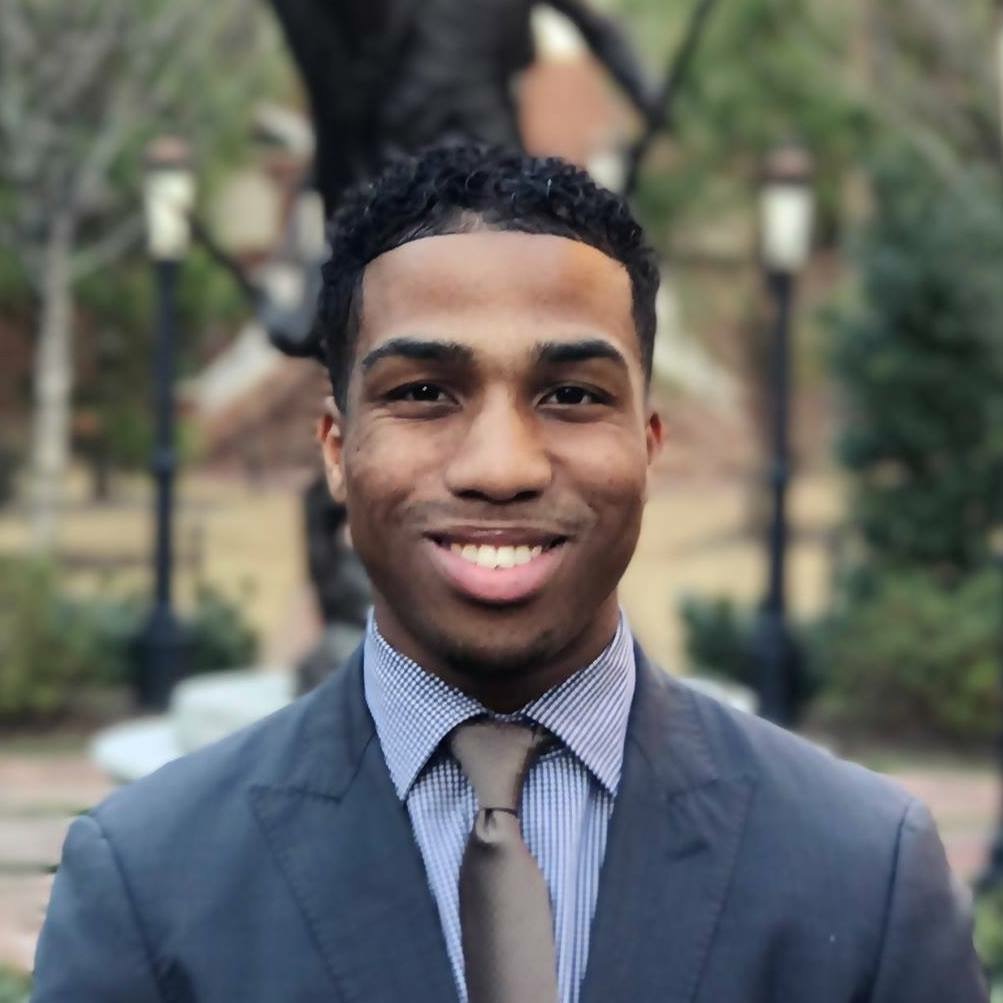 Ben Zhang: Could you begin by explaining your difficult situation and how you became homeless?
Kevin Lee: When I was sixteen, my mother and I lost our home in Pittsburgh, Pennsylvania. There was a bad snowstorm that led to a flood, and consequently, we became homeless. At this point, we found ourselves reaching out to people, family and friends we thought would be there in a time of need.
We were quickly able to see that when you're going through a hardship, everyone who says they're going to be there, or who you think is going to be there, may not be. And so, we found ourselves living out of trash bags and staying at different places day to day. This was all while I was still in high school.
BZ: What happened next?
KL: My mom has a few health issues. At the time, she had a heart condition called cardiomyopathy. She was in and out of hospitals, and the doctors couldn't tell us what was wrong. We had a friend contact us from Atlanta, Georgia, asking us to come and see some doctors down there. So, we moved there and eventually found a home of our own in Covington, Georgia.
At this time, I was expecting to enter my senior year. But, when I went to register for school, I was informed that some of the credits I took in Pennsylvania did not transfer, so I would only have enough credits to be a sophomore.
BZ: How did you respond to this setback?
KL: I was told that the only way I would be able to graduate on time was if I went back to Pittsburgh. I said that I couldn't do that because I had no place to stay, but then, I was told about a law called the McKinney-Vento Act, which was enacted for homeless students and families. It made it so that no matter where you were living, you would be able to get transportation to school.
When she heard about that, my mom did the unthinkable, something that a lot of people may not have done: She sacrificed everything and said, "We're going back to Pittsburgh so you can graduate." So, we gave up the home we had and moved back to Pittsburgh.
BZ: What did you do once you got there?
KL: When we got there, I started calling schools. None of them would accept me without a permanent address. I tried to tell them about the McKinney-Vento Act, but over a dozen schools I talked to had never heard of the law. At this point, the cousin we were staying with moved, so we found ourselves living in a shelter.
This was a real turning point, because I was able to see that you don't have to look any way to be homeless. A lot of people who look like you and me are homeless, but you wouldn't be able to tell based solely upon their appearance.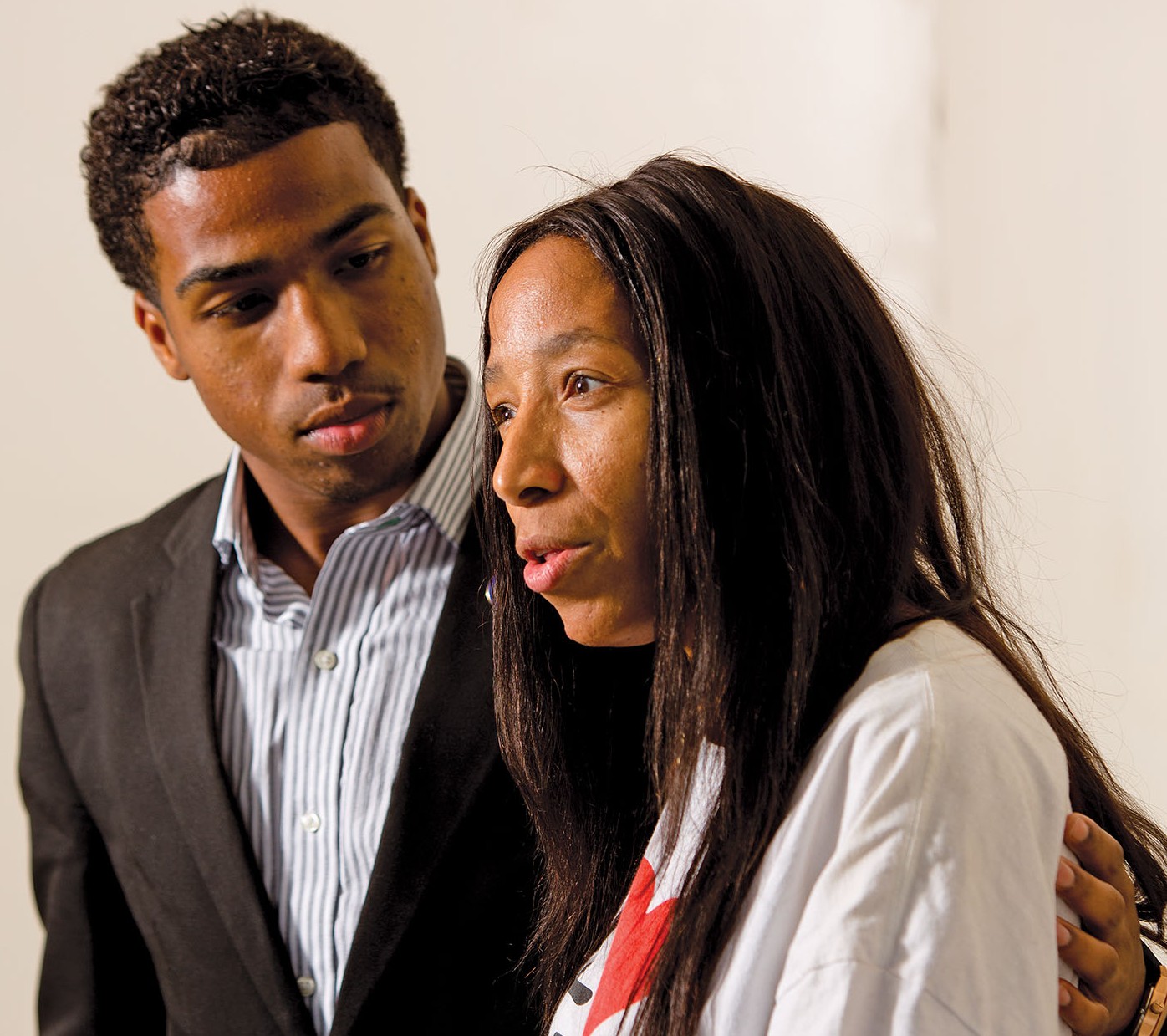 BZ: Were you eventually able to go to school?
KL: After about two months of living in the shelter, my mother and I found our own apartment. I was then able to sign up for school. When I showed them my transcripts from Georgia, the school said they wouldn't be able to accept the classes I took there, meaning I would not be able to graduate on time.
But I was still optimistic about the situation, and I ended up finding out about a program where I could take classes online and still go to school. I was eventually able to graduate, two months after enrolling in school, at the top of my class. The administrators couldn't believe what I had done.
BZ: What did you after graduation?
KL: After graduation, I realized that I had a passion for law. I wanted to be an advocate for people who were in similar situations and work to give them a voice. I ended up getting an internship at Jones Day law firm until it was time to go off to college.
One day, my mom and I were watching the movie "The Great Debaters," which is about the Wiley College debate team. I said that I wanted to be on the team, so my mom suggested I apply. I did and was accepted. At this time, a friend living in Dallas asked me to come down and check out the school. We drove down, and when I went to visit Wiley in Marshall, it wasn't all that I had hoped for and expected.
BZ: Were you disappointed once you realized that it wasn't what you expected?
KL: I was disappointed, but my friend then told me about Paul Quinn College in Dallas, which he said was a great school. The next day, I took a tour of Paul Quinn; I knew it was the place for me, so I applied and was accepted. The school told me about a program they had called Summer Bridge, which would allow me to earn nine extra credit hours and take a class with the president. So, I signed up and loved it, and I've been at Paul Quinn ever since.
BZ: Talk about some of the things you became involved with during college.
KL: During my first semester of college, I took part in a fast-pitch competition where I pitched a business myself and one of the deans created. The crowd loved it, and they voted for me. I won $10,000 for my school and the creation of the start-up. A representative from PepsiCo was there; he enjoyed the idea and presentation so much that he donated another $10,000.
BZ: What type of business did you pitch?
KL: Here at Paul Quinn, we have a farm called We Over Me. It was started because the area where the college is located was, until recently, declared by the USDA as a food desert because there weren't any grocery stores within five miles. The business idea was to use the asset of the farm to create homemade pasta kits. They would be freshly made every day, and the original idea was to sell them at kiosks inside downtown Dallas office buildings. However, as time went on, we eventually changed the model to food trucks, which we are working on right now.
BZ: What are some of the programs you have participated in?
KL: During my first year, I was selected to be one out of twelve students in the country to participate in an Introduction to Doctoral Education and Scholarship program at the Wharton School of the University of Pennsylvania. I was also selected to participate in the DukeImmerse program, where seven Duke University students and seven Paul Quinn students took classes together and stayed on each other's campuses for a semester. After that, I was selected to be a fellow in a program at the University of California, San Diego, called the Summer Institute for Emerging Managers and Leaders. I was able to do all these things despite losing my uncle and two other family members.
BZ: Talk a little about your relationship with the HBCU All-Star Students Program.
I was selected to be a HBCU All-Star in 2015. Basically, I've acted as a student ambassador between my school and the White House. One of the programs I've been working on is the initiative to assist homeless students in becoming independent: getting jobs, places to live, things like that. I've been to the White House twice, and I've worked with some of the individuals on staff at the White House Initiative on HBCUs.
BZ: How did you get involved with the INROADS program?
KL: I was taking President Sorrell's class, and the national recruiter was there telling us about the program. When I first came to Paul Quinn, I had dreams of becoming a cardiologist. So, I asked the recruiter if they had any programs for pre-med students, students who wanted to get into a medical field. She said no, and that all their opportunities were in business, engineering and math.
I talked to President Sorrell about this, and he said that I should consider working in business. So, I said, "Why not?" and changed my major to Business. I was accepted to the INROADS program as a freshman, and I interned at Chubb, one of the largest insurance companies in the world, for two summers. The program has been amazing and has a taught me a lot about professional development and leadership skills. I was actually the keynote speaker at their 45th banquet and awards ceremony.
BZ: I heard that you have a passion for rapping. Where did that come from?
KL: Growing up, that was one of my hobbies. I rapped, sang and did spoken word poetry. In the house that flooded, I had a studio in the basement. I would have friends over, and we would make music. I did shows all around the city, and I was actually featured on a mixtape [as K-Rocs] with Justin Timberlake, Pitbull, Three 6 Mafia and Flo Rida. It's possible that I could have had a career as a rapper, but I just had a passion for school and education, so that's what I chose to pursue. But I still love music.
BZ: You have a strong relationship with the president of Paul Quinn, Michael Sorrell. How did that get started?
KL: How that got started is pretty funny. When I first had my tour of the college, the tour guide told me about President Sorrell. I looked him up on Facebook, and my mom told me to send him a message telling him I was interested in the school. He never messaged me back, but I was later at the school for an event. President Sorrell walked by, and one of his secretaries introduced me to him. He looked at me and said, "You wrote me on Facebook, right?" That's how it all began.
So, after I started Summer Bridge, I wrote President Sorrell and let him know I wanted to be a student ambassador and leader at the school. Over time, we've developed a great relationship; I seek him for advice on many different things. He's always there for me to talk to, and I really appreciate him.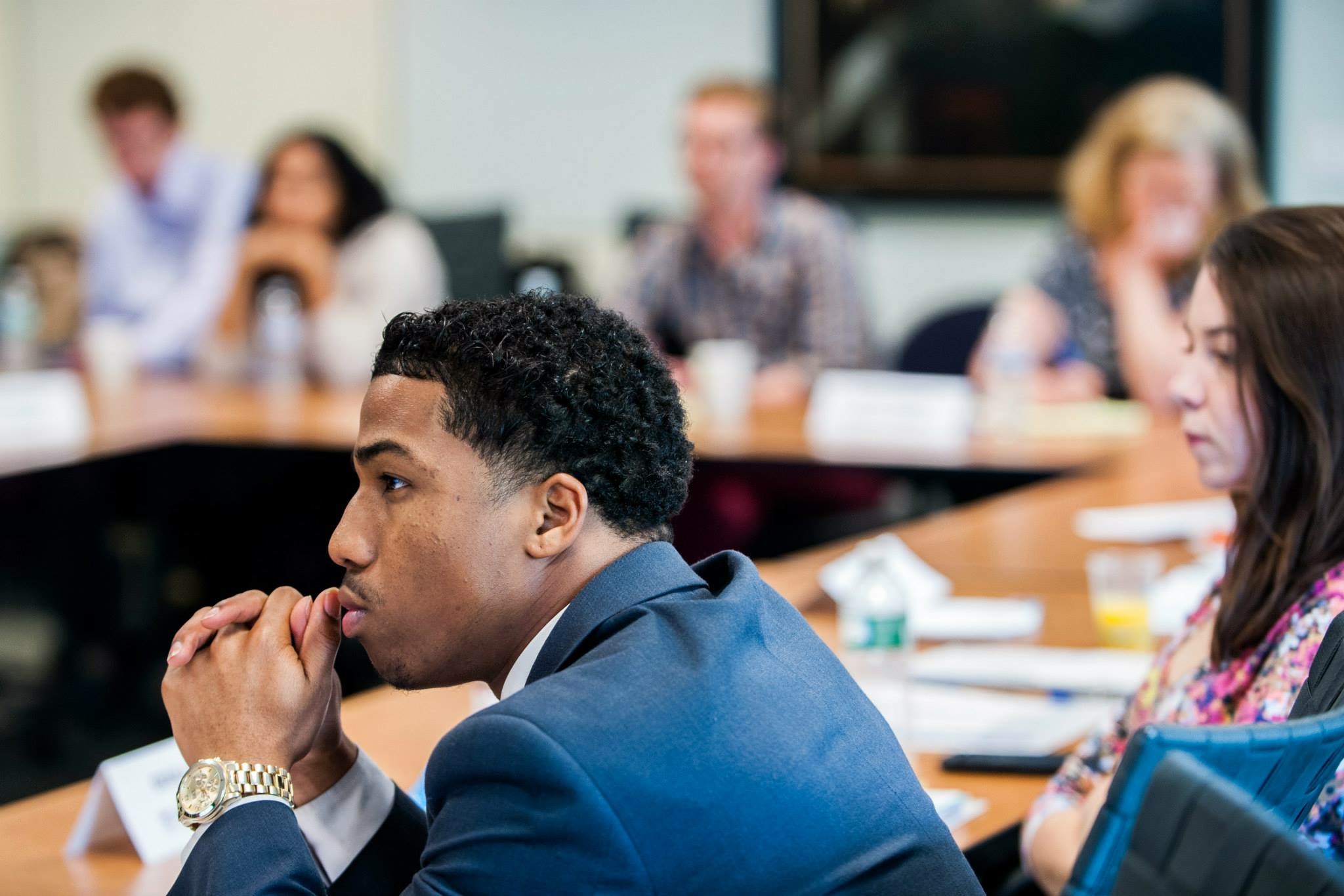 BZ: Is it true that you visit your mother frequently?
KL: Yes, I do. She has been living down here recently, about a half hour away, so I go out to see her every day. At one time, she was in a shelter, which she had to leave during the day. So, I would leave in the morning around four to get my mom, who had to be out at six, and take her back around two o'clock in the afternoon. Then, I would go back to school, do my work, and repeat the cycle every day.
BZ: Do you think that the current system for dealing with homelessness could be improved?
KL: Absolutely. First, we need to start by teaching and getting people to understand what homelessness is. It's not what the typical person thinks it is: someone living on the street, someone panhandling for money. Think about this: Anyone who's working is just a few paychecks away from being homeless. It's very real, and it can happen to anyone. If you lose your job and you have no accumulated wealth, what are you going to do?
We also need to address the issue of homeless students on college campuses. The people responsible for taking care of them, the homeless liaisons, need to be aware of the laws and policies. They need to have compassion and put themselves in other people's shoes.
BZ: I read somewhere that you hope to work in real estate someday.
KL: That's one of my aspirations. I have so many ideas, but I love business. After all, it drives the economy. I want to be in that realm, but I would also like to have a place in the justice system for different things that are going on in this world: changing laws, putting some laws in place. Those are some things that I eventually want to do, but right now, I want to do real estate development.
Building and continuing to develop communities seems amazing to me. I feel that bringing things to certain communities that do not have a lot of access would help to boost them and the economy.
BZ: Has being homeless changed the way you go about your daily life?
KL: Definitely. I've been on both sides: the nice side of life where everything is good, and the bad side, where the opposite is true. It has changed the way I interact with people. I view people for who they are; I focus on their character, not what they look like. I've also become more compassionate and more optimistic. I'm positive that we can come out of almost anything, almost any situation, if we believe we can and work at it.