For Jo Gopinath, a Bioengineering and Chemistry student at Santa Clara University who designs clothes for her ecofashion line, GreenWithEnvy, awareness is the antidote to exploitative fast fashion. The rising junior won Most Wearable Design at an SCU fashion show for her Not.A.Bomber jacket, which is made from the salvaged material of an Indian salwar kameez. Being both Indian and American, Gopinath expresses her bicultural identity through her clothing line, and hopes to bring awareness to the exploitative nature of fast fashion through green design.
"We need to use what we've already made," says Gopinath, who makes clothing using materials that might otherwise be thrown away. This practice, called upcycling, is a powerful way to reduce the environmental impact of fast fashion. "Everything is made from materials I have lying around," she says, which is not an exaggeration; the GreenWithEnvy line includes a laptop case made from old jeans and a babydoll top made from vintage shorts.
The award-winning Not.A.Bomber jacket came to life when Gopinath rescued a salwar kameez that her mom found in the attic and combined the colorful material with an old denim jacket. The fusion of the two garments represents the synthesis of upcycling, as well as Gopinath's biculturality. She points to the dual influences of her Indian and American upbringing as being critical to her mentality both toward design and environmentalism.
"Honesty—saying exactly what you mean—is a very Western thing. But my respect for all things, including non-living things, is more a part of Eastern culture." These values motivate Gopinath to work toward a kind of authenticity when it comes to her designs, as well as to make clothing that uses materials and processes that show respect for the well-being of the planet.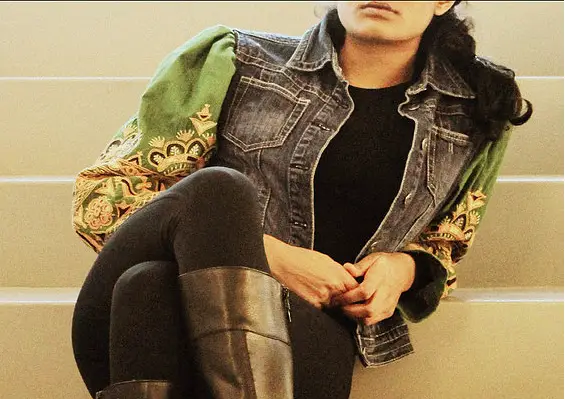 Gopinath also credits her resourcefulness, a requirement of upcycling, to her biculturalism. She attributes the mentality to her grandmother, who she describes as a Malaysian-born Singaporean-Indian woman to whom "upcycling" and "ecofashion" are just common sense. Gopinath remembers making clothes for her Barbie dolls with her grandmother as a young girl, which sparked her interest in clothing design. "I'm a lot like her. She taught me that you can give something new life with just a bit of thread, or lots of thread." Gopinath sees a connection between her work and the many generations of women before her who made clothes for their families with their own hands. "What feminism needs more of is intersectionality. Not just with race, but between generations, too," she says.
Making clothes is largely the work of women, both historically and in today's fashion industry. According to the "Huffington Post," approximately 80 percent of garment workers worldwide are women. It is an industry that turns over $1.2 trillion a year, yet workers can earn as little as $21 a month. In essence, female workers are exploited by an industry that depends on cheap labor to keep production costs low and profits high. This summer, Gopinath is traveling to Bolivia with Santa Clara University's Global Fellows Program, which pairs outstanding students with non-profits around the world, and the twenty-year-old designer has been matched with a women's co-op called AHA Bolivia that empowers local women through sustainable design. Gopinath is working with the organization to create an upcycled clothing line called GreenWithEnvy x AHABolivia.
As an extension of her mentality about authenticity, Gopinath also makes it a point to reject the false body stereotypes that the media promotes about women, especially when it comes to retouching photos to make models appear skinnier, blemish-free or curvy in the appropriate places. Gopinath rejects this dishonesty, promising that the photos on her online lookbook and social media accounts are not and will never be retouched. The Bioengineering student wants women and girls to be empowered by fashion instead of put down by it.
Next semester, Gopinath will work with green clothing brand Proper Attire U.S. as an intern, where she will join in their mission to disrupt wasteful fashion, "one high quality, ethically produced athleisure piece at a time." Gopinath will partner with textile mills to source sustainable materials for the brand, as well as create fabrics from recycled plastic water bottles. Companies like Proper Attire represent Gopinath's hope that the clothing industry will move away from fast fashion and toward more ethical means of production. "What we see is just the final product on the rack, not what goes into it, like the resources and manpower, which are both exploited," she says.
Gopinath's environmentalism goes beyond sustainable clothing design. The STEM major received her school's $10,000 Clare Booth Luce grant to conduct research in environmental toxicology, the study of disease-causing toxins found in water, air and soil. She and her team at SCU are working with Michigan State's Fraunhofer lab to create an electrochemical method for detecting waterborne lead. "I've been interested in environmental science since I was five. I'm interested in things that have a social meaning."
Gopinath plans to interweave her love for design, passion for sustainability and STEM education to pursue a career in textile engineering. She hopes to create sustainable, high-performance textiles, such as the synthetic materials used to make military uniforms and gear for Olympic athletes. As she embarks on a career in green design, Jo Gopinath's bicultural identity and social consciousness will continue to impact the world.