Immensely popular though the eSports industry has become over the past decade, annually achieving more online viewership than even the most popular of professional sporting broadcasts, competitive video games remain an unfamiliar, foreign concept to those witnessing their unprecedented growth from outside the typical fan demographics.
With the vast multitude and overwhelming variety of games on display across myriad genres, such as fighting games, shooting games and multiplayer online battle arenas, it can be a daunting task for anyone possessing a passing curiosity to confidently invest in any single eSport, as doing so means committing to a brand new world with unfamiliar rules, practices and participants. With such a steep learning curve, some method of balanced facilitation is required to properly communicate the intricacies of competitive play to newcomers, while providing enough impromptu analysis to appeal to veteran audiences. Like any athletic sport one would expect to watch on television or listen to via radio, this vital role in overcoming such a complicated obstacle during online eSports broadcasts is often filled by a commentator.
Victoria "VikkiKitty" Perez, a Mass Communications and Media Broadcast major currently attending Florida International University, is one such commentator. Gaining experience and popularity as an eSports caster primarily through "Super Smash Bros. for Wii U" ("Smash 4"), Perez began commentating during spring 2015, shortly after the game's release. Continuing to master her craft for the next two years, she has developed the necessary commentating skills and networking connections to branch out and work with such companies as Nintendo, "Smash 4's" developer, by casting at E3 2017, and Disney, commentating the finals of "Smash 4" at EVO 2017, the largest fighting game tournament in the world, for Disney XD.
"I've been playing Smash Bros. since I was a little kid," Perez says. "I didn't have siblings, so having the CPUs fight back was both incredibly entertaining and a challenge, at the time. I had no idea there was a competitive scene for 'Smash Bros.' until May 2015, when I walked into my first local Versus Gaming Center, and I instantly knew a new door opened up for me."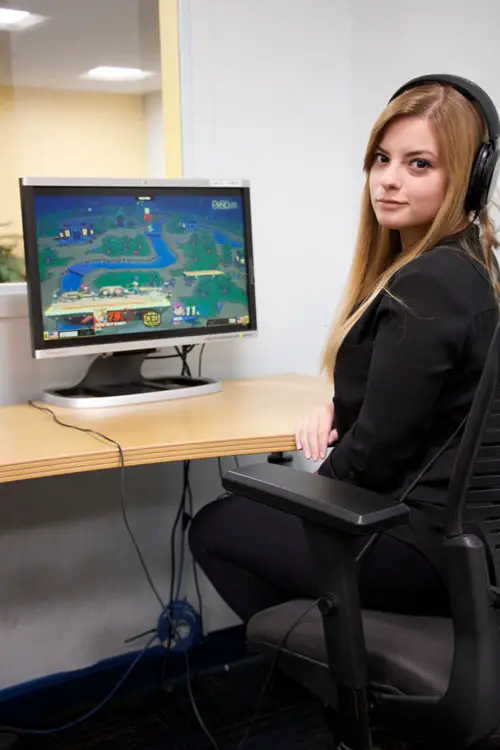 Though Perez stumbled at first, as any newcomer to such a vulnerable profession would, the support and encouragement from friends and co-commentators motivated her to keep practicing and improving to overcome these initial hurdles. "Among the many friends I made at that first local, one in particular pushed me to start commentating. Daniel "DC" Coke, an established commentator, ran our local tournaments at the time, and he requested I start getting on the mic around October 2015," Perez says. "After that, I began spending hours commentating at my local every week. I loved it! As a strong thespian since junior high, this felt like some calling.
"My first big gig was nearly a month after I first started commentating at Versus Gaming Center. It was a regional hosted by MVG called Frame Perfect. That is where I first learned everything I lacked as an upcoming commentator. I lacked experienced, had poor chemistry with my co-commentator and needed more information regarding the game I'm analyzing. I took in all the constructive criticism I received and pushed myself to be more aware of where I could improve. I started with sponging up more information from not only the current match on stream, but from my co-commentator as well. Being patient and allowing the pace of the match to let it speak for itself really improved my transitions, as well as my synergy with my co-commentator. This was a major key when I first started casting at bigger events."
Commentating for hundreds of online viewers during even smaller, local tournaments and tens, if not hundreds of thousands, of people for the finals of enormous ones, such as EVO, can often present a seemingly impossible initial mountain to scale for rookie commentators, especially those who are predisposed to introversion and shyness. However, for Perez, this major stumbling block was an afterthought.
"I am one of those few weird people that actually enjoy public speaking," Perez says. "After years of drama and Thespian Honor Society, an audience is just an audience in my eyes. I get more nerves playing a tournament set rather than addressing a few thousand people. To prevent any nerves from settling in, I pump myself up with positivity and I hop onto the mic with this 'I 100 percent got this' mindset. Although I don't get stage fright, the biggest challenge, for me, when it comes to commentating a fighting game is the weight that every commentator must know everything about the game and every notable player. If you don't know one of these things or make one mistake, you will be burned at the stake of the audience. This is where most nerves arise.
"Think back to how comfortable you are with your friends or a sibling you used to practice with. When you're commentating, you're only talking about the game you love playing with those people!"
"From what I've learned after discussing the subject with other commentators, it's important to understand that you're still human and people are bound to make mistakes. This will help your mindset as a caster. Commentating a match and learning new material during and after that block really helps keep you informed so you can bring that knowledge up at the next tournament."
Comments within live stream chats, such as those on the most famous eSports streaming platform, Twitch.tv, are particularly infamous for being harshly critical, as hiding behind the anonymity of the internet provides viewers a powerful tool for biting discourse. However, Perez has learned to effectively tune out comments that provide more destructive insults than constructive criticism. "I see Twitch chat and live audiences the same—nonexistent," Perez says. "When I've casted in front of a live audience, I can't see them anyway because of all the lights and cameras in my way. When I cast for Twitch chat it's similar, because I never have the chat open, so I can't see how many people are watching or what they're writing. I just treat each event like I'm simply talking about a game I enjoy playing."
"If you're prone to getting shy or nervous on the mic, I'd recommend never having Twitch chat open," Perez advises. "Ignore what people are saying about you while you're on the mic. Remember when you used to play the game for fun, with your friends in someone's living room? Think back to how comfortable you are with your friends or a sibling you used to practice with. When you're commentating, you're only talking about the game you love playing with those people! It's only you and your co-commentator during this time, so if you're ever nervous remember, you're only have a conversation about the game you enjoy playing."
That's not to say Perez hasn't been constantly working on elements of her casting that she feels require intricate practice and improvement. One of her fondest commentary moments, a pulse-pounding set at Genesis 4 between ZeRo, largely considered the best player in the world, and Brood, an underdog fighter hailing from Japan, remains poignant today, not only for its incredibly shocking result, but also for the tremendously valuable experience she gained in working toward continually bettering her work.
"One tournament set I can never forget is the Genesis 4 set of ZeRo versus Brood. ZeRo reigning on a 'Smash 4' throne, suddenly dethroned by this incredible Japanese Duck Hunt [a "Smash" character] player. I couldn't believe I was there to cast this set. After that entire commentary block, I learned that 1) This game will likely give me a heart attack and 2) My speech needed to be worked on. This was the tournament where I learned that my accent and speech impacted my delivery negatively. I was born into a Cuban-American family, so English not being my first language highly impacted my pronunciation of certain words and messed up my understanding of accents on certain letters. I had no idea I had this problem up until this event so it was literally learned on the job. After that, I've stuck with slower speech to catch myself from slipping up and hearing my co-commentator's approach to a name, first. This is one thing that I am still working on improving."
"My greatest strength as a commentator is the flexible transition I have in being any type of role a co-commentator feels most comfortable working with," Perez says. "Whether it's color commentary or play by play, I can mold into any role. Regardless of what role I am, however, I'm always trying to work on my speech delivery."
That flexibility blended with an admirable level of preparation and determination has allowed Perez to transition smoothly toward commentating other potential eSports, such as the ones Nintendo hired her for at E3 2017, "ARMS" and "Pokken Tournament: DX."
"Working at E3 for Nintendo really tested my skill as a commentator," Perez says. "I had four days to learn two new games I have never played before. I commentated 'Smash 4' because I played the game regularly and I learned everything first hand. So when I learned I had such a small window to learn a game that already had an established community and a game that we were about to broadcast gameplay for its first time, I knew I had to treat this like a college final. For those four days, I wrote exactly twenty-one pages of notes for each of the two games I had to commentate. Coming from 'Smash,' I had a basic understanding of a fighting game background and applied it to the two games while adapting to how unique they are in their own ways. After the event, it really refreshed my mindset and I then knew I can work so much harder in improving myself as a commentator."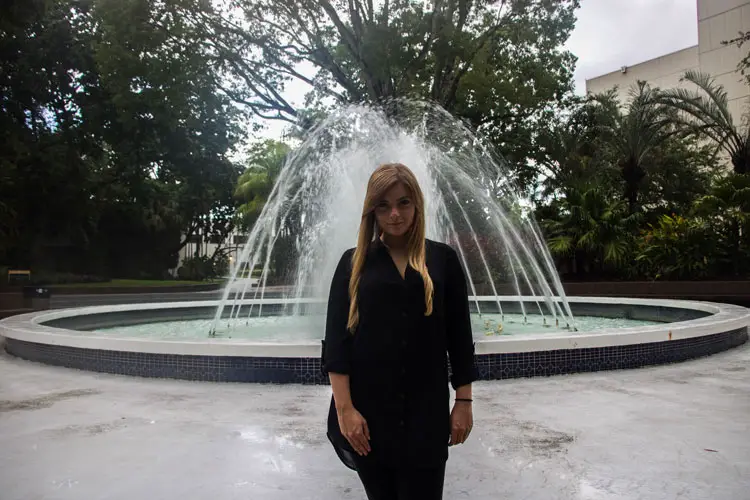 Looking toward the future, Perez hopes to continue expanding her casting work to additional eSports juggernauts, similar to her recent endeavors, in addition to maintaining her status as a premiere "Smash 4" commentator. With a rumors swirling about a potential "Smash 4" upgraded port to Nintendo's new hybrid home console, the "Switch," the game's future is likely brighter than ever before, with possible game balances and new characters added into the mix to attract even further participation, viewership and momentum. As the game grows, so shall her career.
"One game I've always had the biggest passion for is 'Overwatch,'" Perez revealed. "Shooters were games I grew up with all throughout my childhood. When 'Overwatch' was released, it was everything I enjoyed—team-based strategies, shooters and specific character attributes. I had gotten the game on both PS4 and PC but playing the game on PC really hurt my wrist, so I was scared to play the game on that platform. I still kinda am. The game is very different amongst the different platforms it can be played on, though. I haven't expanded towards Blizzard [the game's developer] yet, but it's definitely on my list of big goals."
"Hopefully a 'Smash 4' port is announced in the future, I'm curious to see the possible changes," Perez says. "I'd love to see Sora from 'Kingdom Hearts' in the 'Smash 4' Switch Port. That's been my dream since I saw Nintendo introduce DLC characters for this game. If we got Cloud Strife in this game, we can get Sora!"
For the present, however, Perez will continue to use commentating as an outlet for professional and personal edification, and encourages eSports newcomers and "Smash" veterans alike to do the same for an exciting and rapidly evolving competitive experience.
"The best benefit that comes with commentating 'Smash 4' is the knowledge and different outlooks you get from different players, characters and decision making," Perez says. "You bring in all that information while also conducting a message to an audience who may be learning the game themselves. eSports casting has helped me understand that you can always  improve on something, whether it be in-game or in real life."