Although she still has a year of college remaining, Anna Vaus is already racking up a list of accomplishments in country music. While studying Songwriting within Belmont University's College of Music Business, Vaus has performed at renowned music venues around Nashville, like the Bluebird Café, and has signed a songwriting deal with a publishing house. She can also say something that few other young country artists can: Miranda Lambert has heard and liked her music.
After becoming the first-ever recipient of the Miranda Lambert Women Creators Fund, Vaus is more excited than ever to pursue both schooling and art, which for her are intrinsically linked. Vaus plans to gratefully embrace the opportunities in front of her and, like always, throw herself fully and unapologetically into her work and her art. You can check out her website here and some of her songs here.
Kathryn Parker: What inspired you to get into music? Why country music?
Anna Vaus: My dad is a musician, and he did country music. He kind of bounced around a few genres, but that was what we listened to in our house growing up and it's what I fell in love with. My dad really inspired me to get into music. I thought it was cool that he was co-writing and producing with other people, and he had a studio around town that he would go to. I fell in love with music—for me writing songs is so much fun and performing is just in my blood, I guess. So, I fell in love with it, and I fell in love with doing it as a real job.
KP: How has studying songwriting and music in college affected how you view your future as a musician? Has it impacted your music in any way?
AV: When I first started taking songwriting classes, I was so terrified. I thought my songs were going to get ripped apart, and in my first year I was really nervous about comparing myself to other people and not being as good as my classmates. I think what's been great about my major is that it's taught me that we're all on our own paths and there's room for all of us to find success, but it comes at different points for everyone. Songwriting classes also helped me look at my music from a more critical standpoint, but for the better—it helped my writing become more relatable and more commercial. The connections that I've made at Belmont have been amazing—I got to connect with professors who are going to be in my life forever and I got to intern with the songwriting label I'm at now. It's been awesome.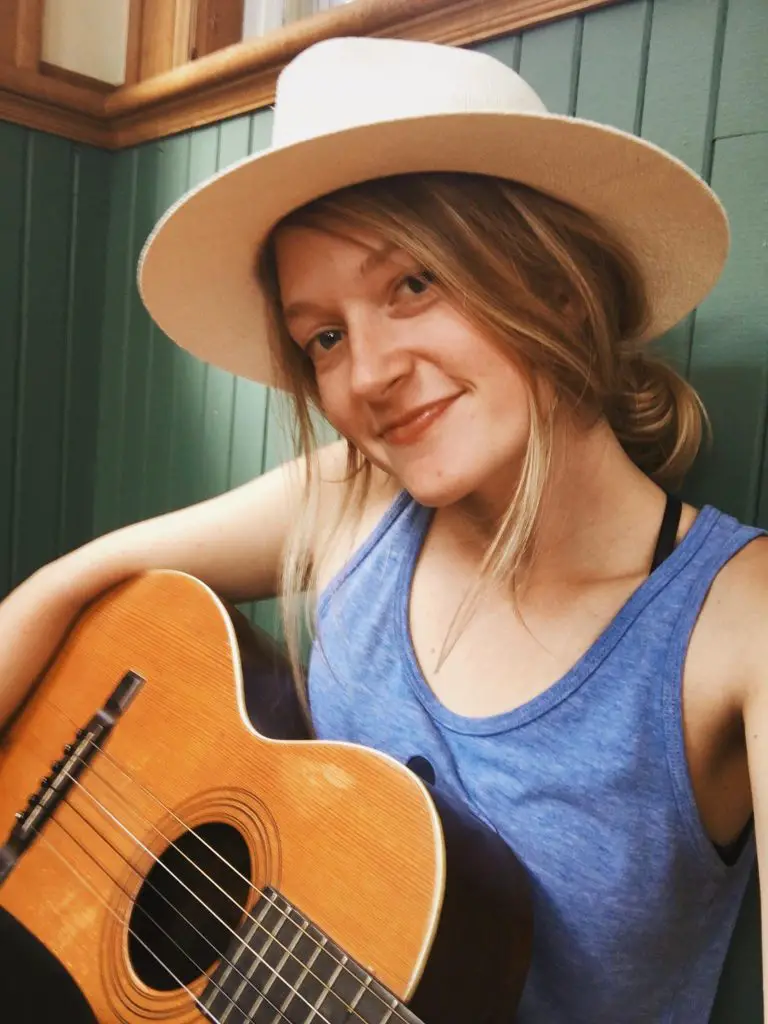 KP: Speaking of songwriting labels, you've recently signed with Black River Publishing. What do you do with them, and what has it been like so far?
AV: I signed a publishing deal with Black River, which, in the simplest terms I can find to describe it, is like a record deal for songwriters. It's not like I'm going to record an album, but my songs can be pitched to artists like Tim McGraw, Faith Hill and Blake Shelton to try and get them recorded. It's been amazing, Black River is an awesome company and to get to work alongside all these songwriters I admire had been awesome. Honestly, my goal was to sign a publishing deal as I was graduating college, or a little bit after that, but my whole plan has been totally rewritten. So now I have a full-time job and I'm in school, but I'm living the dream.
KP: You are the first recipient of the Miranda Lambert Women Creators Fund. How did that scholarship come about, and what does it means for you and your schooling?
AV: So basically, there was this whole event that went down in country music, where a radio consultant—someone who's really important in the industry, since most country artists get their break on radio—said that girls [in country music] are like the tomatoes to a salad, and guys are the lettuce. First of all that's such a weird comparison, but obviously it's also insulting because women are making amazing country music, so it set a few people on fire.
So, Miranda Lambert—who is the bomb—made this scholarship at Belmont University that awarded $40,000 to a woman who is pursuing songwriting or an artist's career while still in school. I applied for it, I just submitted my songs and a video and some essays, then I got it! It was such a vote of confidence for me, but also to be associated with Miranda Lambert is never a bad thing. That's been huge for me, just to know that she's heard my music and liked my songs.
KP: When did you know you wanted to pursue music as a career? Was there a specific moment when you realized it, or have you always known?
AV: I've always loved performing and writing, but there is one moment I think back to. I played lacrosse in high school, and I was on a club trip to the University of Virginia. I think I was a sophomore in high school, and I was looking forward to playing lacrosse in high school and college—that was going to be my job and my main goal, to play lacrosse as a college athlete.
On our tour of UVA we went into this massive basketball court, but they do other sports there, as well as concerts and things like that. All the other girls on the team were saying how cool it would be to play on a court like this, or play on a field where there are this many seats, but I was like, "I really want to sing here." I remember thinking that and texting one of my friends at the time, and I just realized that I don't want to play sports, I want to sing and do music. That was a big moment for me, when I decided that I was going to be serious about music, make it my dream and go for it 110 percent.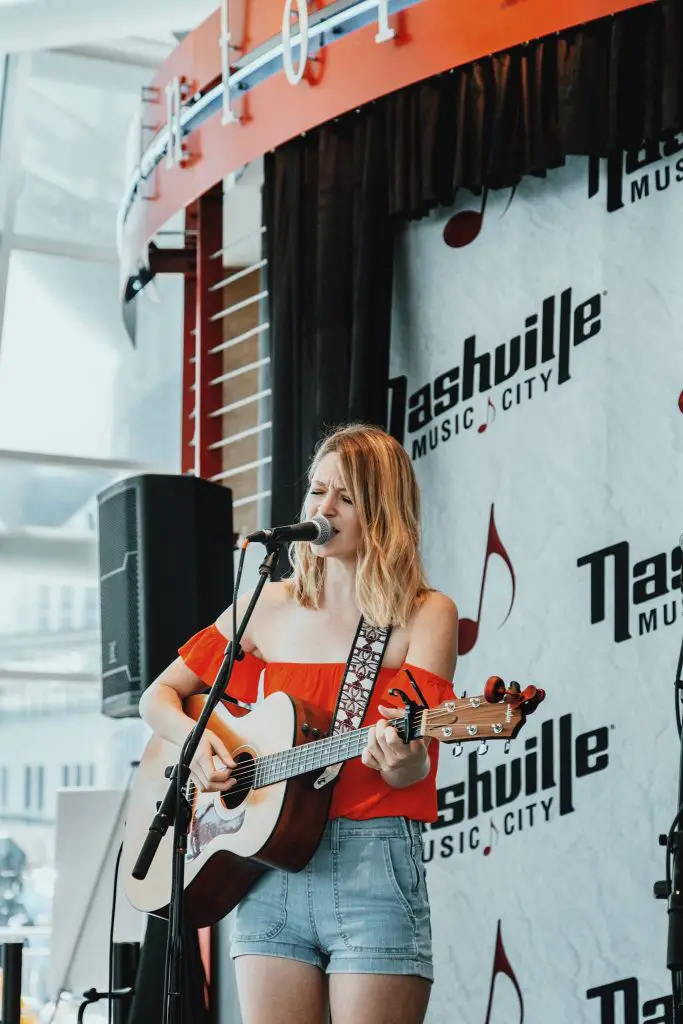 KP: You write songs and perform music, so you have a good perspective on both aspects of making music. What are the positives and negatives of each, and do you prefer one over the other?
AV: Yeah, I do—if I had to pick one to do for the rest of my life, it would be songwriting. But, it's a sixty-forty split; it's so close, and I'm so glad that I get to do both. One of the best things about songwriting is when you get a really good song, either on your own or when writing with someone else, or when you work with a co-writer and it goes perfectly, like fate—that is the ultimate high, right there. It's so exciting to be able to write a song you're really proud of.
As for the negatives, you can get stuck in some awkward co-writes, for sure, so that's not always fun. I also love performing, because I get to share the songs I write with people and see their reactions, but it's terrifying at the same time. That's the thing with performing: You're so vulnerable, it's just you on a stage and you have to own it and be completely unapologetic. I'm very much a people-pleaser, so being unapologetic about stuff is not my strong suit. I'm still learning, for sure, as I am with songwriting.
KP: What are you most looking forward to doing over the next year, and moving forward?
AV: Just getting into the studio and recording some songs, not necessarily to be released but just demos. I've also got some writes that I'm really, really excited about, with people who I really look up to, so I'm hoping they go well. Mostly I'm looking forward to writing some more songs and graduating college, working on my artistry and playing some full-band shows. Going forward, my goals are to sign with a label, record an album, go on a radio tour and just promote my music out there.
Also, it would be awesome to have some of my songs recorded by other artists, to write songs for other people and not just myself. This sounds cheesy but it's just too real in the music industry, but, I just hope that I am able to portray who I am as an artist and a songwriter through whatever I end up doing. I hope that I can be genuine in my music, because that's the ultimate goal.