In the summer of 2012, then-16-year-old LeiLei Secor decided to start selling jewelry on Etsy as a last-ditch effort at summer employment. By December, she was in the process of buying a brand-new 2013 car in cash. Almost six years later, her Etsy business has morphed into the successful online jewelry site Designed By Lei, and the current University of Virginia senior still supports herself financially through the creative hobby.
"I was always intrigued by businesses when I was younger," she says. Though she'd always had an interest in business, she didn't think of starting her own until it seemed like the only option. "I applied to restaurants, stores, you name it, anything a 16-year-old would apply to do, and didn't receive anything but a rejection letter from my local grocery store," Secor says. "Then I discovered Etsy stores, did a lot of research and a week after opening, I made my first sale."
Secor says her shop experienced an intense period of growth in the beginning; she was doing a lot of marketing on social media platforms to pull in new customers, and was increasing her internet presence with search engine optimization tactics. "The orders shot up exponentially [after my first sale]," she says. "My first year is still definitely one of my best years."
Designed By Lei currently sells handmade rings, earrings, bracelets and necklaces of varying styles and materials. The jewelry Secor makes for the shop is based on both her personal interests and the desires of her customers. After years of experimentation, her process for product development is down to a (crafty) science. "My process has always been the same: I have the idea, I make it and then I wear it to see how I interact with it, how the customer will interact with it," she says. "I wouldn't say the process has changed so much as the materials and what I put into the jewelry has."
Whether it's a bold turquoise gemstone necklace or a simple pair of wire heart earrings, Designed By Lei speaks to sophisticated and modest customers alike. What Secor sees in every buyer is a real person with a story, someone who has purpose and meaning behind their purchase. "I think jewelry tells a story about the person wearing it," she says. "I think a lot of people wear certain pieces because it means something to them."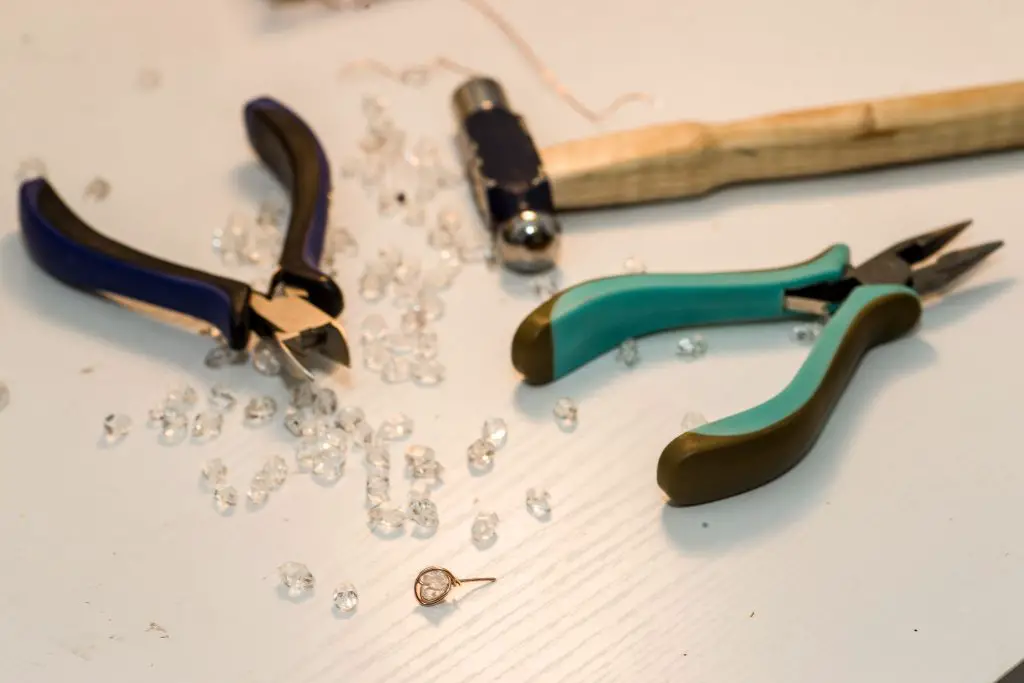 She vividly remembers the first time a customer reached out to her to share the story behind their purchase, which was used as an engagement ring, and how deeply it affected her. "Those moments where customers come back and tell me, 'Well, this is what your necklace meant to me,' those are what makes me appreciate the business beyond it paying for school.'"
Shop sales have plateaued since the early cash-car-buying days, but only because Secor has deemed it more of a side project as she prepares for graduation. And plateauing in no way denotes failure; Secor continues to support her education and lifestyle with complete independence because of her store's success. "It still kind of blows my mind that I've been able to pay for school — my expenses, my rent, going out and having fun — with [money from the] store," she says.
Underneath the financial benefits, however, is a love for the creative process of jewelry making. She says the best thing about creating new necklaces or bracelets is seeing the ideas in her head come to fruition in real life, and then seeing those real-life designs find homes with appreciative customers.
Secor, now 22, has plans in place to become a business analyst at an investment firm after her May 2018 graduation. Now that the store has largely fulfilled its initial purpose of paying for Secor's education, she sees the future of Designed by Lei as uncertain; in many ways, she says, it is still the business she created at 16, and her tastes and interests have changed since then.
One thing that wont be changing, however, is her love for the craft at the root of her business. "Even if I don't continue to sell on Etsy, I think I'll always turn back to making jewelry as a hobby," she says.
If you're reading this story with mountains of student debt piled up, wondering how you can make your own bona-fide, hella-profitable company, Secor's best advice is to, in the words of shoe company Nike, just do it. " You can sit and think about the business plan and all the things that go into it, but I think just taking it's just taking that first initial step to do something," she says. "We're young, the risk is the lowest it's ever going to be, so take the risk right now while you can."