For Brennan Tyler, a commitment to excellence is nothing new. The Bismarck native is the epitome of a man of many talents, which he dedicates himself to carefully cultivating. A North Dakota State University freshman, Tyler has a knack for art. When his high school offered an AP Art class for the first time his senior year, he had the chance to showcase one of his talents, inspired by another in his abundant repertoire.
To do so, Tyler decided to draw a collection of charcoal portraits featuring the members of his jazz choir, their personalities each a muse inspiring his work. The collection, which he undertook as an homage to the friendships he made, was meant to act as a show of his gratitude and an exhibition of his skill.
Shortly after Thanksgiving break, Tyler began working on the pictures. He drew them one at a time, starting the next right after finishing the previous portrait. Pacing himself carefully, he still allowed enough time to add distinctive details to each drawing. The then-senior's work ethic was diligent, a feat that took a substantial amount of planning, as he had to balance the demands of a heavy schedule with his perfectionistic eye. He drew with fervor until May, when he completed the last portrait and concluded his seven-month undertaking.
In total, the collection includes eleven portraits. One is a self-portrait, and the remaining ten depict individual the members of the jazz choir. Tyler estimates that he devoted nearly forty hours to each portrait; altogether, he invested about five hundred hours into the drawings, often spending time before school, during his free-period, his lunch break and again after classes poring over the drawings in order to finalize them for a pre-summertime reveal. This detail was important to Tyler, because the choir group would soon be parting ways as graduation crept closer.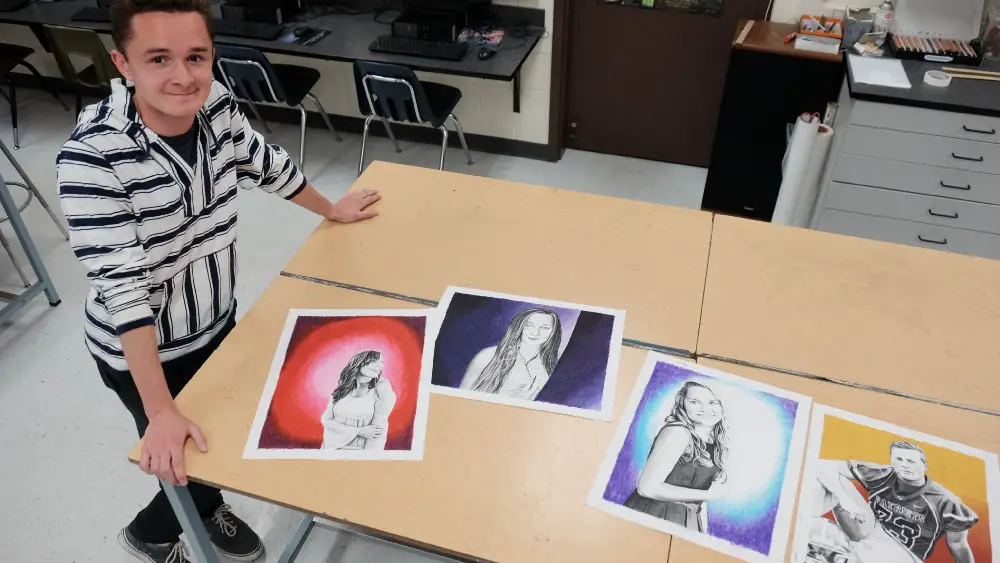 Near the end of the semester, Tyler was in the midst of AP exams, graduation, wrapping up his jazz choir commitments and clocking extra practice hours during the peak of his track season. Adding the art project to his schedule was a balancing act. Yet, despite the hours he spent studying and drawing instead of sleeping, his motivation didn't waver. "When I draw people, or animals like my dogs, I have a lot more motivation to finish [the drawing] so they can see it," he says. "I love seeing people's reactions."
The countless late nights and tedious hours were a fair trade-off for Tyler and made the reveal more rewarding. He decided to keep his idea for the project under-wraps, only sharing information with his art instructor. "Nobody knew what I was doing; it was entirely a secret." Tyler and his teacher managed to keep quiet about the developing portraits for months while they were in progress, but were bursting with anticipation to see the collection as a whole and the joy it would bring to each student portrayed in them. His taciturnity heightened the astonishment of his choir-mates, sweetening the success of his charcoal compendium.
Once the collection was complete, Tyler took the time to present copies of the portraits to his friends individually, complimenting them and describing to each student how their personality influenced the way he used color and light to capture their essence in his art. He selected poses for each portrait from the singers' senior photos, choosing the one he felt was the most representative of their character. He accompanied the portraits with a verbal thanks to his friends, hoping they would appreciate his work as much as he valued the memories they had all made together.
The life-like drawings brought smiles for some and tears for others. "Just to see all the different spectrums of emotions and reactions, it's really kind of neat," Tyler says. "It really made me feel good." His instructor was impressed with the collection and marveled at the quality of Tyler's work, as well as the time and effort behind it. Tyler's teacher said it was one of the greatest displays of art, and of dedication, that the department may ever see. His choir instructor was touched by the portraits too, and loved the way he incorporated his passions to create something memorable. The project was a sensation for everyone who was touched by Tyler's talent.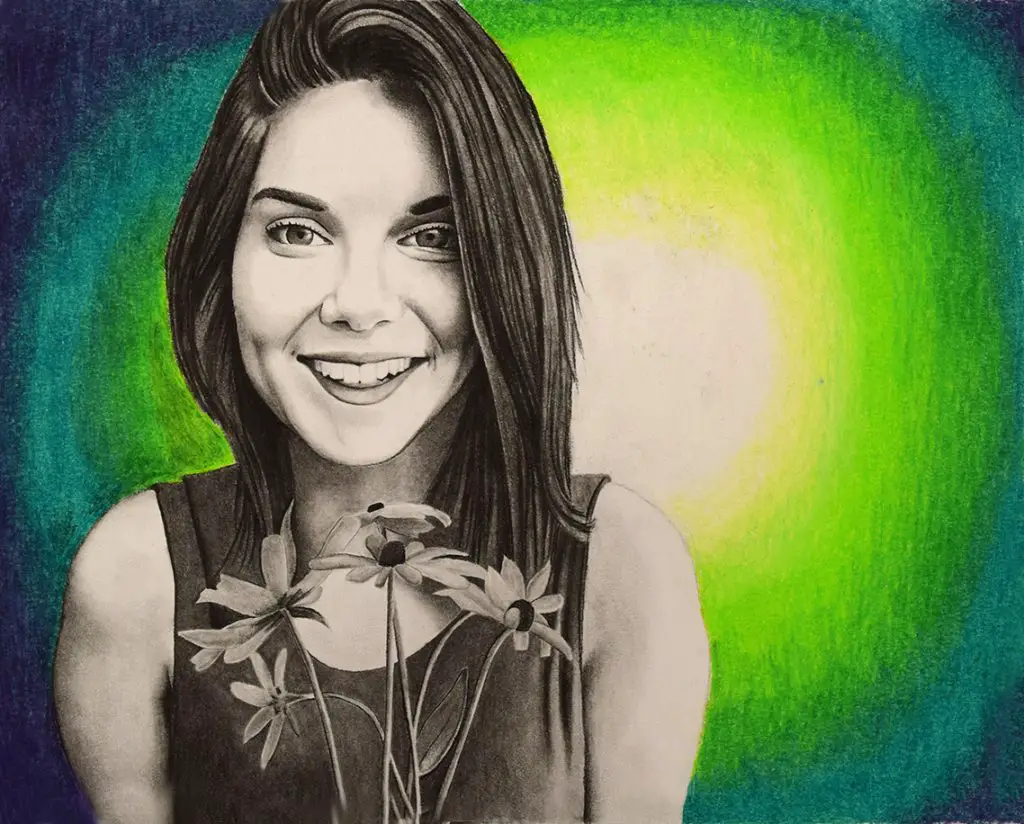 As an Architecture major, Tyler plans to push the boundaries of his artistic ability to new levels. Swapping his charcoal for pencils and people for homes, his creativity will develop complexity while he adds another talent to his long list. Eventually he would like to design high-end homes in Montana, a jump in a very different direction from the classic style portraits he creates now.
Yet, the balance between rustic and contemporary elements that he plans to master in his architectural design can already be seen in his art. The timeless portrait styles with shaded, black-and-white charcoal hues, offset by the bold splashes of color in the background in his existing work shows this goal is already in progress.