On May 10, 2017, Rodney Smith Jr. set out on the journey of a lifetime. In an effort to encourage humility and selflessness, he accepted the "50 States-50 Lawns Challenge," in which he pledged to mow one lawn in every state, absolutely free of charge. He does not offer his services to just anyone, however, as he aims to help the elderly, disabled, single-parents and veterans. Just thirty-nine days later, the Social Work major at Alabama A&M completed his final lawn in Hawaii. Upon completing his goal, Smith informed the world that he was only just getting started.
Hailing from Huntsville, Alabama, Smith was very involved in his community even before taking his trip around the United States. In summer 2015, he founded "Raising Men Lawn Care Service," which aims to teach young people around the world the importance of giving back to the community. In order to spread the idea of providing a service and expecting nothing in return, the lawn-mowing savior created the "50 Yard Challenge," encouraging children to provide free lawn-care to fifty different people in their community.
"The '50 Yard Challenge' is for kids around the world," Smith says. "If they accept the challenge to mow fifty lawns, they will receive a white t-shirt, shades and ear protection. For every ten yards they complete, they will receive a different color t-shirt. Once they reach fifty yards, we will fly to their city, work on lawns with them and give them a brand new mower."
There has been an incredible reaction to this lawn-mowing challenge, as new volunteers seem to sign up every day. To put the impact that the "50 Yard Challenge" can have into perspective, if even just ten people completed the challenge, five-hundred people would receive lawn care for free. When it is clear that over one hundred people have accepted the challenge, its affect becomes exponential.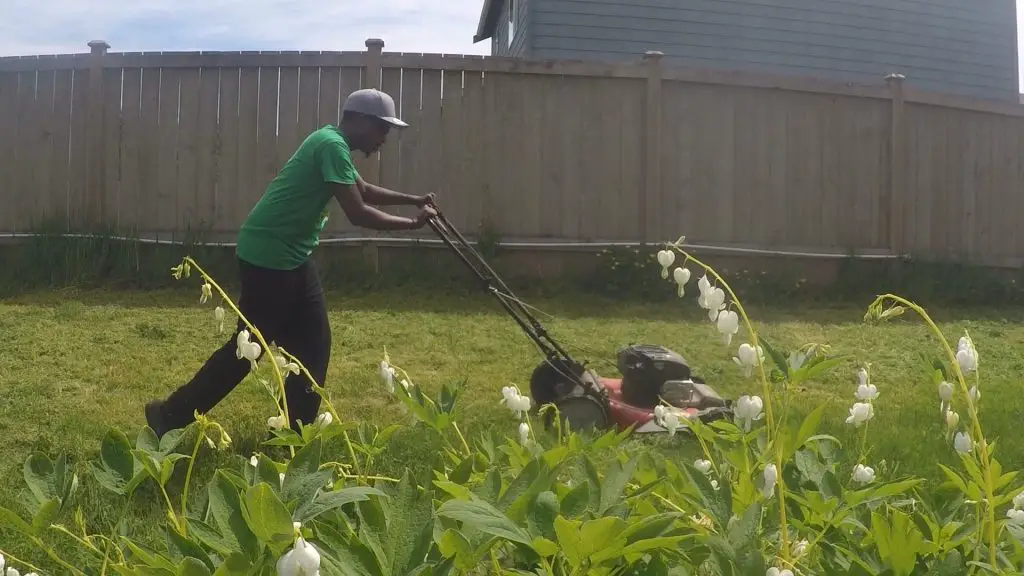 To raise awareness for his cause, Smith set out across the country to mow one lawn in each state. His inspiration for the trip came from an unlikely source, to say the least. "During my lunch break at Alabama A&M, I was watching a movie on Netflix where a guy traveled around the world doing acts of kindness. That sparked the whole idea," he says.
Beginning in Fulton, Mississippi, on May 10, and ending in Honolulu, Hawaii, on June 18, Smith displayed incredible determination to visit more than one state per day on average. While he's received his fair share of media coverage, including a feature piece from NBC Nightly News, his motivation to continue his journey is found elsewhere. "My favorite moment was being able to see the people's faces when I mowed their lawn for them. There were also a few that broke down and cried. To know that I helped them was the highlight of my trip."
That isn't to say that Smith is ignorant to the importance of media attention, however. He understands how valuable the press can be, especially for a nonprofit organization. "Getting media attention is good because it has allowed me to get the word out about the program," he says. "Now, even more kids are joining the program and making a difference in their community.  I never let the media attention get to me, though; I simply remain humble and continue doing what God has set me out to do."
Obviously, traveling around the country is extremely expensive. Paying for gas, places to sleep and food would be unrealistic for one person to maintain while working for free; the organization and Smith himself needed the support of those that believe in his message. Briggs and Stratton, the world's largest manufacturer of small gasoline engines, sponsored the challenger's journey around the country, covering his expenses along the way. On top of that, Briggs and Stratton employees accepted the "50 Yard Challenge," and provided community service in the Milwaukee, Wisconsin, area.
Smith is working on a book that documents his entire trip around the U.S., titled "50 States | 50 Lawns," that will include pictures from his trip, along with stories from each state that he visited.
Once home in Alabama, his plan is very simple, to continue business as usual. "I will be back in Huntsville taking care of the lawns there and all over north Alabama," he says. "It's also summer time so we will have kids back out with us." While he may be back home for the time being, Smith has plans to take "Raising Men Lawn Care Service" to a global level. Following his trip around the country, the next step in Smith's journey will hopefully see him traveling around the world to spread his message even further. On June 19, just one day after finishing his final lawn in Hawaii, the Alabama native promised to embark on his next quest, "7 Continents, 7 Lawns."
"I plan to leave in May 2018, spending four days in each continent," Smith said. "Two of the days will be spent mowing lawns and the other two will be spent talking to kids, getting them involved in the program.  It's still in the early stages of planning though." Similarly, to his trip around the U.S., Smith hopes to cause a chain-reaction of selflessness during his trip around the world. For now, he will be at home in Huntsville, Alabama, where he can be found changing the landscape of community service in the U.S., one lawn at a time.