When I was in fifth grade, one of my friends invited me to go black-light bowling for her birthday. I was looking forward to a fun but relatively uneventful party filled with kids, bumpers, oddly fitting shoes and colorful bowling balls. What I actually got was much more exciting, as her father dropped two bowling balls into his pants and danced down the lane to the horror of the bowling alley attendants. While that wasn't my last experience with bowling, I can't exactly claim expert status, as my skill level never progressed past a general competence. Today, when I go to the local lanes with my friends, I might as well be attempting the sport with two bowling balls stuffed into my pants; it's not pretty.
Bowling incompetence is certainly not a problem for McKendree University sophomore Breanna Clemmer, who is the National Ten Pin Coaches Association Division II/III Player of the Year, as well as the reigning NCAA Women's Bowling Tournament MVP. Clemmer takes bowling seriously, and has done so since she was eleven years old, when she began to bowl competitively. Her love for the sport, however, began even earlier. "My grandpa and my uncle started me out bowling when I was two years old, just pushing a ball down the lane," Clemmer says. "It's something that my family loves to do." From that point on, she was hooked. She won Junior gold in the USBC U15 division (United States Bowling Congress, competitors ages fifteen and younger), and then a second gold two years later, this time in the U20 division.
It was around this point that she began to realize the real possibility of competing on a college team: "I had colleges coming up to me and speaking to me and wanting to offer me things and wanting me to come to their schools," remembers Clemmer. To add to the excitement, she also made the Junior Team USA in 2013-2014; not only would she have the chance to compete in her sport collegiately, she would also be able to represent her country. By the end of the year, she had decided to join the bowling team at McKendree University, and thus began competing in one of the NCAA's newest sports.
According to the National Collegiate Athletics Association web archive, the NCAA was founded in 1906, but only began to organize into specific divisions and sports in 1956. Until that time, the organization was simply a rule-making committee. Today, the NCAA operates as a governing body for twenty-four sports; with the exception of women's beach volleyball, which was added last year, women's bowling is the newest addition to the NCAA lineup.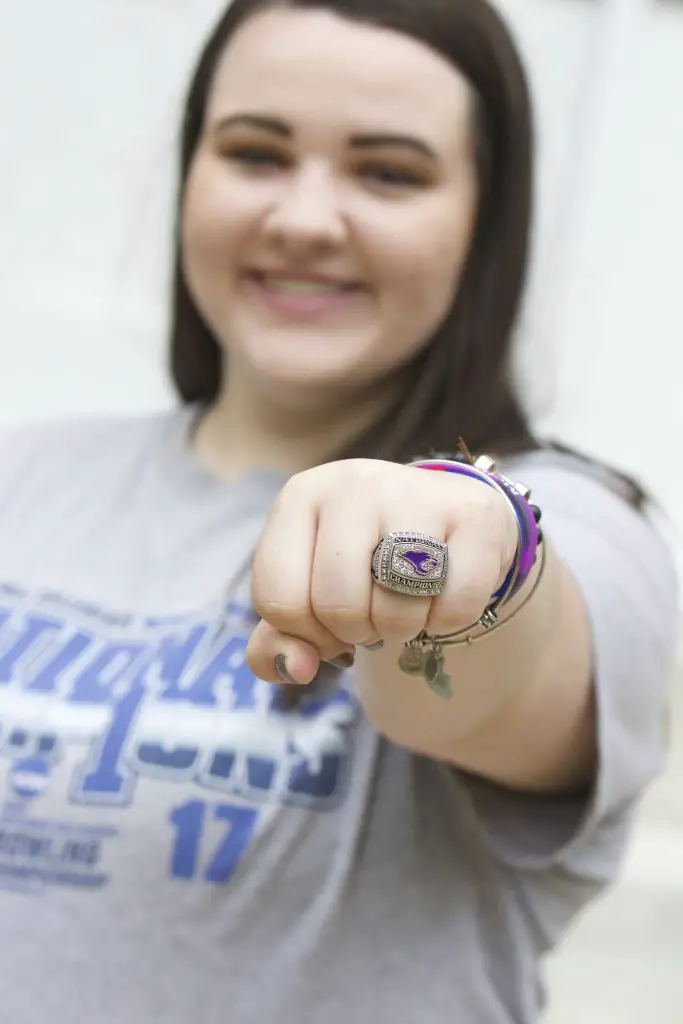 Women's bowling was added to the NCAA in 2004, but the McKendree University team hadn't joined until recently. In fact, it wasn't even until 2013 that the school became official members of the NCAA; previously, they had been competing under the rule of the National Association of Intercollegiate Athletics (NAIA). After joining the NCAA in 2013, the women's bowling team worked their way into a championship position, scoring their first invite to the National Tournament in 2016. That year, they bowled their way to a Final Four finish before falling to five-time NCAA champions, Nebraska.
This was the program into which Clemmer stepped for the 2016-2017 season. It had been incredibly successful, garnering top National Tournament placements in both the NAIA and the USBC, but it had never won an NCAA title. As a freshman on the team, however, Clemmer was about to see that change.
After qualifying for the 2017 NCAA tournament, the women of McKendree swept through their opponents, going undefeated all the way up to the championship game. In order to take home the title, they were going to have to beat Nebraska, who had knocked them out in the semifinal round the year before. In a best-of-seven match, where a team must win four of seven rounds to take home the title, McKendree won the first round. And the second, and the third.
In the closing frame of the fourth and potentially final match, Clemmer stepped up to bowl, knowing she needed to compete at the top of her game if her team was going to win the tournament then and there. "I just remember getting up there and being comfortable with whatever was going to happen, so if I was going to split I knew my teammates would have my back, and if I went up there and struck I knew I could turn around and give it all to my teammates," says Clemmer. Her calm, confident demeanor paid off, as she bowled strikes in the final two frames of the tournament.
The moment the last set of pins fell, Clemmer turned to her team. "We just hugged and embraced each other, and started crying," she remembers. "It was one of the best days of my life; I don't know how else to explain it." This was their first NCAA title, but they are hoping it's not their last. McKendree opened the 2017-2018 season on October 27, and hopes to find success once again at the NCAA tournament in April.