For most college interns, grunt work means rote, repetitive office tasks under bright fluorescent lights, but for Virginia Tech junior Farren Vaughan, it means harvesting a flax plant in front of a crowd.
Vaughan spends many weekends sitting in the historic Brinegar Cabin where she whacks, beats and combs a flax plant until she can retrieve the firm fibers found at its core. The process is a part of recreating the conditions of olden life at Doughton Park, when many families harvested and spun their own clothes. Locals and tourists alike watch in awe, trying to pick up a piece of the park's past.
It's one of Vaughan's various duties as an interpretive intern for the Blue Ridge Parkway, which spans 469 miles between North Carolina and Virginia and is protected by the U.S. National Park Service. Vaughan's position is located in Doughton Park, an expansive landscape of hiking trails and historic cabins surrounded by forest and mountains on the North Carolina portion of the parkway.
There, she assists the park's interpretive ranger, Jackie Sloop, with demonstrations and talks that preserve the history of the land. While interpretive work is the crux of her position, Vaughan's duties also include manning the gift shop, running errands, maintaining the trail and answering questions from visitors. "I kind of describe it as a catch-all position," she says. "The parks are really understaffed, so it's just me and Jackie. I do whatever needs to be done."
Rediscovering Nature
As a Louisville native, Vaughan was exposed to nature early on through her older brother's involvement in Cub Scouts, but she never thought those experiences would turn into a potential career. She attended a journalism magnet within her high school and felt certain that reporting was her career path until arriving at Virginia Tech. "College is when I really turned a corner and got interested in nature again," she says. "Being in Blacksburg, you're surrounded by mountains and never far from a hike or an overview."
During the middle of her sophomore year, she kept her Political Science major, but dropped Journalism and picked up Geography in its place. An alternative spring break trip this past March brought her to the Doughton Park area for the first time, where she re-built a fence at Brinegar Cabin, sorted donations for a nonprofit thrift store and met park leaders who would eventually become her coworkers.
"I built connections with the park leaders, and the rest fell into place," she says. The internship seemed to be hers until a federal government hiring freeze announced by President Trump in January put her position in jeopardy. The intern program was protected when seasonal and short-term employees were given an exemption from the freeze in February, as reported by CNN.
The People Make the Park
Though her job was saved, the lack of fellow staff members has made her internship a solitary experience. She is the only park intern around for miles, as other students' positions are sprinkled along the BPR's sprawling stretch. "The seclusion was really hard for me, especially in the beginning," she says. "It prevented me from enjoying the views at first, because I wanted someone to share the experience with."
To combat feelings of isolation, Vaughan has made an effort to meet local community members and learn about their way of life. Doughton Park is in the southern Appalachian region of the country, an area sometimes labeled as uneducated and backward. Vaughan refused to succumb to stereotypes, and has found the community's relationship with its land impressive.
"People in this area have such a connection to their land. They don't just leave the mountains, or if they do, a lot of them will come back," she says. "Some say when they're away from the mountains for more than a day or two, they feel nauseous. That regionalism is so unique. I never cared about my natural surroundings [growing up] because it was just a suburban sprawl."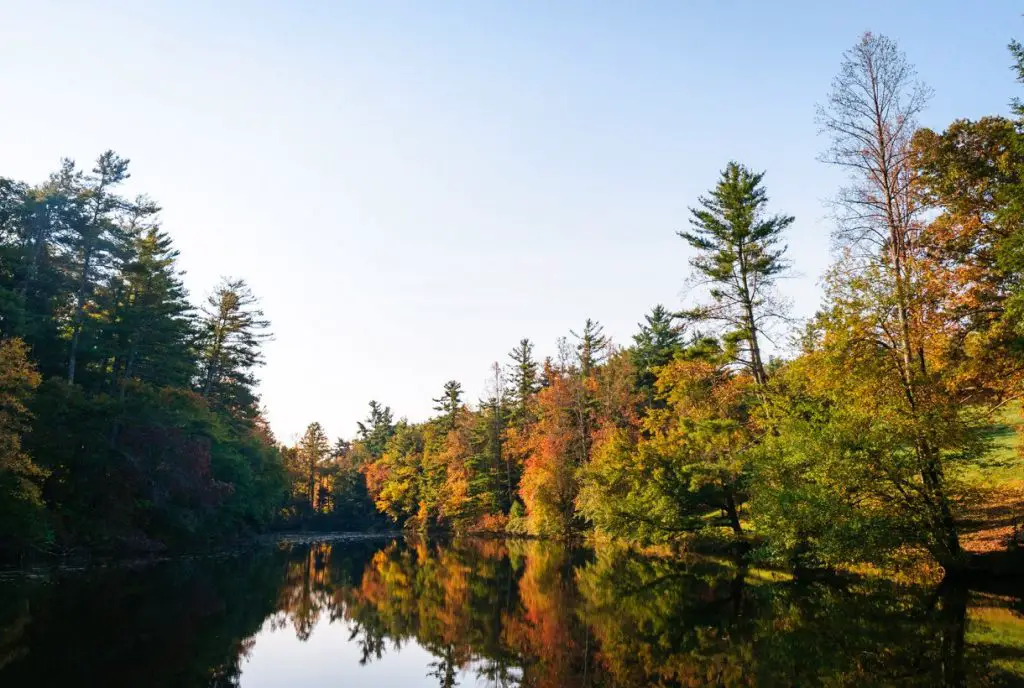 Getting to know the people of Doughton Park has also given Vaughan a new perspective on politics. Many residents are fierce supporters of both natural lands and President Trump, despite his targeting of national parks for budget cuts. Vaughan's conversations with Doughton's people has helped her to understand this contradiction. "The people in this region feel so completely forgotten in the political situation, so when Trump comes through and says things like, 'The forgotten man will be forgotten no longer,' people get behind that," she says.
Vaughan explained that while she herself is not a Trump supporter, she feels it's imperative to respect the reasons why people believe what they believe on the other side of the political fence. Vaughan's older brother, Matthew Vaughan, says that his sister's willingness to dig deeper is one of her best qualities. "Farren doesn't accept things just because they were taught to her," he says. "She goes deeper and tries to figure out for herself why she believes things, or what the bigger meaning of a situation is."
A New Respect for Natural Land
Though Vaughan still isn't sure she wants to pursue a career with the National Parks System after graduation, her internship has rewarded her with a new perspective on the value of slowing down and appreciating untouched lands. "I think that so many college students view the future as a rat race where you have to get a job and make money on top of so many other things, and it's so stressful, feeling like you always have to compete with people," she says. "I realized this summer that I can slow down while still being productive."
Vaughan feels that national parks hold an important place in the framework of the United States. After all, protecting national land under federal law is a uniquely American idea. The first national park, Yellowstone, was established under Ulysses S. Grant in 1872. Since then, other countries have followed suit and set aside their own national parks.
Her friend Peter Champelli, a student at Ithaca College in New York, visited Vaughan this summer and was completely taken with the scenic overlooks and secluded roads of the Blue Ridge Parkway. He echoes her thoughts on the importance of parks in American culture. "National parks are an example of something that's intrinsically important to everyone in the country," Champelli says. "You don't have to give specific reasons on why nature is important; it's important because it's our world."
Vaughan hopes that other students will feel inspired to get in touch with the natural areas in their communities, and that they'll contribute to their maintenance and protection. "I hope people find a way to get in touch with whatever their area is," she says. "Take a trip to the parkway, and find a way to invest in your own area."