Kellie Gillespie is a rising senior at Sonoma State University, where she is pursuing a BFA in Studio Art and Professional Performance. With an intense passion and love for the arts, Gillespie has dedicated long hours of intense mental and physical effort to her projects, even sleeping overnight in the art studio to work on her latest project when the job demanded it.
Gillespie has used many different materials in her sculptures and performance art pieces over the years, but prefers to use items that are commonplace and can be put together to make something interesting and beautiful. "I use the same type of object multiple times in the same piece," Gillespie says. "Sometimes it's cups, straws or tissue paper. Another material I've used a lot is snow cone cups. Somehow, I find sanity in the insanity of it."
Although Gillespie has completed a number of incredible art pieces, many of which can be found in pictures on her Facebook profile, last semester she spent most of her time working diligently on an incredible twelve-foot-tall, 750-pound sculpture made entirely of nails. The piece, which required untold hours of welding and ten thousand nails to complete, is aptly titled "Connected." Because of the sculpture's height, Gillespie spent a lot of time on a ladder welding nails together. "Being on a ladder anywhere from fourteen to eighteen hours a day was brutal," she says. "I ended up with Achilles' tendonitis in both heels from being on my tiptoes all day."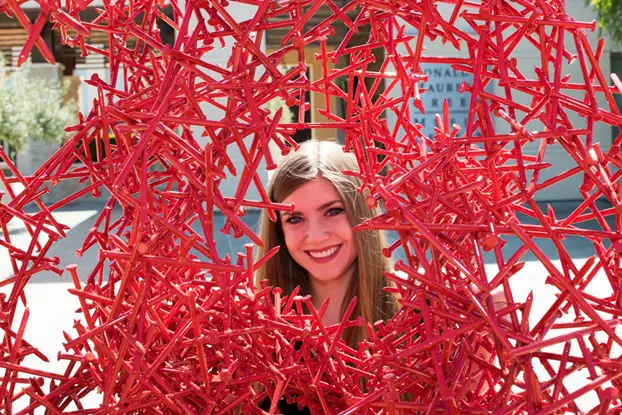 It's obvious that Gillespie is passionate about what she does. To put so much time and effort into a single project takes dedication, inspiration and creativity on a whole new level, qualities that Gillespie certainly has in spades. "It's really mentally demanding to completely commit yourself to a single piece; it's even harder when you're a college student and all your friends are turning twenty-one, going out to bars and partying and you can't be there with them." Despite the mental and physical strain, she makes it clear that every second put into working on her awe-inspiring sculpture was worth it.
Because a project like "Connected" requires so much effort and passion to go from idea to finished piece, Gillespie needed to stay inspired. In order to get into her creative zone and work on a project, whether that work be physical or mental, Gillespie needs her alone time. "When I need to get inspired or work on a project, my studio is my go-to," she says. "I go to Sonoma State, and you're allowed to have keys to the art studio if you're in the BFA program. I can go there any time; two in the morning, four in the morning, just walk right in. I can't be surrounded by people when I'm thinking of new projects or ideas, or when I'm working. I like to be isolated."
While the artist behind the statue likes her alone time, the meaning behind the piece has more to do with unity and a sense of connection. As its titled suggests, "Connected" speaks to the power of togetherness and demonstrates how, when seemingly common and "ugly" things are brought together, their true beauty shines through. "I take an object that's kind of ugly, forgotten, and transform it into this beautiful work of art," says Gillespie. "There are so many people in the world that are considered broken, damaged or easily replaceable. When you put those damaged people together, something really beautiful can come out of it. People are much more capable than others give them credit for."
Just as "Connected" represents the beauty inside the world's "damaged" people, all of Gillespie's art is inspired by mental health issues, from depression and suicide to anxiety and eating disorders. Still, Gillespie hopes to avoid reductive interpretations of the works' themes. "I don't want people to look at my work and just say, 'oh, eating disorder,' or 'oh, depression' or 'oh, suicide.' I want people to make their own meaning. Hopefully something will click for someone when they see my work." She hopes that people will read the informative plaques beside her art pieces once they've already found their own meaning, blending her interpretation with their own.
Gillespie used her creativity to pull herself out of a dark time and continues to be inspired by her darkest moods and most anxious moments. "Art is how I heal myself," she says. "If I'm having issues with anxiety or start going down a dark path mentally, that's when I do my best work. My work comes from a dark place in me. I'm not depressed now, but I really was, and I pour those feelings into my art."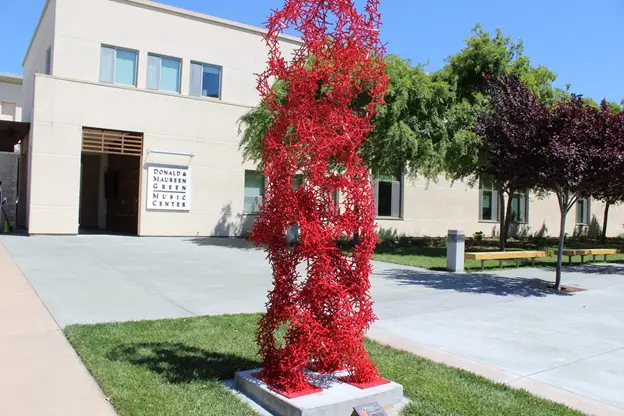 In high school, Gillespie went through a very dark period in her life. Initially she used sports as an outlet, but after an injury left her unable to play, she needed a new way of coping. Someone introduced her to drawing and then, after transferring to an all-girl high school, she signed up for a ceramics program and immediately fell in love. "Art honestly saved my life," she says. "I don't think I'd be here if I didn't have art. And yes, it would be great to have a career in it, but that's not important to me. I do it for me, it's my escape. It's like a break from reality."
With all the chaos and turmoil in today's world, a break from reality is exactly what many people need. After she's done with her BFA and MFA, Gillespie plans to attend graduate school to pursue a career in art therapy, hoping to help people struggling with mental health issues by introduce them to the healing power of art. "If I can help one person, save just one life, then my life is complete," says Gillespie. She adds, "But before I can do that, I need to work on me, and I know I have so much potential. I'm not ready to give that up yet."