Washington University senior Andrew Glantz is the CEO and co-founder of GiftAMeal, a start-up most popular in app form that gifts a meal to someone in need each time you dine at a participating restaurant. According to the business's Facebook page, the mission statement is three-fold: to help users find good restaurants with personalized recommendations from their friends; to help restaurants find new customers, and to provide meals for the hungry in the local community. While the community is currently the greater St. Louis area, the business is headed toward expansion in the rest of Missouri.
Glantz is a Leadership and Strategic Management major at WashU. Over the course of his college career, he has held multiple executive board positions for the Tau Kappa Epsilon fraternity, as well as the business fraternity, Alpha Kappa Psi. For two years, Glantz was co-owner of the Trading Post storefront on WashU's campus, a non-profit business with a mission to exchange resources among members of WashU and the community of St. Louis. He has also held positions with the Olin Sports Management Organization, and plays on eight different intramural sports teams each year.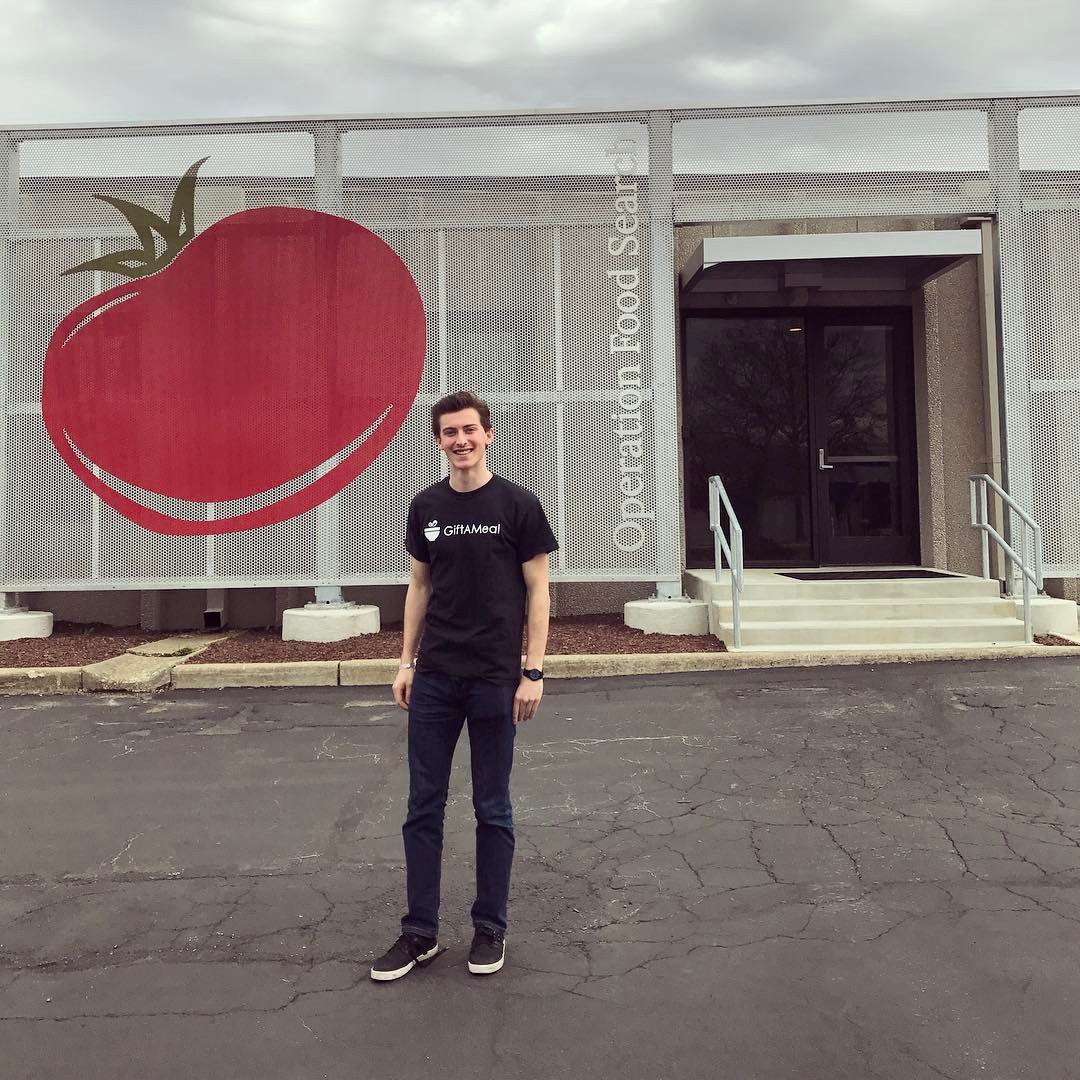 During his sophomore year at WashU, Glantz was interning at a venture capital firm. As an intern, Glantz witnessed start-ups coming in daily with innovative ideas looking for investment opportunities. During a lunch break with fellow intern Aidan Folbe, the two were discussing the start-ups they had seen thus far and the concept for GiftAMeal was born. Glantz and Folbe wanted to come up with a business model that would help restaurants get new customers and ultimately help the community.
Glantz, along with Folbe, a Dartmouth student who went on to become the COO as well as co-founder, spent the next few months researching relevant information, gathering advice from other successful startups and interviewing app developers. The next step was for each of them to put in their savings and begin the start-up.
Despite the difficulty of getting a start-up off the ground as a college student, Glantz found that, through support from his community, he was able to do so relatively easily.
"It was surprising how quickly people adopted our idea," he says, "and how willing they were to provide such tremendous support."
GiftAMeal's business strategy is set up to require the involvement of restaurants, and several have become participants for the app, such as Applebee's Grill & Bar, Cicero's, The Brass Rail and Jimmy Johns.
As described on GiftAMeal's web page, the value of participation to restaurants includes: driving dining traffic toward partner restaurants; a higher customer-satisfaction rate because customers feel they are helping a good cause; social media benefits, such as posting photos of meals and sharing locations with friends and family; branding, and finally, millennial targeting, as millennials tend to dine out more than other age groups.
In general, millennials also feel more comfortable with the world of phone apps. GiftAMeal generates most of its business through a phone app available for iPhone and Android, which operates like this.
First, you attend a participating GiftAMeal restaurant, a list of which can be found under the "GiftAMeal partner restaurant" tab on the website or app. Then, you open the GiftAMeal app, select the restaurant you are visiting and take a picture of your meal. It is essential, the website tells users, to take a photograph and upload it to the app while you are still at the restaurant, because location services is used in order to verify the meal. Once the picture is uploaded, GiftAMeal will make a donation to a local food bank, which in turn provides a meal to a person in need.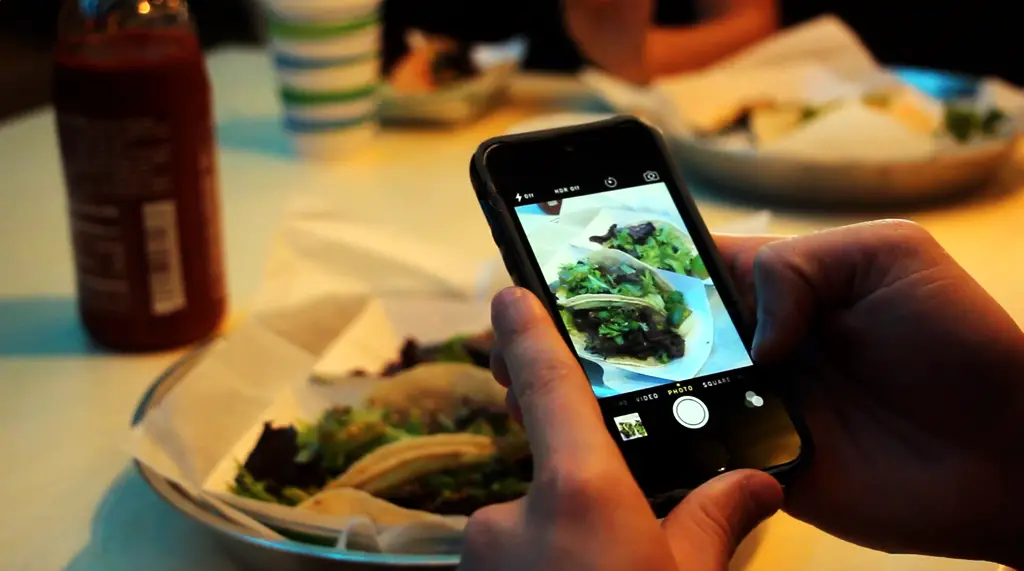 The food banks in collaboration with GiftAMeal include Operation Food Search in St. Louis, Lakeview Pantry in Chicago and Forgotten Harvest in Detroit. GiftAMeal covers the costs of transportation, refrigeration and labor costs during the distribution of food to local pantries. The pantries, after receiving the gifted meal, give it to a person in need.
The app also allows users to share the restaurant location and menu with their friends, as well as post reviews and share the photograph on social media accounts. Becoming a user of the app simply requires downloading it and creating a profile. From there, the process becomes similar to any other app relating to social media: pictures are posted, comments are made and word gets out.
Andrew Glantz has worked tirelessly with his business partners on the GiftAMeal startup since its creation in October 2015. As CEO, Glantz oversees the vision of the business, manages the team, interacts with large clients and does the various entrepreneurial activities that are required for a startup business.
As Glantz is still a college student, and a busy one at that, he says the key to balance in his life is scheduling.
"I calendar everything from classes and exams, to GiftAMeal meetings or brainstorming sessions, to dates and hanging out with friends," he says.
Aside from making a positive impact on the lives of those in need, GiftAMeal has changed Glantz's outlook on life as well.
"GiftAMeal has made me more trusting in the kindness of others," he says. "People want you to succeed. All you need to do is ask for help."
Glantz elaborated that much of GiftAMeal's success can be attributed to help received from others, as he has found that success is most likely to occur when you are genuine and kind to others. GiftAMeal has grown through cold calls, door-to-door restaurant sales, conferences, guerrilla marketing and harboring a constant entrepreneurial spirit.
Over 100 restaurants in St. Louis, Chicago and Detroit are on the list of participants, and the business is hoping to reach more cities through chain restaurants within the next year, in order to reach out to independent restaurants around those regions.
"You can change the world in a lot of different ways," he says, "through charities, businesses, individual volunteering and donating, just to name a few. Find your passion, figure out how you can help, and go for it."
Follow GiftAMeal on its website, Facebook, Instagram and Twitter.