Boy Meets Stage
Freshman Andrew Bower will do just about anything to become a stage actor, including impersonating a Mark Twain impersonator.
By Alicia Drier, Roosevelt University
---
Andrew Bower has never been one to back down from a punch line.
From slapstick to Shakespeare, his ability to bring his audience to side-splitting laughter feels almost like a sixth sense. But even though this Huntington University freshman comes from a theatre dynasty, Bower admits that good acting requires a lot more practice than innate perfection.
Becoming the Part
Teresa and Larry Bower have been an acting power couple in the greater Fort Wayne area long before their son Andrew Bower was born.
"The stage has always been a part of our family dynamic," Bower says. "It took me a long time to realize that most other kids didn't grow up with their living rooms doubling as a practice space for their parents' next show."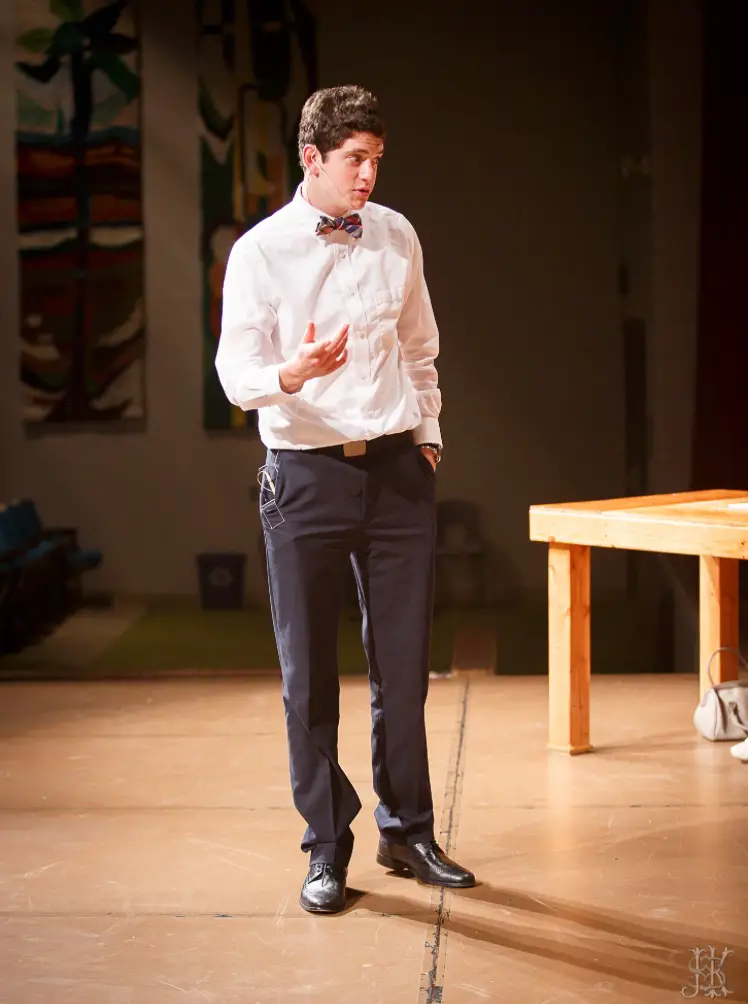 Still, Bower waited thirteen years before he acted in his first play.
"I began taking acting lessons around fifth grade, because I was shy and didn't like putting myself out there. I think my parents thought it could work as a way to open me up, but it didn't really work at first. Then, suddenly, in middle school, something clicked and I couldn't get enough. I participated in my school's production of 'Dear Edwina,' and from there I acted in show after show, both in Fort Wayne community theatre groups and my high school theatre program," says Bower.
Now the young thespian is studying Theatre Performance Arts and Radio Broadcasting at Huntington University, and he's willing to do anything to follow his passion to the top.
Getting Noticed
One of the biggest leaps of faith Bower has taken since beginning at Huntington happened in December 2016, when he heard that professional Mark Twain impersonator Hal Holbrook was coming to Fort Wayne.
"I'd played the role of Mark Twain in my high school's production of 'Tom Sawyer,' so I felt like I was already familiar with Holbrook's acting experience," Bower says. "But when my aunt suggested I dress up as Mark Twain and go to his show, I was worried maybe I was going too far."
However, as soon as Bower put on his old Mark Twain costume and makeup, his nerves melted away.
"I stood in the lobby after the show and interacted with the audience as they left the theatre. They all were playing along as if I was the real deal, and it was great," he says. "Even my aunt dressed up like a southern belle with me to really sell our performance. We must have been convincing, because after a while, the stage management let us go back and meet Hal Holbrook!"
Bower walked away not only with the experience of meeting an acting legend, but also a valuable lesson that he now applies to his acting career.
"I guess it's not every day that a fan dresses up and acts like a person just to get to meet you," Bower says. "Holbrook eventually came out, and I could tell he was very touched that I went to all the trouble so I could talk to him. He grabbed me by the shoulder and said that he could tell I have a real passion for the performing arts. He was very encouraging of what I'm trying to do with my life, which was fantastic to hear from him. More than anything, I learned from this experience that taking risks in acting can often have lots of benefits."
Studying for the Big Leagues
Bower knows the odds of making it as professional actor in today's world are not in his favor. Maybe that's why, at age nineteen, his acting resume reads far more like a collection of adventure stories than a list of roles played.
"I've performed spoken word poetry. I memorized and acted out a one-man skit called 'Ant Farm.' I've helped out with my dad's murder mystery acting group. I played the role of Puck in a nonprofit performance of 'A Midsummer Night's Dream,'" says Bower.
He now also works as a radio host at Huntington's student-run campus radio station and participates in several college choirs to gain voice-acting experience. And he's recently put together a demo reel of different cartoon voices he can portray to market his skills.
"Basically if you offer me an acting opportunity, I am going to take you up on it," he says.
On top of this, Bower regularly makes time to observe and learn from any acting he can get his hands on.
"I once got to participate in a workshop with Royal Shakespeare actors at London's Globe Theatre. Plus, my family and I travel whenever we can to Chicago and NYC to see top Broadway shows there. But I don't dress up to make it backstage for all of those plays," he adds with a laugh.
He's also already writing his bucket list of roles he'd like to portray in his future. "My one dream role that I hope to perform is Christopher in 'The Curious Incident of the Dog in the Nighttime.' I saw it this summer on Broadway, and it was one of the best plays I've ever seen. The complexity of the role of Christopher is definitely a challenge I'd love to tackle someday."
When asked what advice he'd offer to future aspiring actors, Bower says, "Don't be afraid to chase your dreams. Be dedicated to improving your craft. Don't think that you're the best, because you're not. I know I'm not. But I keep working at it and loving what I do anyway."
To check out some of Bower's latest work, you can watch his recent video on the Huntington DMA YouTube page. Or to follow his acting journey, follow him on Instagram.