First the terrible update, now Rihanna's wrath. Snapchat's life may officially be over.
Remember in 2009 when Chris Brown pleaded guilty to assaulting Rihanna? Well, exactly nine years later, Snapchat thought it would be a good idea to host an interactive ad that asked users whether they'd rather "Slap Rihanna" or "Punch Chris Brown," an insensitive — not to mention idiotic — decision that has stirred up outrage amongst fans and users.
The ad may have gone unnoticed by the media had Rihanna herself not seen it. In fact, a number of Snapchat users probably even saw the "Would You Rather" game pop up on their own phones without questioning its merits. However, once the pop star saw the promo, she viciously dragged Snapchat in front of her Instagram followers.
"Now SNAPCHAT I know you already know you ain't my fav app out there! But I'm just trying to figure out what the point was with this mess!" she wrote in red lettering on a black background on her Insta story. "I'd love to call it ignorance, but I know you ain't that dumb!"
A Snapchat rep attempted to apologize to Rihanna by claiming that the ad was posted in error, pointing to the fact that the nature of the content violates their advertising guidelines. Either way, you can feel Snapchat's regret in the air because RiRi did not hold back.
In calling out the inconsiderate advertisement, not only did Rihanna bring light to Snapchat's mistake, but she also spoke out for all victims of domestic violence, making her criticism more so about protecting other victims rather than herself.
In her Instagram story, she went on to say, "This isn't about my personal feelings, 'cause I don't have much of them … but all the women, children and men that have been victims of DV in the past and especially the ones who haven't made it out yet … you let us down!"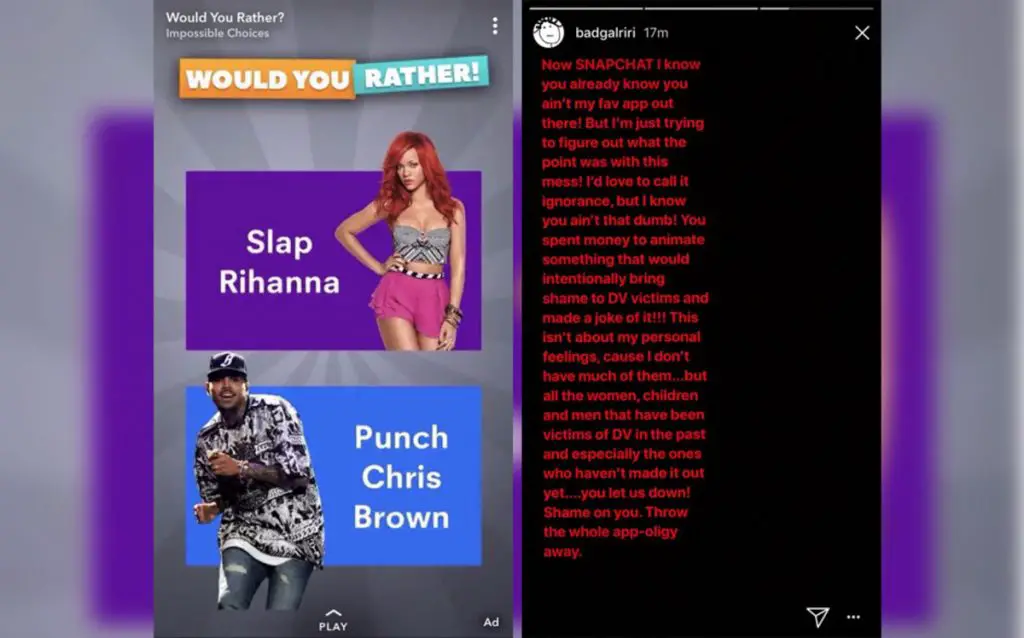 Most celebrities would sugar coat things to maintain their composure, but the fact that Rihanna popped off makes the matter worth noting. Her fans will listen to anything she says and pay attention to anything she does, making her response an ideal example of a star using their platform for the better.
Yeah, she may not have addressed the matter lightly, but how could she? As a victim of domestic violence, Rihanna obviously takes the issue seriously, and it makes sense that she would respond passionately. Through her condemnation of the half-baked advertisement, she empowered DV victims by giving a voice to everyone who lacks a platform to speak on the issue.
According to Snapchat, a team of media analysts reviews all of their ads before posting them, and they claim that this curation process should have caught and rejected the "Would You Rather" campaign.
"This advertisement is disgusting and never should have appeared on our service," said a Snapchat spokesperson. "We are so sorry we made the terrible mistake of allowing it through our review process."
The spokesperson's claim makes you wonder if this is what their process actually looks like, or whether or not the purported review period even exists. It could be, as I've hypothesized, that no such review exists and Snapchat is just trying to cover their asses.
Also, why is nobody talking about the fact that the ones behind the company that created the app store game "Would You Rather" created the advertisement in the first place? Aren't they responsible for at least some portion of the blame?
According to reports, Snapchat is investigating the matter in an effort to salvage their reputation, but it may just be too late for them to make a comeback.
In November 2016, Instagram launched its story feature, an offering designed to lure Snapchat users to Instagram, and ever since then, the social media giant has been slipping.
It seems as though more and more people are abandoning their Snapchat accounts. When the Instagram story launched, social media users started shifting over to Instagram to share moments they would normally share on Snapchat.
Also, just last month, in early February, Snapchat introduced a new design that backfired; users hated it so much that they started a petition on Change.org to have it reversed. Just days later, Kylie Jenner took to Twitter to express her opinions about the update. Her tweet reportedly caused Snapchat to lose nearly $1.3 billion.
sooo does anyone else not open Snapchat anymore? Or is it just me… ugh this is so sad.

— Kylie Jenner (@KylieJenner) February 21, 2018
Add Rihanna's crippling blow to the company's bottom line — a reported $800 million loss — and things have never looked worse for the once-thriving Snapchat.
After the incident, it became a trend on Twitter for users to vow to delete Snapchat. Of course, there are still many regular Snapchat users who could care less about what celebrity is using the app or not.
However, it's undeniable that more people are turning to Instagram for the majority of their sharing. After all, why use Snapchat when Instagram can do both? In the words of Badgalriri, "Throw the whole app-oligy away." R.I.P Snapchat 2011-2018.