The St. Patrick's Day Debacle
Boston, the most Irish city in America, is tarnishing its St. Patrick's Day Parade with homophobia. 
By Devin Ross, Middle Tennessee State University
---
America is a place often rife with contradictions.
Although the claim of being an inclusive and diverse society is not unfounded, American discrimination has a habit of rearing its ugly head from time to time.
And perhaps nowhere are the country's contradictions more apparent than this year's St. Patrick's Day in Boston.
A city with a pronounced Irish-American population and deep Irish roots, Boston has become synonymous with St. Patrick's Day over the past couple of centuries. Every March, thousands of revelers dress up in green and flock to Boston's south side to celebrate all things Irish.
However, this year the celebration may feel a bit colorless.
Recently the group that organizes the St. Patrick's Day parade, South Boston Allied War Veterans Council, voted to exclude the gay veterans group, OutVets, from participating in this year's event.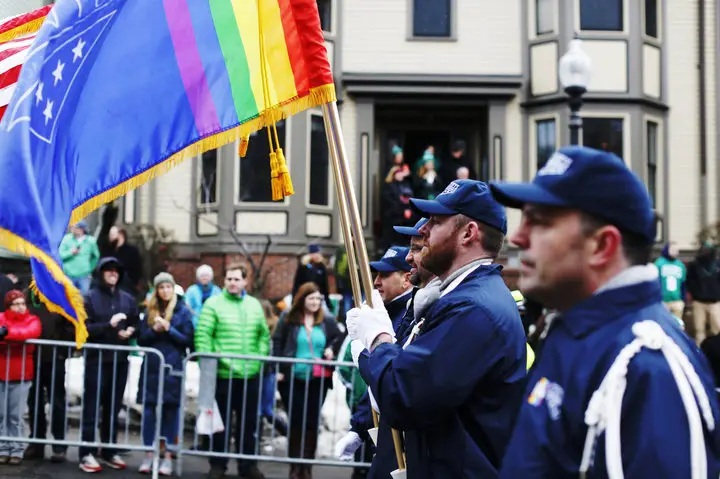 According to the group's code of conduct, LGBTQ groups will not be banned from the parade, but the group will "not allow the advertisement or display of one's sexual orientation as a topic that should in any way be depicted as a theme of our parade." In essence, they are allowing their fellow servicemen to participate in the parade, but not while proudly declaring their sexual orientation.
In response, many state and local politicians are boycotting the parade, including Governor Charlie Baker and the mayor of Boston, Martin J. Walsh. Mayor Walsh has also encouraged the public to skip this year's festivities as well. Many Massachusetts's delegates in Washington, including Elizabeth Warren, have also vowed not to participate in the parade.
The news of the ban has struck a nerve with many Bostonians who feel that it is reflective of an older, more divided Boston, one that they wish to keep very much in the rear-view mirror. Although Boston is now one of the most diverse cities in the country, the exclusion of gays from the St. Patrick's Day parade is nothing new.
Boston gay and transgender groups have been fighting for years to be included in the parade, and for years they were told that they could march, just not under the rainbow banner. The battle reached a head in 1995 when longtime parade organizer John "Wacko" Hurley took the case to the United States Supreme Court. The court unanimously ruled that it was well within the organization's First Amendment rights to decide who could and couldn't march in the parade.
Over the course of the next decade, the parade became a political battleground. Gay rights advocate groups campaigned tirelessly, while the veteran's council remained obstinate. Boston's mayor at the time, Marty Walsh, even sat out the parade, a powerful statement considering its importance to the city's heritage and identity.
It was only in 2015 that the veteran's council finally gave into protests and lifted their ban; the two years following the decision went off without a hitch. The mayor returned to his rightful spot, passing out beads and waving to onlookers as he passed through the parade, and for the first time ever, the gay veteran groups were allowed to participate in a parade that they risked their lives for.
It seemed that the decision had, in a small way, helped usher in a new era for Boston, one of more inclusion and tolerance. However, the honeymoon wouldn't last long.
Bryan Bishop, the founder of OutVets, has been on the front line of this fight for years. He saw the removal of the ban as a major landmark for the Boston LGBTQ community, and was rightfully shocked when just a week before the event, parade organizers informed him that his group's logo, which includes a rainbow, was in violation of their code of conduct.
Although members of his group had worn patches of the logo and flown rainbow flags for the past two years, organizers decided that things had changed.
"They said people felt that rainbows represent the gay community," Bishop said in an interview with "The New York Times." "I told them if that's the case, then every picture of a rainbow in the parade that leads to a pot of gold needs to be removed."
When organizers told him that his group could march in the parade as long as they didn't show any rainbows or its logo, he refused.
As a result, the usually jovial atmosphere surrounding St. Patrick's Day in Boston has become tense. In addition to outcry from politicians and gay rights groups, hordes of sponsors have begun dropping out. Local businesses are also showing their disdain by refusing to carry products by companies who are still sponsoring the events. It seems the organization, which has been a part of the community for years, is now dramatically out of touch with its changing neighborhood.
Although Boston has long been a majority white city with a large population of Irish Americans, it is now a "majority minority" city, with over half of its residents being non-white. Southie, the infamously rowdy Irish neighborhood where the parade is to be held, is still mostly white, but changing quickly as trendy restaurants and up-scale apartments begin their ascent. And so it goes—things change.
While the fate of Boston's St. Patrick's Day parade is still uncertain, there is plenty of cause for hope. In a time when it can feel like progress is lagging behind schedule, just remember—things change.