Hollywood has long been criticized for its lack of representation—and rightfully so. In particular, women and minorities struggle to find roles, or on-screen representation in general, especially if they're looking for characters that aren't stereotypes relying on false exaggerations. Luckily, audiences, filmmakers and actors have started speaking up about the value of these roles, and certain tests have been invented in order to help judge just how inclusive a project is.
The first test to come along wasn't until 1985, and was somewhat of an accident. The Bechdel Test, invented by illustrator and author Alison Bechdel, was created when Bechdel was discussing ideas for her comic with friend Liz Wallace. In her comic strip "Dykes to Watch Out For," Bechdel introduced the standards, testing not only female representation, but also content in media.
Passing the test is simple. A movie just has to have (1) at least two [named] women in it (2) talking to each other (3) about something other than a man. So, you know, pretty similar to what women are like in real life in the sense that we definitely talk to each other and it's definitely about more than just dudes. But for some reason, tons of movies, from romantic comedy to action to animation, fail the test. If you're interested in a compiled list, this site stays up to date with the most recent films.
Last year, a fresh take on the test was proposed in the "New York Times" by writer Manohla Dargis. In her piece, she references the Bechdel Test and proposes the DuVernay test—based on popular director Ava DuVernay—which finally takes into account that "African-Americans and other minorities have fully realized lives rather than serve as scenery in white stories." Hollywood struggles with putting complex African-American characters on screen more than it does with females.
When you dive into the history of film depictions of African Americans, it's easy to see how Hollywood branded negative stereotypes on a whole race that still persist to this day. You can't look at popular movies and deny a lack of representation, and in the case of representation, you can't deny a surplus of negative stereotyping. With the DuVernay Test, the aim is to start conversations about these issues with race, representation and realistic depth in roles for minorities.
For African-American actors in awards season, the amount of roles that don't reflect stereotypes, and that actually paint a realistic picture of the black experience that so many of us never face, are few and far between. Researchers at the University of Southern California tested the seven hundred top-grossing movies from 2007 to 2014. After analyzing the diversity of the roles, they found that of the top one hundred films, only seventeen featured a non-white lead or co-lead. In other words, over almost a whole decade, no real progress had been made.
There are some recent movies, however, that are showing the power of African Americans in film. The 2017 Oscar season featured three movies, "Fences," "Hidden Figures" and "Moonlight," that were led by African-American casts, which is a sharp about-face from 2016's #OscarsSoWhite campaign. In the case of "Hidden Figures" and "Moonlight," there's a diversity double whammy, with women in the former and LGBTQ in the latter—not to mention the highest-grossing Oscar nominee in the former and the Best Picture win in the latter. Since then, there's been a spark.
Marvel is king of the blockbusters, so if you really want to make an impression on audiences and break the box office, they're the market you have to break into. That's why the new "Black Panther" film is so groundbreaking for the genre. The star, Chadwick Boseman, whose largest roles up until this point have only included black historical figures, gets the chance to play one of the first African-American super heroes on screen. He's backed up by big names like Michael B. Jordan, Forest Whitaker and Lupita Nyong'o.
After new footage from the film recently debuted at Comic-Con, the movie and cast received a standing ovation. Director Ryan Coogler introduced the clip by saying, "As I got older I wanted to find a comic book character who looked like I did." For so many kids across the country, Black Panther can be that. Plus, taking a look at the cast, it's a powerhouse of diverse talent. And as the "Black Panther" craze builds, more people will be drawn to the comic itself, which is written by Ta-Nehisi Coates, arguably one of the best writers of our time.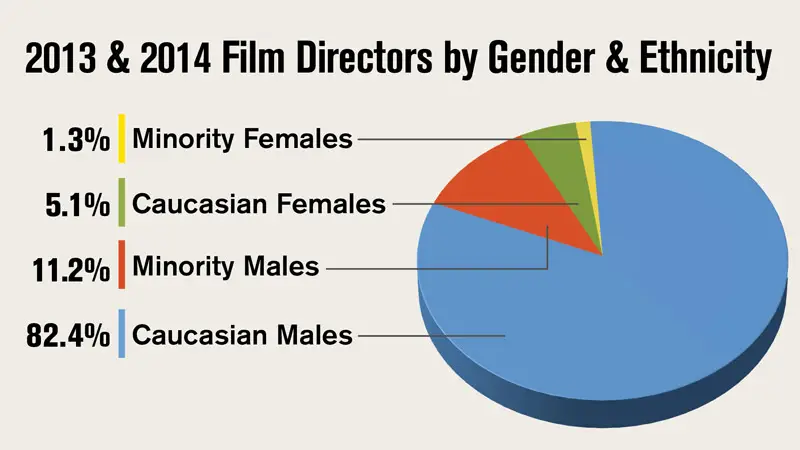 It's not just action-packed Marvel movies that are making waves with diverse casts this summer. "Girls Trip," a comedy starring all female African-American leads, follows a group of four friends (with big names like Queen Latifah and Jada Pinkett Smith) and their changing relationship dynamics on a trip to New Orleans. To me, it seems similar to the film "Rough Night," released earlier this summer (with big names like Rebel Wilson, Scarlett Johansen and Kate McKinnon), which focused on five mostly white female friends who get together for a bachelorette party that goes horribly wrong. "Girls Night," however, came out with an 87 percent on Rotten Tomatoes, while "Rough Night" faired much worse with a 48 percent. These are the types of movies we should be talking about, praising and making more of.
"Detroit," starring John Boyega, is another highly anticipated popular film coming out later this summer that earns high marks on the DuVernay test. The film centers on the race riots in Detroit during July 1967 and is already receiving praises from critics. One "Variety" review comments on how the film doesn't devolve into the usual pattern of Hollywood tales about race in America, where it turns into an uplifting and hopeful story. Rather, it's intense and turbulent and—while the events themselves are dramatized—doesn't shy away from the still-poignant racial tensions that exist today.
Lastly, the woman who inspired this test, Ms. Ava DuVernay herself, is currently killing it in the film and television industry. DuVernay broke onto the scene in 2014 for her film "Selma," chronicling Martin Luther King, Jr.'s march in the city of the same name, and the hit Netflix documentary "13th" a year later. Now she's helming big projects like "A Wrinkle in Time" for Disney and making a name for herself in Hollywood. Oftentimes, one of the problems with representation is that there are no women or people of color behind the camera, making it less likely that there would be women or POC in the spotlight. Thanks to directors like DuVernay, diversity is becoming a priority, and not just in showing minorities, but showing realistic, full portrayals of their lives.
If audiences demand better from filmmakers, it seems possible to hope for more, especially in the face of studies like this. When over half the population isn't being represented on screen, it's vital to get the conversation started about how to make a change.