Living in Spain for the year, I have come to realize that I am essentially living in the land of Zara. Walking through the city center I'm bound to see at least three different Zaras within fifteen minutes, or about as frequently as I see Dunkin' Donuts at home in Boston, which is saying something. Or, maybe as often as one sees a dead armadillo in Texas (basing my Texas knowledge strictly off of "Happy Texas").
Being a Spanish clothing chain, Zara in Spain is very different from Zara stateside. They're ubiquitous, for one, and, with an inventory that turns over much more frequently, they're also much cheaper. From a foreigner's point of view, they're also just so undeniably Spanish.
The stores' demigod status means that not only I am lured in by their weekly rotating window displays to dish out euros like Monopoly money, but also that Zara can do no wrong.
Except, that doesn't necessarily mean they always get it completely right.
Zara recently launched "Ungendered," a gender-neutral clothing line made up of eight different articles. Unfortunately, the collection takes the word "neutral" a little too literally; the line (hardly) ranges from baggy jeans and patternless t-shirts to sweatshirts in gray, white and blue.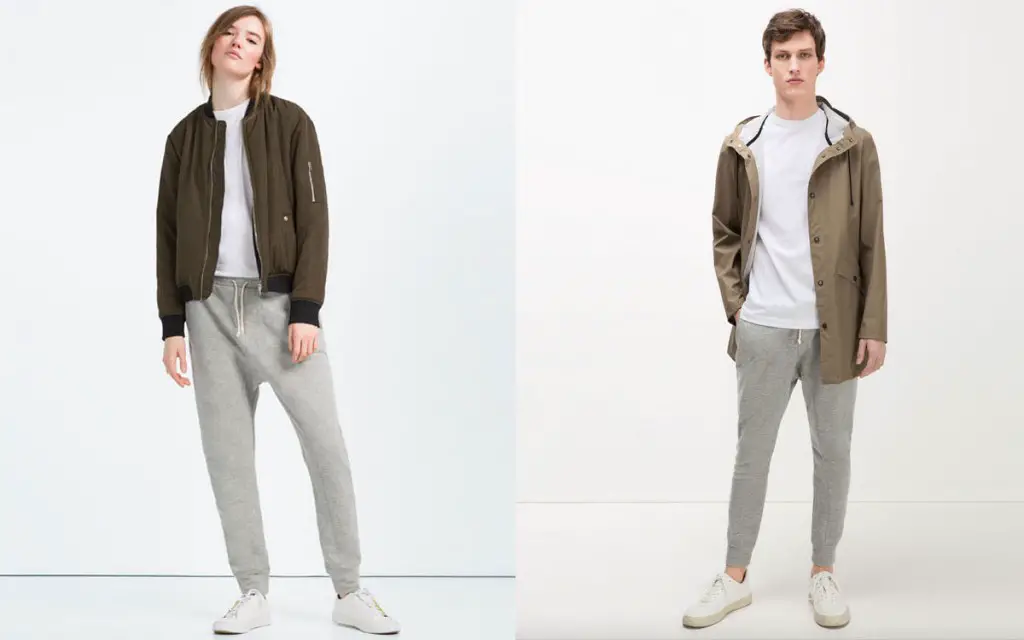 The color-scheme is much more groutfit than outfit, and considering that Zara is the first major retailer to adopt a gender-neutral line, the concept's lack of creativity is disappointing. The launch of "Ungendered" was similarly underwhelming, as only a small link demarcates it from the "Men's" and "Women's" sections. And while arguably a quiet integration is more progressive than a guns-blazing, flashy launch, the collection still falls flat.
The models of the gender-neutral line, both male and female, wear the same articles side by side to show off their versatility. But it's hardly surprising that shapeless T-shirts and loose denim look good on both genders—it's what we've all been wearing for years to lounge on lazy Saturdays.
True, Zara's overall aesthetic does tend to lean toward more classic silhouettes and monochromatic, even muted tones. But still, their clothes are always far from boring. In an industry where the cutting edge is praised, it feels like Zara missed an opportunity to create something more avant-garde.
Remember in elementary school when you'd play capture the flag, and there was that one kid that silently tiptoed over the line into enemy territory and surreptitiously stole the flag? That sucked. The game was over and everyone missed out on the show.
The most glorious memories are the ones where someone leaped over the boundary line, sprinting for the trophy. Maybe they snatched it in triumph, maybe they were tackled (elementary school CF was more hardcore than college football)—but the bravery of putting it all out there was far more admirable than the quiet, guaranteed success of the furtive classmate.
Remember when Lady Gaga wore a simple, black dress? Me neither.
Remember when she wore the meat dress? Exactly.
In fact, a strong argument could be made that Zara's uncreative take on gender-neutral clothing, instead of disavowing the cultural association between blue and pink and men and women, actually encourages the gendered connotations of colors and cuts. Rather than grapple with the issue, Zara sidestepped it. In reality, amassing and marketing a collection of baggy gray clothing as your "Ungendered" line is self-congratulatory at best, manipulative at worst.
Yet "Ungendered" was not for naught. Zara is the flagship store of Intidex, the world's largest fashion retailer, so anything they do is noticed around the globe. Ideally, braver fast-fashion chains will develop their own lines and branch away from the bland implications of neutral.
Search "gender neutral" on Trend Hunter and it becomes obvious that Zara was not the first company to try out gender-free marketing. Target has stripped their toy sections of pink and blue shelving to allow kids to shop unbombarded by subliminal gender messages, and Louis Vuitton recently announced that actor/Twitter sensation/child-of-famous-parents Jaden Smith will be modeling for the high-end brand's womenswear. Among other looks in the campaign, Smith flawlessly works a skirt and mesh top with fringe combination.
But we should be wary of labeling gender neutrality as a "trend," because unlike denim vests or high-low skirts, gender neutrality has wide-ranging social implications. Trends come and go with time and place — in Madrid right now '90s tattoo chokers have made a comeback — but positive social change should only move in one direction.
Once in first grade I had to buy a plain white t-shirt for a Girl Scouts craft. The store was out of them in the girl's section, so my mom picked up one in my size from the boy's section. I threw an insane tantrum (call your mother right now and tell her you love her if you ever threw a tantrum). My mom tried to comfort me by pointing out that they were exactly the same, but I was inconsolable, positive that someone would see me in it and somehow know.
Our society is so heavily gendered that it affects not only what we wear, but how we act, speak and perceive. A popular psych experiment proved that regardless of a baby's sex, people are more likely to describe infants dressed in blue as strong and handsome, whereas ones dressed in pink are typically sweet and pretty.
Stereotypes are harmful because they tend to be self-fulfilling, so it's important that we avoid dressing or describing ourselves in a manner that reinforces outdated concepts of gender. Fashion is about the expression of your unique self, not about mimicking the appropriately gendered mannequin.
Hopefully soon we'll be seeing gender neutral clothing lines replete with skirts and baggy jeans, magenta and emerald, sequins and studs. Because the thing is no matter how creative any designer may get, they won't be uncovering anything new — clothing is needle and thread, inanimate and objectively genderless.