If you're unaware, the unannounced or "surprise" album release is one of the hottest trends in the world of music. Within the past five years, Radiohead, Beyoncé, Drake, My Bloody Valentine and U2 have all ridden the wave of internet virality, climbing the charts solely based off reputation. Just this year, the hip-hop world in particular has had a large number of surprise releases, such as "CollegeGrove," "The Owner's Manual" and "Purple Reign."
Without so much as a single, all these albums have been released within just forty-eight hours of their announcements. And just recently, Kendrick Lamar has become one of the newest members of the ever-expanding club, as "untitled unmastered." soared quickly to the number one spot in the Billboard Top 200.
The surprise rollout of "untitled unmastered." is incredibly telling of Kendrick Lamar's position in hip-hop. While similar releases from Future and 2Chainz, two of the biggest names in hip-hop, essentially flopped within the past month, Lamar's compilation of unreleased demos(!) has become the most popular album in the United States.
In many ways, the rollout was almost the exact inverse of Kanye West's "The Life of Pablo," which still isn't technically finished. Hell, I wouldn't be surprised if Kanye makes weekly edits to the album, forcing listeners to regularly renew their TIDAL™ subscriptions, adding his own line of TIDAL™ shutter shades and an avant-garde coffee bean brand. Who knows at this point?
Unlike "TLOP," "untitled unmastered." was released within one day of its announcement. After urging one of hip-hop's biggest stars to release a studio version of his Grammy performance, Lebron James proved why he's still the King. Within just ten days of this simple Twitter request, the world was granted eight new untitled Kendrick Lamar demos.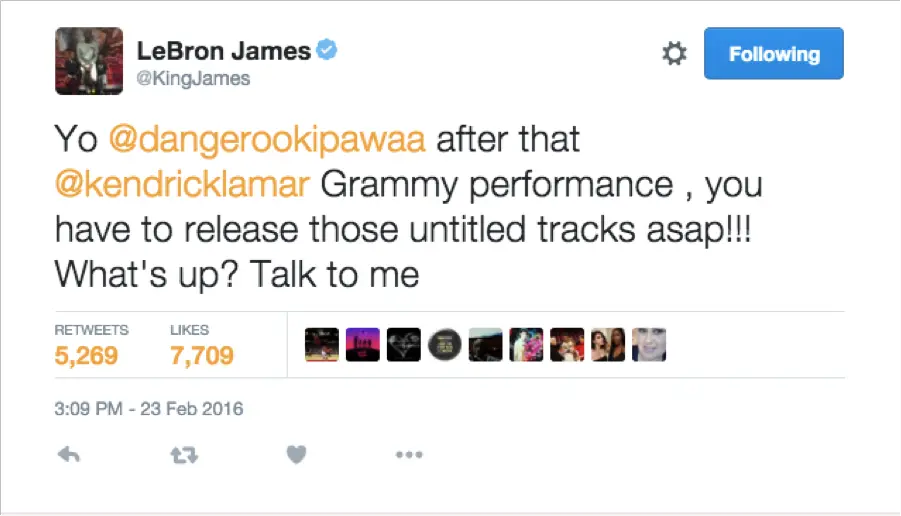 As you would expect from Kendrick Lamar, these are much more than your typical demos. Although they're mostly lost cuts from "To Pimp a Butterfly," "untitled unmastered." is surprisingly cohesive and experimental. It's not the flawless narrative of "Good Kid, m.A.A.d. City" but it's a solid collection of songs. And unlike the title's claims, this album is elaborately produced, featuring some of the most interesting beats in Lamar's catalogue.
Many of the production and instrumental techniques make this release feel improvisational, running with the jazz theme of "TPAB." Even Kendrick Lamar's flustered, anxious flow seems improvised, sounding like a long string of masterful freestyles rather than carefully planned lyrics.
The album kicks off with (as you'd expect) "untitled 01," which sets the tone right from the gate. Blial provides an unsettling monologue at the song's beginning, acting out a sleazy sexual introduction. It does a great job setting the tone and getting the message across immediately—this isn't "To Pimp a Butterfly."
A whirling, anxiety-driven piano beat provides an ominous background while Lamar rants about destruction, fire and brimstone, war and sin. While many cuts off "To Pimp a Butterfly" discuss racial relations and human issues, "untitled 01" paints a remarkably biblical, apocalyptic and fearful picture of humanity. It's a world filled with contradictions, as "atheists [stand] for suicide" and the "Tabernacle and city capital [are] turned inside out." If we don't change our ways and stop sinning, Kendrick warns, this may be our fate. On the second track, Kendrick continues his anxious tone, rhyming over a more avant-garde jazz background. Terrance Martin provides some rapid, almost atonal saxophone notes and some harsh, percussionist free-jazz piano playing.
Lyrically, Kendrick continues the religious themes, pleading "Get God on the phone/Said it won't be long!" on the hook. It sounds like it could be a B-side to "u," as Kendrick's introspection, guilt and self-hatred shine through in a similar fashion.
On verse two, Kendrick is flat rather than desperate, essentially performing what sounds much more like spoken word or poetry than rapping. Rather than worrying about the world's problem with sin, Kendrick turns to himself, addressing his rise to fame and the associated consequences. It's a great transition in the album and a track that would've fit perfectly into "To Pimp a Butterfly."
By tracks three and four Kendrick has returned to the funk influence that dominated "To Pimp a Butterfly." Both stand around two minutes in length, making them the shortest tracks on the album. On track three, Kendrick continues to broach issues of race and ethnicity, asking, "What did the black man say?" and "What did the white man say?" on various parts of the track. As the theme advances, it's obvious that he's attacking corporate America and the materialism of our country's early history. The screed comes off as a bit forced compared to the rest of the album, but it has similar themes as "Fuck Your Ethnicity" and many of Kendrick's earlier tracks.
Track four is a quick, funk-laced interlude that adds a refreshing break to the album. Kendrick whispers into the microphone, providing some hints to a narrator much like Eminem's "Public Service Announcement." Although it's far from the strongest track, it provides more of the "demo" feel, which was promised by the album's title.
In track six, Kendrick pairs up with CeeLo Green on a soulful, flute-driven track. Unlike the previous tracks, which focus on broader topics like racism and religion, track six has a narrower message of optimism and empowerment. Similar to "i," Kendrick is endlessly positive, claiming "My mama told me that I was different the moment I was invented/Estranged baby, no I'm not ashamed" and "Look at my flaws, look at my flaws/Look at my imperfections in awe." Although Kendrick Lamar does a great job promoting social messages on other tracks, it's nice to hear a more happy-go-lucky song for once.
Possibly the peak of the album is track seven, which is essentially a three part saga of Kendrick's career thus far—his elated rise to fame, his growing influence as an artist and his recent departure into jazz influences. It's also worth noting that it's the only track without a single date attached, which means it's likely an amalgam of multiple recording sessions.
Though it stands at just over eight minutes long, the song is catchy and lyrical enough to survive the verbosity. And it's one of the few songs on here that has a section that lives up to the "unmastered" label, as it sounds like a true demo, not just a forgotten studio single. Toward the end of the song the beat fades as Kendrick strums a guitar, urging his friends in the studio to join along. It's fascinating to hear Kendrick in a natural, unfiltered setting. It makes him seem so down to earth and casual. Rarely do you get the opportunity to hear an artist at his most genuine during the recording process.
Overall, "untitled unmastered." is yet another fantastic release from Kendrick Lamar. He proves why he's on top of the hip-hop world—blowing other rappers out of the water, even when his album lacks cohesion, a central theme or a narrative. It's an incredibly solid release—an amazing one even—considering this is a disorganized mesh of unreleased demos.
Though Lamar arguably has two historic albums under his belt already, "untitled unmastered." isn't one of them. It does makes you think, though: How many other classic songs does he have stored away?