Blacking It Up in February 2016
Because of black musicians (Kendrick, Beyoncé), politicians (Obama, Mckesson), cultural figures (Nyong'o, Miranda) and others, February 2016 made history.
By Imani McGarrell, Texas State University
---
This month has been the blackest Black History Month that I have ever witnessed in my lifetime.
Everyone from Beyoncé to President Barack Obama was blacking it up this month and it was glorious. Don't believe me? Here is a list that definitively proves that this was the most melanin-filled month in history.
1. Kendrick Lamar's Grammys Performance
Although Kendrick lost album of the year to Taylor Swift's "1989" (I know), he won the night with his amazing performance.
King Kendrick came out onto the stage in chains, and eventually broke them off while singing "we gon be alright" with African background dancers. He stood up there and told the world he's "a proud monkey." If there's anything blacker than that, I challenge you to find it.
2. Beyoncé's "Formation"
Whether you stand for Queen B or not, her reach and status as the top dog in pop music cannot be denied. With her latest release, "Formation," dropped just one day before her Super Bowl performance, Beyoncé came for every wig, weave and edge in sight.
As if the song wasn't enough, the music video solidified her message that she is still black as hell and so is her music and family.
There is literally nothing blacker than Beyoncé and crew dancing in an empty pool while Big Freedia, the queen of New Orleans bounce, yells about cornbread and collard greens.
3. Beyoncé's Superbowl Performance
As if the song and video weren't enough, Beyoncé continued her black and proud display with her Super Bowl performance. Her outfit was a tribute to Michael Jackson's outfit from his legendary halftime performance, and her dancers' outfits paid homage to the Black Panther Party and included a small tribute to Malcolm X.
Black people everywhere giggled with glee as she and her afro-clad dancers had a good ole time breaking it down. If that wasn't enough, she and Bruno Mars totally stole the show from Coldplay by having a black-ass dance off at the end.
4. DeRay Mckesson Mayoral Bid
DeRay is one of the prominent leaders of the Black Lives Matter movement, and a true leader in the black communities he interacts with.
Him running for Baltimore is peak blackness because it's has always been my people's tradition to fix things for ourselves instead of waiting for someone else to do so.
DeRay is seeing a need and filling a need, and I wish him all the best in his campaign efforts.
5. "Hamilton"
The award-winning, barrier-breaking, melanin-filled hip-hop musical about Alexander Hamilton's life and death is hands down one of the best moments ever. Hamilton's importance transcends not just this month, but also this year.
There has never been a rap musical on Broadway, featuring mostly black talent and original music. Never. Its success is outstanding: tickets for the show are sold out well into next year.
To top it all off, when the musical won a Grammy, its star and creator Lin-Manuel Miranda celebrated by rapping the acceptance speech. That's black excellence in the making.
6. President Barack Obama
POTUS is celebrating the last part of his presidency by being just as black as he wants to be. He already gets crazy points for being married to Michelle, who seems like she smells like Motions hair moisturizer and cocoa butter.
Obama has been embracing February for all that it is, even commenting that only during Black History Month would you hear someone greet Michelle by saying "Heyyyy girl, you look so good." The White House also hosted a screening of "Underground," a series revolving around a group of black slaves planning their escape.
Additionally, 106-year-old Virginia McLaurin was so excited to meet the nation's first black president that she literally broke out into dance. If your mere existence and blackness are enough to make an old black lady bust a move, you are officially killing BHM.
7. Rihanna and Drake's "Work"
My bajan queen and lightskin king came together to make the second blackest video of the month. I thank Based God every day for the blessing of winding and grinding displayed in "Work."
Being a carefree black girl is Riri's bread and butter, and she made damn sure we knew it in that song and video.
Also, the moves she put on Drake in that video very effectively laid to rest all the "Rihanna can't dance" haters in the world.
8. Black Women Slaying Magazines Covers
I cried the first time Lupita Nyong'o was on the cover of Vogue. It was hard growing up as a little black girl who loved magazines but never saw girls my color in them. It meant everything to me to see a dark-skinned, natural-hair having woman on the cover of one of the best magazines in the world.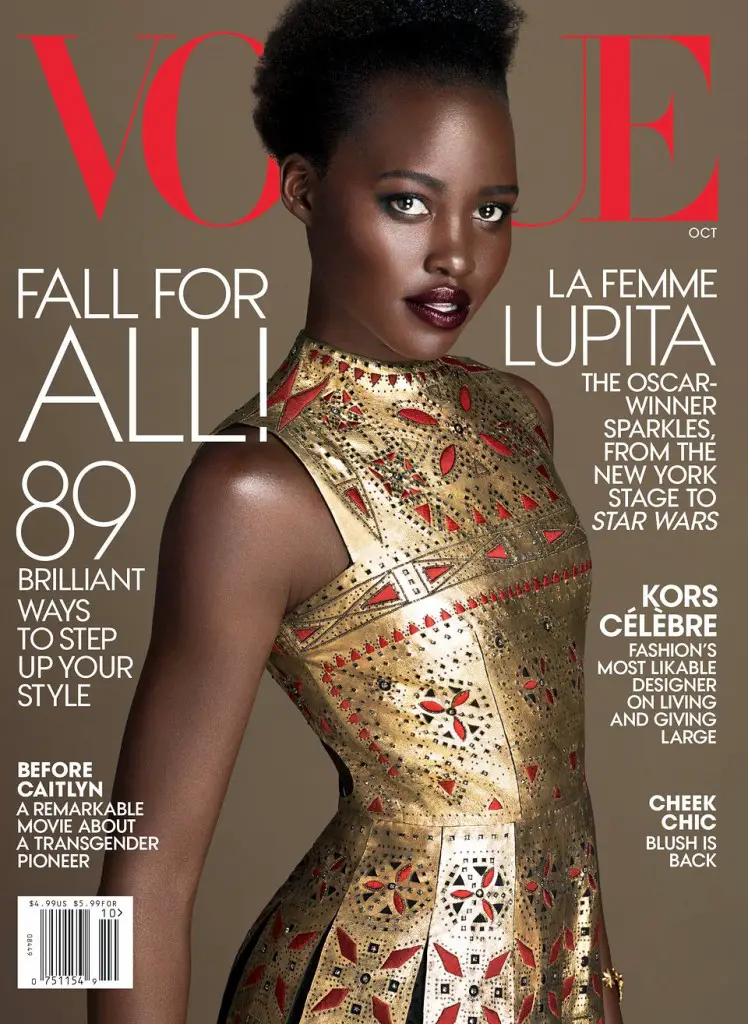 That trend continued this month with magazines like Essence featuring actresses and activists Yarah Shahidi, Teyonah Parris and Johnetta Elzie on their three-cover February edition of Black Girl Magic.
Teen Vogue continued the wave by featuring Amandla Stenberg. Elle had Viola Davis and Taraji P. Henson on their cover, and Bust had Jessica Williams on theirs. Representation matters and seeing all those beautiful brown faces on the stands really just solidifies this as the blackest black history month ever.
9. Nae Nae Gymnastics Routine
UCLA gymnast Sophia DeJesus blacked it up this month by performing a bomb floor routine featuring popular black dances like the whip and nae nae.
The 21-year-old is now too old for Olympic prospects, and told Ellen she wanted to end her senior year with a bang. The blue-haired athlete dabbed her way to upwards of 40 million views of her awesome performance.
10. Kanye's Everything
Kanye West is an enigma. He's the only celebrity I find myself constantly both protective and tired of. His rants are an odd mix of entertaining and concerning.
He sometimes makes good points but often loses us right afterwards by being utterly ridiculous. His season 3 showing was black as hell: he played his music over models dressed in his clothes, while surrounded by his friends, family and fans.
11. Black Twitter's #TrapCover Moment
This last one was an emergency addition to the list because it just happened. Late last night Black Twitter slayed everyone's lives by re-making classic songs with trap covers.
The movement was in response to the hundreds of white people on YouTube making weird acoustic covers of "Formation," "Work" and other black songs.
Standouts on the remakes include a trap "Hey Jude" and chopped and screwed "Thousand Miles." Watching brown kids be silly and creative while also making some good social commentary is the blackest, perfect way to end the blackest, perfect month.